Better Buy: Gilead Sciences Inc. vs. Celgene Corporation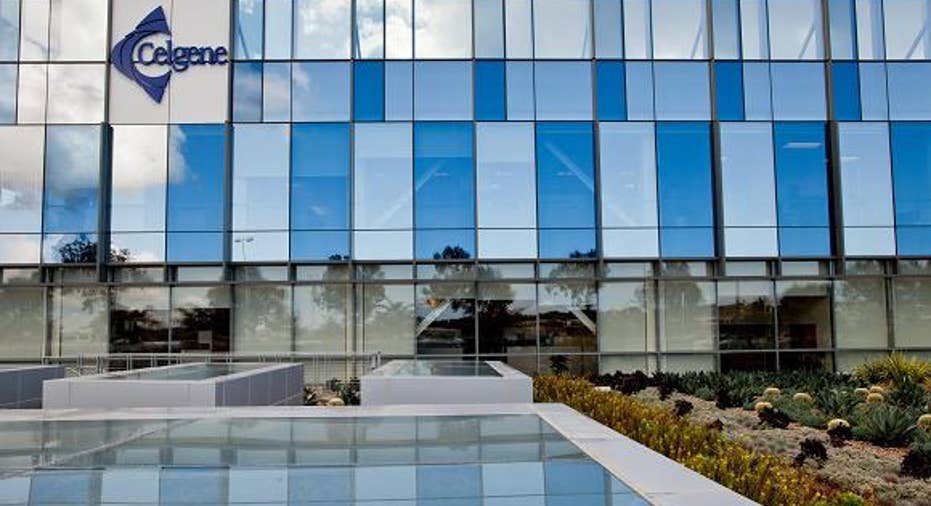 Image source: Celgene.
Some questions are just tough to answer. Who would win an arm wrestling match between Iron Man and the Hulk? Which is the better '80s rock band, Bon Jovi or Journey? Exactly how much wood could a woodchuck chuck if a woodchuck could chuck wood?
I'll add one more difficult question to that list: Which stock is the better buy, Gilead Sciences or Celgene ? Both companies rank among the best and biggest biotechs in the land. Both stocks have been enormously successful. But which one wins in a head-to-head battle?
Giddy for GileadFor the record, I own shares of Gilead Sciences. In fact, it's the single-biggest stock holding in my investment portfolio -- mainly because the stock has soared over recent years. And even though Gilead's share price has lost ground somewhat over the past eight months, I still really like the biotech.
In some respects, Gilead's stock has been a victim of the company's own success. Sales of hepatitis C drugs Sovaldi and Harvoni grew so much so fast that there's no way that dizzying pace of growth is sustainable. Is this a deal-breaker for buying Gilead now? I don't think so.
Gilead's stock trades at less than eight times forward earnings. That kind of valuation is often reserved for companies with serious questions about their future. The future isn't that much in doubt for Gilead.
While it's true that the momentum of the biotech's hep C franchise will likely slow considerably, Harvoni should still rake in well over $10 billion annually by itself for several years to come. Gilead also stands a good chance of winning regulatory approval for its next hepatitis C winner, a pan-genotypic combo treatment of Sovaldi plus velpatasvir.
With all of its hepatitis C success, it's easy to forget that Gilead made its name first in the HIV/AIDS drug market. The biotech remains the major player in that market, with solid year-over-year sales growth for Stribild and Truvada. Gilead also has chalked up several regulatory wins in recent months for new drugs Genvoya, Odefsey, and Descovy that should keep the company in the driver's seat for the HIV/AIDS treatment market.
Gilead's pipeline could also bring more good news. The company awaits a decision by U.S. and European regulators on its first hepatitis B drug. In addition, Gilead has several cancer drugs in mid-stage and late-stage clinical studies.
There are two other important reasons for investors to be bullish on Gilead. The biotech reported cash, cash equivalents, and marketable securities of $26.2 billion as of the end of 2015. That's plenty of money to invest in opportunities to drive earnings even higher. Unlike most biotechs, Gilead also pays a dividend with a respectable yield.
Crazy about CelgeneI also own shares of Celgene -- it's my third-largest individual stock holding. Like Gilead, the biotech's stock has been a big winner over the last five years. And, also like Gilead, Celgene's shares have been largely on a downward trajectory since July. I haven't sold a single share, however, because I like Celgene's prospects.
Most of Celgene's previous success has been on the shoulders of blood cancer drug Revlimid. The good news for the biotech is that Revlimid still has plenty of juice left. Celgene expects sales for the drug to grow another 15% or so in 2016.
Even better news, though, is that Celgene isn't as dependent on one drug as it used to be. The biotech now has two drugs right at the brink of the $1 billion annual sales mark -- Abraxane and Pomalyst/Imnovid.Meanwhile, Otezla, which launched in late 2014, should be on track to reach peak annual sales of $2 billion.
If all that isn't impressive enough, Celgene has multiple clinical studies in progress for all of its blockbuster or soon-to-be blockbuster drugs. Revlimid is in five late-stage studies, not counting ones awaiting regulatory approval. Two phase 3 studies are in progress for Abraxane. Otezla is the focus of three late-stage studies.
Celgene might look expensive based on its trailing-12-month price-to-earnings multiple of 53. However, factoring in likely earnings growth makes the stock price seem much more attractive. Celgene's price is only 14 times forward earnings -- not bad at all for a fast-growing biotech.
While Celgene doesn't pay out a dividend as Gilead does, the company does sit on a nice cash stockpile (counting cash equivalents and marketable securities) of over $6.5 billion. I expect the biotech to use this cash to continue buying back shares and scooping up other drugs (and potentially other companies) to boost its pipeline.
Answers to tough questionsSo which of these two big biotechs is the better pick? I give the edge to Celgene.
Two years ago, Gilead Sciences would definitely have been my choice. I continue to like Gilead -- and plan to hold on to the stock.Now, though, Celgene wins because of earnings potential. My view is that Celgene has a clearer path to continued earnings growth with Revlimid still firing on all cylinders and strong upward mobility for Abraxane, Pomalyst/Imnovid, and Otezla.
What about those other tough questions? Iron Man over the Hulk, because the mechanical muscle won't get tired. Journey over Bon Jovi, because the former's list of hits is just too compelling. And a woodchuck can chuck around 700 pounds, because the Internet says so.
The article Better Buy: Gilead Sciences Inc. vs. Celgene Corporation originally appeared on Fool.com.
Keith Speights owns shares of Celgene and Gilead Sciences, likes Iron Man and the Hulk, enjoys Journey and Bon Jovi -- but doesn't like chucking wood. The Motley Fool owns shares of and recommends Celgene and Gilead Sciences. Try any of our Foolish newsletter services free for 30 days. We Fools may not all hold the same opinions, but we all believe that considering a diverse range of insights makes us better investors. The Motley Fool has a disclosure policy.
Copyright 1995 - 2016 The Motley Fool, LLC. All rights reserved. The Motley Fool has a disclosure policy.