Better Buy: Freeport-McMoRan Inc. vs. Vale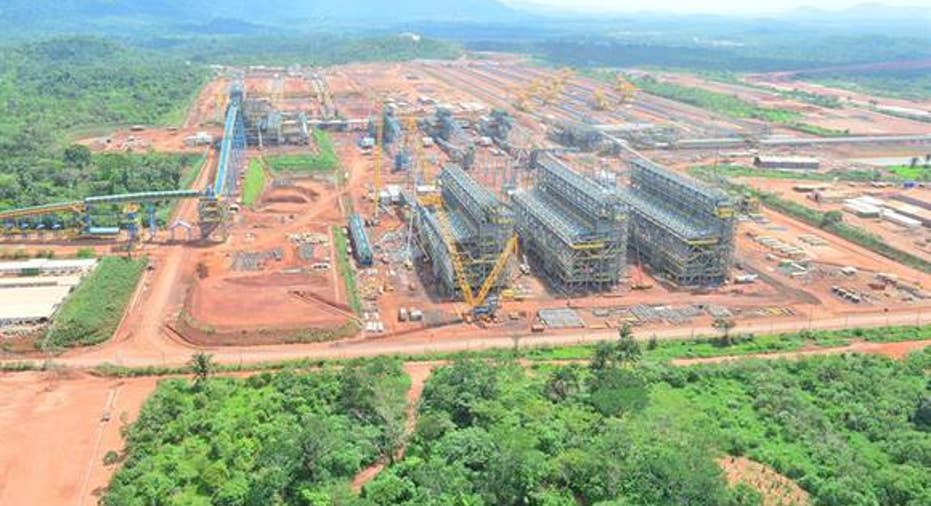 The slowdown of economic growth in China has had a major impact on commodity prices, as well as the stock prices of commodity producers. As the following chart shows, both copper kingpin Freeport-McMoRan and iron ore leader Vale have been hard hit over the past year:
While both stocks are down sharply over the past year, they've also rebounded resoundingly off their bottom earlier this year. That rally might not be over if commodity prices continue to rebound.
Here's a look at the bull and bear case for the primary commodities these companies produce as well as why that outlook gives one of these stocks the edge as the better buy.
The bull case for Freeport-McMoRanThe case for buying Freeport-McMoRan is very simple: If copper rises, this stock should rebound sharply. That's because it's highly levered to the price of copper, with just a small rebound in its price driving significant cash flow growth:
Image source: Freeport-McMoRan investor presentation.
Most recently, the price of copper was right about $2.09 per pound, or about $4,640 per tonne, which is above Freeport-McMoRan's base case for 2016 at $2.00 per pound. That higher price is due in part to some improvement in the economic data coming out of China, which is the commodity's top consumer. Because of this improvement, some analysts see copper's price improving to as much as $5,000 per tonne by the end of the year based on potentially tightening market conditions given that producers like Freeport-McMoRan have curbed some of their production and China's economy could regain its footing.
The bear case for Freeport-McMoRanHaving said all that, not all analysts are convinced copper is going higher. Analysts at J.P. Morgan, for example, see copper falling to as low as $4,000 per tonne due to the lack of additional production cuts. Meanwhile, the bank only sees the upside in copper being $4,800 per tonne over the next two years because of its view that the "production adjustment is expected to be a slow and long process lasting two years."
Worse yet are recent reports that China is contemplating increasing its copper exports because it has a glut of inventory. If it started dumping copper onto the market, that would weigh on its price.
This downside has the potential to hit Freeport-McMoRan very hard because its balance sheet is weighed down by more than $20 billion in debt. It's debt the company is trying to address by not only generating free cash flow from higher copper prices but by selling assets, which would be harder to do if copper's price started to slip.
The bull case for ValeMuch like the copper market, there's a lot of disagreement on the direction of iron ore prices over the short and long term. Iron ore has been on fire this year, surging 23% last quarter to as high as $63.74 a tonnene, though it has given back some of those gains and was recently at $55.60 a tonnene. Vale thinks that the best is still yet to come, with CEO Murilo Ferreira saying that the long-term price should hold between $65 and $80 per tonnene. That's because Vale believes in the Chinese market and expects its sales there to rise by 40% to 250 million tonnene in the future as it aims to become the largest supplier of iron ore to the country.
Image Source: Vale.
The bear case for Vale Analysts, however, aren't quite as bullish on iron ore. McKinsey, for example, is expecting it to trade between $45 and $50 a tonnene this year because it sees no real improvement in steel consumption in China. Worse yet is Goldman Sachs' view, which is pegging its price at just $30 to $40 for the rest of this year. Meanwhile, Citi sees it averaging $38 this year and just $35 for the following two years. In fact, there weren't any big banks that painted a bullish picture of iron ore in the short term.
While analysts aren't always right and tend to be more pessimistic when times are tough, they do seem to have a more realistic view than Vale. That's not a surprise because commodity producers tend to be much more bullish on the commodities they produce, which can get them into trouble when they take on a lot of debt to act on that view.
Investor takeawayPurely based on the outlooks, there's a bit more optimism in the copper market right now among analysts. That gives Freeport-McMoRan a leg up over Vale, because it has the potential to rally if that positive outlook comes to fruition. Not only would those higher prices significantly improve its cash flow, but it would remove some of the weight from its balance sheet, which has been pulling down this stock.
The article Better Buy: Freeport-McMoRan Inc. vs. Vale originally appeared on Fool.com.
Matt DiLallo has no position in any stocks mentioned. The Motley Fool owns shares of Companhia Vale Ads and Freeport-McMoRan Copper & Gold. Try any of our Foolish newsletter services free for 30 days. We Fools may not all hold the same opinions, but we all believe that considering a diverse range of insights makes us better investors. The Motley Fool has a disclosure policy.
Copyright 1995 - 2016 The Motley Fool, LLC. All rights reserved. The Motley Fool has a disclosure policy.