Better Buy: Comcast Corporation vs. DISH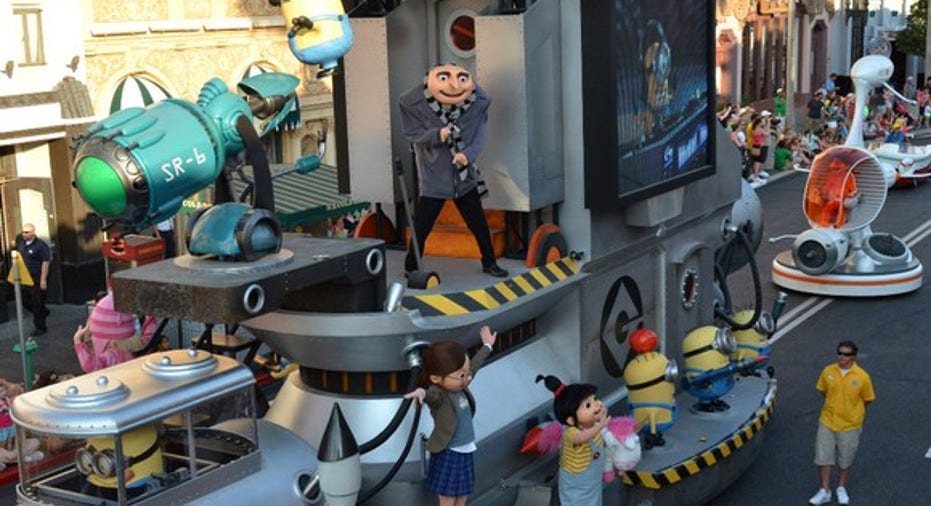 In some ways, comparing Comcast to DISH Network is a more of a fruit-store-to-apples comparison than an apples-to-apples, or even apples-to-oranges scenario.
Comcast has a wide array of products, services, and other businesses. It owns everything from NBC, to Universal Studios theme parks, a movie studio, various cable, networks and of course its broadband/cable television services. DISH only sells pay-TV, though it now does so as a streaming service (Sling TV) and through its well-known satellite offering.
While you can't argue that DISH can equal Comcast in revenue, or that it faces the same growth challenges in pay television its rival does without the upside of also selling broadband Internet, the satellite provider offers one advantage to shareholders: It could be acquired. DISH might be a better buy than Comcast only because it's one of the few prizes left in a consolidating space.
Why you should buy Comcast
While the company may face some negative headwinds in its cable business due to cord cutting, it's positioned well to recover the revenue elsewhere. In addition to being able to increase revenue on the broadband side to make up for a recent drop in pay-TV customers (36,000 in 2015, according to Leichtman Research Group (LRG)) it also owns content and distribution assets that could thrive in a changed pay-TV world.
For example, in a cord-cutting/skinny-bundle world, top-tier channels like Bravo and E! would likely be sought out by their devoted fan bases. In addition, niche channels like Golf Channel and NBC Sports Network would work as stand-alone service because of their exclusive live event content.
Along with its cable portfolio, Comcast also owns an enormous amount of premium content -- something that has become increasingly valuable. The company is also well-positioned to increase revenue from some of its signature film properties like Minions, Jurassic Park, and the franchises it will own when it completes its acquisition of DreamWorks Animation. Growing those brands could involve everything from sequels to television shows, and even theme park rides.
In a time when bigger has proven to be better for media companies, Comcast is among the biggest. That puts it in a good position to succeed no matter how consumer consumption habits change.
The characters from the Despicable Me franchise appear in a ride and parades at Universal Studios Orlando. Image source: Universal Orlando.
Why you should buy DISH
DISH has struggled a little bit, with its satellite television business dropping 81,000 customers in 2015, according to LRG. Despite that, the company turned a healthy profit for the year,delivering diluted earnings per share (EPS) of $1.61, though that was down from $2.04 the previous year.
The satellite provider still brings healthy cash flow, and it would be a logical acquisition target for any of the wireless carriers, perhaps even AT&T,which owns its direct competitor, DirecTV. DISH would also be a logical purchase for most of the big cable companies, or a merger partner for some of the smaller players.
In addition to its customer base, DISH also brings along billions of dollars worth of wireless spectrum. That's an asset that could either be sold by an acquirer, used by a wireless company to enhance its service, or be put to use by a cable company to launch a phone product.
With so many potential suitors and so few, if any, comparable companies available for sale, it's reasonable to think DISH could fetch a premium higher than the 14% Time Warner Cable received from Charter Communications in their recently completed deal. For DISH, the number could be higher because the market has changed, and Time Warner Cable was coming off of a failed attempt by Comcast to purchase it.
Which is a better buy?
As a long-term investor, Comcast presents better prospects. It's a broadly diverse company that owns numerous assets that should be exploitable for decades to come. DISH, on the other hand, has one core business that operates in a shrinking market. It is an acquisition target, but given that the company has shown limited interest in selling in the past, buying shares in the hopes of that happening is speculative and risky.
DISH has a major asset in its wireless spectrum and a decent business selling satellite television, but going forward, it will struggle to grow. Comcast is a better buy because its share price should grow as long as it continues to operate in the same way it has been operating, while DISH would need an external event to trigger a similar return for shareholders.
The article Better Buy: Comcast Corporation vs. DISH originally appeared on Fool.com.
Daniel Kline has no position in any stocks mentioned. He has fallen for cold brew coffee despite not really knowing why it's better. The Motley Fool recommends DreamWorks Animation. Try any of our Foolish newsletter services free for 30 days. We Fools may not all hold the same opinions, but we all believe that considering a diverse range of insights makes us better investors. The Motley Fool has a disclosure policy.
Copyright 1995 - 2016 The Motley Fool, LLC. All rights reserved. The Motley Fool has a disclosure policy.