Better Buy: Chipotle Mexican Grill, Inc. vs. McDonald's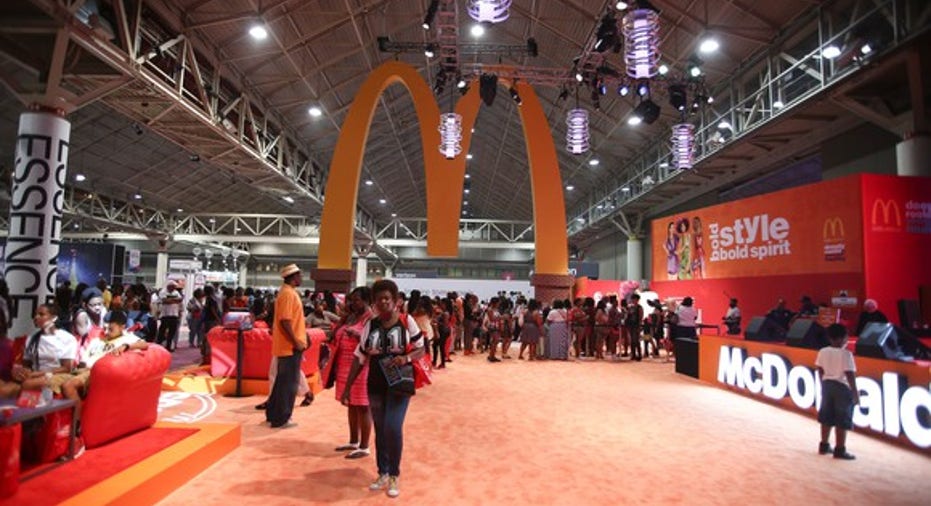 Fast food has come a long way over time. McDonald's (NYSE: MCD) reigned supreme over its chain competitors throughout much of the second half of the 20th century, distinguishing itself from both its fast-food peers and its slower casual-dining counterparts. But in the 21st century, fast-casual giant Chipotle Mexican Grill (NYSE: CMG) led the way in producing a new way for people to eat. Investors looking for stocks in the consumer space are curious whether Chipotle or McDonald's is a better bet right now. Let's look more closely at the two restaurant stocks and compare them using several different measures to figure out which one is more attractive right now.
Image source: McDonald's.
Valuation and stock performance
McDonald's and Chipotle have seen their stock prices go in opposite directions recently. Since November 2015, McDonald's shares have risen 9%. Chipotle hasn't been able to recover, falling more than 30% over the same period.
You might expect that Chipotle would look cheaper than McDonald's after seeing its stock drop so sharply. However, Chipotle has suffered from weak earnings, so when you consider earnings-based valuation methods, the fast-casual chain still looks more expensive than its fast-food counterpart. Trailing earnings figures show this phenomenon particularly well. Chipotle currently trades at a whopping 160 times its earnings over the past 12 months, compared to a much more pedestrian trailing earnings multiple of 23 for McDonald's.
Things look a little better when you turn to earnings projections for the immediate future, but there's still a wide gulf between the two stocks. McDonald's has a forward earnings multiple of just under 20. But Chipotle sells at more than twice that figure, or 42 times forward earnings. Even with Chipotle's poor stock performance, McDonald's still looks cheaper on basic valuation.
Dividends and return of capital
With regard to dividends, it's easy to distinguish Chipotle and McDonald's. McDonald's is a Dividend Aristocrat, with a yield of almost 3% and a track record of 41 years of consecutive annual dividend increases. By contrast, Chipotle has never paid a dividend to its shareholders. That's not uncommon for a young company still in a high-growth phase, but it still doesn't make those looking for income happy with the fast-casual company.
When you take a broader view of return of capital, Chipotle fares a bit better. The company has embraced stock repurchases over the past year, spending $1.08 billion on buybacks. However, McDonald's has been far more aggressive with buybacks, spending $11.2 billion on share repurchases over the past 12 months. Even taking into account the difference in their relative size, McDonald's is better about being shareholder-friendly with its capital than Chipotle.
Growth prospects and business risk
Perhaps the biggest issue with Chipotle and McDonald's is where they'll find their future growth. For McDonald's, the introduction of all-day breakfast and focused promotional offers to customers have led to rising sales, with improving customer perceptions of the fast-food giant and stronger figures on the top and bottom lines. In its most recent quarter, McDonald's saw global sales rise 3.5%, sending earnings per share up by 9%. Future initiatives involve improving the in-store experience through more extensive automation and an emphasis on healthier ingredients. McDonald's is hopeful that it can keep up with and surpass its rivals by continuing to move forward and use technology and other innovations more effectively. At least so far, five consecutive quarters of positive comparable-restaurant sales point to a nice rebound for McDonald's.
For Chipotle, on the other hand, things remain cloudy. In its most recent quarter, net income plunged 95% from year-ago levels, with same-store sales plummeting an incredible 22% despite Chipotle's best efforts to keep customers coming through its doors. Even a doubling of promotional and marketing costs wasn't enough to stem the tide, and as Motley Fool contributor John Maxfield noted last month, some fear that Chipotle is moving away from the business model that made it a success in the first place. Moves like adding desserts, turning to television advertising, and using data analytics to assess its business mark major departures from its simple way of doing business in the past -- and shareholders don't seem optimistic about the eventual results.
Right now, McDonald's looks like a better buy than Chipotle. The fast-food king has better stock performance, stronger dividends, and a more stable future ahead of it. Chipotle could end up being a huge winner if it can successfully turn around its business, but there are a lot more questions than answers about the fast-casual company right now.
10 stocks we like better than McDonald's When investing geniuses David and Tom Gardner have a stock tip, it can pay to listen. After all, the newsletter they have run for over a decade, Motley Fool Stock Advisor, has tripled the market.*
David and Tom just revealed what they believe are the 10 best stocks for investors to buy right now... and McDonald's wasn't one of them! That's right -- they think these 10 stocks are even better buys.
Click here to learn about these picks!
*Stock Advisor returns as of November 7, 2016
Dan Caplinger has no position in any stocks mentioned. The Motley Fool owns shares of and recommends Chipotle Mexican Grill. Try any of our Foolish newsletter services free for 30 days. We Fools may not all hold the same opinions, but we all believe that considering a diverse range of insights makes us better investors. The Motley Fool has a disclosure policy.