Better Buy: American Outdoor Brands vs. Vista Outdoors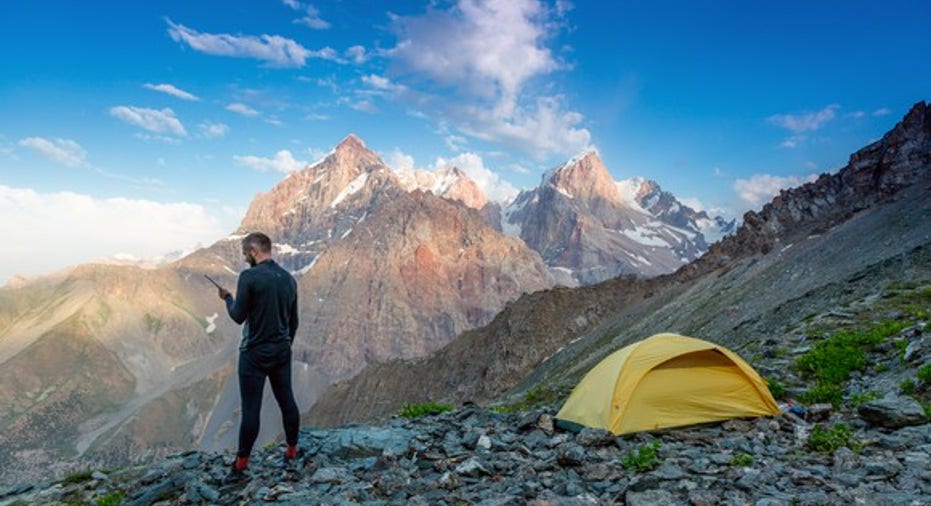 Now that Smith & Wesson is American Outdoor Brands (NASDAQ: AOBC) and will be focusing more intently on the rugged outdoors market, it will eventually become a direct competitor to Vista Outdoor(NYSE: VSTO), a similarly situated shooting sports and outdoor goods manufacturer, and notpure-play gun makerSturm, Ruger.
Blending together a love for the great outdoors and shooting sports will soon pit American Outdoor Brands against Vista Outdoor. Image source: Getty Images.
So, despite firearms still comprising 90% of American Outdoor's total revenues, it's worthwhile to examine whether it or Vista Outdoor is the better stock to buy.
Data source: Yahoo! Finance, Morningstar.
The great outdoors
The outdoors and sporting goods industries represent a $63 billion market opportunity, almost four times larger than the $16 billion firearms industry. It's even larger if you exclude the grenades, mines, and artillery and tank munitions analysts tend to lump into the latter. American Outdoor pegs the domestic firearms market to be $6 billion, making it understandable why it wants to branch out beyond the narrow confines of handguns and rifles.
Vista Outdoor is relatively new to the market, having been spun off in February 2015 from aerospace and defense contractorOrbital ATK. Obviously larger than American Outdoor Brands -- almost twice the size, in fact -- it generates nearly three times as much revenue, 62% of which comes from its shooting sports segment that includes its Savage Arms brand of rifles and shotguns and Federal Premium, Speer, and American Eagle brands of ammunition.
Image source: Getty Images.
American Outdoor Brands, of course, came from Smith & Wesson, which went public back in the 1990s but has a lineage stretching back to the 1800s. It generates 88% of its revenues from firearms, almost three quarters of which comes from its famed handguns. Although it bought Battenfeld Technologies in 2014 to enter into the outdoor sporting goods arena, it wasn't until last year that it really made a concerted effort to ramp up growth with its acquisition of knife maker Taylor Brands, laser sight manufacturer Crimson Trace, and rugged outdoors and camping gear maker Ultimate Survival Technologies. Expect the outdoor products and accessories division to assume a much larger percentage of sales in the future.
Two smoking barrels
Yet firearms remain important to both companies. Vista is unveiling at this month's SHOT Show a new line of modern sporting rifles -- often erroneously referred to as "assault rifles" -- under the Savage Arms brand, while American Outdoor's first new product of 2017 wasn't in the rugged outdoors market but rather a new pistol under its M&P platform.
For both companies, the outdoors market is countercyclical to their firearms business, which tends to be strongest in the late spring to summer quarters. Both companies are targeting new products to grow their respective outdoors businesses, but they are facing a sluggish retail environment that neither believes will change in the immediate future. As a result, both have had to resort to being promotional to attract sales.
That's also occurring on the firearms side of things, too, but Vista lost market share in ammunition as the big shortage of a couple of years ago drew more manufacturers into the market. While Vista's Federal Premium is still the leading ammo brand, it is devising ways to win back the share it lost.Smith & Wesson, though it engages in discounting its firearms, says it's not defending market share, but taking it.
Image source: Vista Outdoor.
With a larger exposure to the outdoors market that American Outdoor is only just entering, Vista Outdoor has the advantage. American Outdoor, obviously, continues to lead in firearms, but a return to a normalized sales environment could weigh against it. Whether that actually happens remains to be seen since incidents like the recent Fort Lauderdale airport shooting are going to keep the need for personal protection foremost in people's minds and ought to continue driving sales for compact, concealed-carry weapons.
Both entering new markets
Vista's entry into the modern sporting rifle market could affect Smith & Wesson sales in that niche since last year's M&P15-22 Sport MSR, an updated version of itswildly popularM&P 15-22, was credited with helping push new products to account for almost 30% offirearms revenue last quarter. However, it might counter that with a move into shotguns, where it currently has no presence. That could come through an organically developed weapon, but American Outdoor has shown a propensity lately for jumping into new markets through acquisitions.
While we should see American Outdoor's margins come down in the future as lower-margin outdoors goods comprise larger percentages of revenues, its current superior profitability over Vista can't be ignored -- nor can its extremely discounted valuation, whether in terms of price-to-earnings or how low the ratio of its enterprise value is in terms of its free cash flow. In fact, they are skewed so heavily in American Outdoor Brands' favor they make its stock the better buy over Vista Outdoor.
10 stocks we like better than American Outdoor Brands Corporation When investing geniuses David and Tom Gardner have a stock tip, it can pay to listen. After all, the newsletter they have run for over a decade, Motley Fool Stock Advisor, has tripled the market.*
David and Tom just revealed what they believe are the 10 best stocks for investors to buy right now...and American Outdoor Brands Corporation wasn't one of them! That's right -- they think these 10 stocks are even better buys.
Click here to learn about these picks!
*Stock Advisor returns as of January 4, 2017.
Rich Duprey has no position in any stocks mentioned. The Motley Fool recommends Orbital ATK. The Motley Fool has a disclosure policy.