Better Buy: Altria Group Inc. vs. Coca-Cola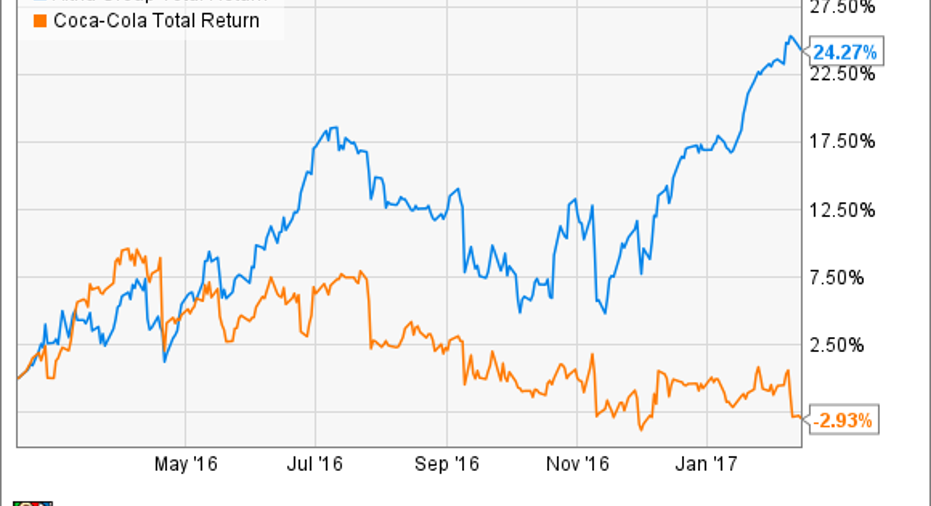 Consumer goods manufacturers often make smart stock picks, and Altria Group (NYSE: MO) and Coca-Cola (NYSE: KO) have long-term histories of success. Both stocks have delivered strong total returns and reliable dividend income to shareholders for decades, but lately, Coca-Cola has joined Altria in attracting the unwanted attention of health advocates and spurring potential regulation, taxation, and other negative measures. Investors are curious which of these two consumer plays is the better bet going forward.
Let's try to figure out whether Altria Group or Coca-Cola is the better buy right now by looking at them through a number of different analytical lenses.
Image source: Coca-Cola.
Stock performance and valuation
Altria has seen its stock perform much better than over Coca-Cola over the past year. Altria's total return weighs in at 24% since February 2016, but Coca-Cola's shares have dropped by 3% over the same period.
MO Total Return Price data by YCharts.
Usually, disparities in performance produce changes in relative valuation, making the rising stock look more expensive. But when you look at trailing earnings over the past 12 months, Altria appears to have a huge edge, trading at an earnings multiple of 10 compared to Coca-Cola's 27. However, Altria reported a huge one-time gain as a result of its sale of SABMiller, and so its trailing earnings don't accurately reflect its operating business.
When you look at forward earnings expectations, the two stocks look much more similar. Coca-Cola's forward earnings multiple is 21, which compares very closely to Altria's current value at 20 times forward earnings. Valuations are close, but Altria clearly has more momentum among shareholders following the stock.
Dividends
For dividend investors, Altria Group and Coca-Cola are both attractive and have good track records. Coca-Cola recently passed Altria in terms of yield, weighing in at 3.5% compared to the cigarette giant's 3.4%. Both Altria and Coca-Cola pay out between 80% and 90% of their earnings in the form of dividends.
Altria and Coca-Cola also have strong histories of dividend growth. Altria made its most recent boost to its dividend last September, giving shareholders an 8% raise and marking its 50th dividend increase in 47 years. Coca-Cola, meanwhile, made a 6% dividend increase in early 2016, but investors can expect the soft-drink company to make another annual increase within the next couple of weeks that would extend its streak of consecutive yearly boosts to 55 years. As a result, both Coca-Cola and Altria are exemplary in terms of dividends, and neither has a huge edge.
Growth prospects and risks
No one should expect huge amounts of growth from mature companies like Altria and Coca-Cola, but that doesn't mean that they're standing still. Altria has had to deal with the long-term impact of falling cigarette sales volume on its business, and efforts to boost revenue and profits through price increases haven't fared as well lately as they have historically. In its most recent quarter, Altria reported just a 0.1% rise in revenue net of excise taxes, and even strong pricing was only able to boost the profit from its smokeable products segment by 4% from year-ago levels. Moreover, Altria's guidance for 2017 was a bit disappointing, denying investors the double-digit earnings growth that they had hoped to see. With new state taxes in California taking effect later in the year, Altria could see further pressure ahead.
Coca-Cola has seen even worse results, and it's has had to take more dramatic action to address them. In its most recent quarter, Coca-Cola said that revenue fell 6% from year-ago levels, sending net income plunging by more than half. Much of the drop involves the drink specialist's refranchising of its bottling operations, the latest in a cycle of moves over the years that has seen Coca-Cola occasionally take control of its bottlers only later to give them independence. In responding to health advocates, Coca-Cola has pushed its Zero branded products, which feature no sugar in an effort to escape taxes on sugary beverages that are popping up in some areas. The company expects revenue to fall due to divestitures, and earnings could decline again despite a big stock repurchase, but Coca-Cola hopes that its longer-term prospects will be sound.
Altria Group and Coca-Cola have their challenges, and right now, Coca-Cola's seem to be more daunting. In light of Altria's recent success, the cigarette giant looks like a slightly better buy than Coca-Cola right now. Yet those who believe that Coca-Cola can successfully answer intense regulatory scrutiny and are willing to take on some risk in their portfolios could see value in looking at the beverage maker while it's down.
10 stocks we like better than Altria GroupWhen investing geniuses David and Tom Gardner have a stock tip, it can pay to listen. After all, the newsletter they have run for over a decade, Motley Fool Stock Advisor, has tripled the market.*
David and Tom just revealed what they believe are the 10 best stocks for investors to buy right now... and Altria Group wasn't one of them! That's right -- they think these 10 stocks are even better buys.
Click here to learn about these picks!
*Stock Advisor returns as of February 6, 2017
Dan Caplinger has no position in any stocks mentioned. The Motley Fool recommends Coca-Cola. The Motley Fool has a disclosure policy.