Better Buy: Alnylam Pharmaceuticals, Inc. vs. Sarepta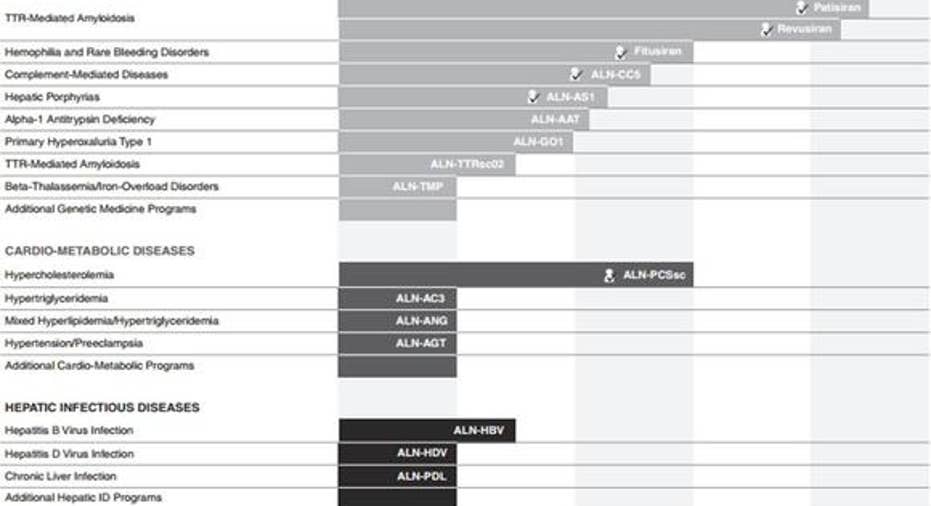 Not so long ago, Alnylam Pharmaceuticals and Sarepta Therapeutics were two of the hottest clinical-stage biotech stocks because of their emphasis on developing treatments for rare diseases. However, these two former stars have fallen on hard times in recent months:
With the shares of both companies currently trading well below their 52-week highs, let's consider which stock is the better bargain right now.
Alnylam has a well-diversified pipeline of product candidatesAlnylam's drug-development platform is based on RNA interference, or RNAi, which is a natural biochemical pathway that silences the expression of specific genes. By harvesting the power of RNAi, Alnylam is attempting to build out a diverse drug pipeline for diseases that are perhaps best treated at the genetic level, or that have failed to respond to traditional pharmaceutical approaches. The bottom line is that this biotech is hoping to develop a broad new class of medicines that could open up entirely new disease markets.
In January 2015, Alnylam's management outlined its plan, dubbed "Alnylam 2020," toadvance and commercialize RNAi therapeutics as a new class of innovative medicines. In a nutshell, Alnylam's stated goal is to bring three products to market by the end of 2020 and have anotherfour drug candidates in pivotal-stage trials. And with a rapidly emerging pipeline of drug candidate products that span several broad disease markets in the works, Alnylam appears primed to meet these lofty goals:
Source: Alnylam.
For near-term catalysts, investors can look toward a possible top-line data readout for the company's late-stage drug candidate, patisiran, in 2017. Patisiran is being studied as a potential treatment for thefamilial amyloidotic polyneuropathy form of transthyretin-mediated amyloidosis (ATTR). Next up, the biotech is forecasting another late-stage data readout for revusiran, as a treatment for the familial amyloidotic cardiomyopathy manifestation of ATTR that's associated with heart failure, in late 2018. All told, Alnylam could transform into a commercial operation by perhaps 2018 and have two major orphan drugs on the market as soon as 2019.
Sarepta's exon-skipping platform hangs in the balanceLike Alnylam, Sarepta's drug development platform is also rooted in RNA-targeted medicines in the broad sense. The biotech's lead clinical candidate is eteplirsen, an experimental exon-skipping treatment indicated for certain forms of the fatal muscle-wasting disorder known as Duchenne muscular dystrophy, or DMD. Eteplirsen isn't a functional cure for DMD by any means, but the company believes the drug can significantly slow the disease's progression by boosting a patient's ability to produce the key structural protein dystrophin.
However, Sarepta hasn't done a superb job in terms of developing eteplirsen over the years, reportedly ignoring the FDA's repeated requests to perform a large, placebo-controlled trial and instead sallying forth with a small midstage trial as the basis of its current regulatory application. As a result, an outside panel of experts recently voted against approving the drug on an accelerated basis, despite some rather compelling patient testimony supporting the drug's effectiveness during the hearing.
The FDA is scheduled to hand down a final regulatory decision on eteplirsen's New Drug Application by May 26. So the big question going forward is whether the agency will put more emphasis on the drug's anemic clinical data, or on patient testimony.
If the FDA rejects eteplirsen outright, Sarepta's future looks dim. Put simply, the biotech will be forced to raise a significant amount of cash at depressed share price levels to fund its clinical activities. On the flip side, some of the movers and shakers at the FDA, such as Janet Woodcock -- the director for theCenter for Drug Evaluation and Research -- seem inclined to approve the drug because of the lack of treatments available for this deadly disease. So all isn't lost just yet, but the biotech's prospects are worrisome to say the least.
Which biotech is the better buy?While Sarepta probably has the higher ceiling in the near term, the drugmaker's risk profile is simply too steep for my taste. If the FDA rejects eteplirsen, Sarepta probably won't be able to refile a regulatory application of any kind for at least three years, and that scenario implies a heavy dose of dilutive financing in the interim. By contrast, Alnylam already has two late-stage candidates barreling toward top-line data readouts, and a diverse clinical pipeline that offers investors deep value. That's why I think Alnylam is the overall better bargain -- and perhaps safer bet -- than Sarepta.
The article Better Buy: Alnylam Pharmaceuticals, Inc. vs. Sarepta originally appeared on Fool.com.
George Budwell has no position in any stocks mentioned. The Motley Fool owns shares of and recommends Alnylam Pharmaceuticals. Try any of our Foolish newsletter services free for 30 days. We Fools may not all hold the same opinions, but we all believe that considering a diverse range of insights makes us better investors. The Motley Fool has a disclosure policy.
Copyright 1995 - 2016 The Motley Fool, LLC. All rights reserved. The Motley Fool has a disclosure policy.