Better Buy: Alliance Resource Partners LP vs. CONSOL Energy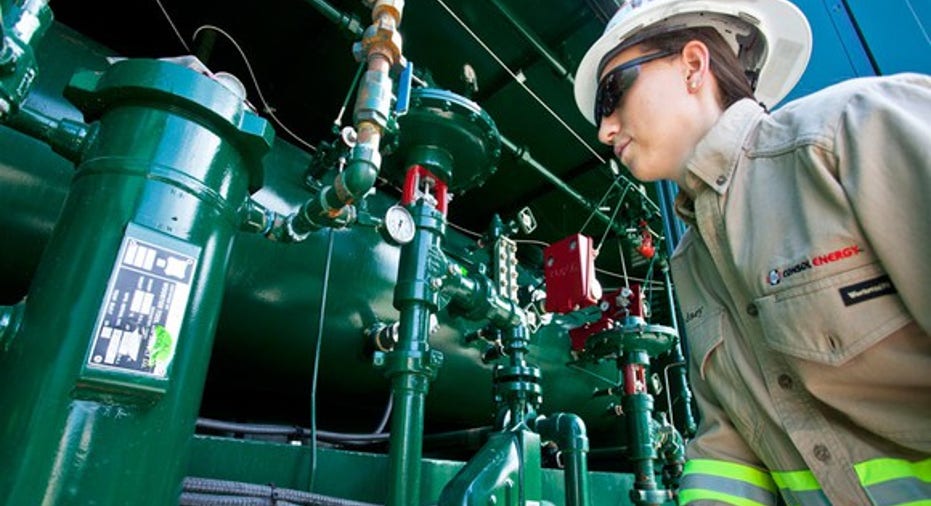 Alliance Resource Partners LP (NASDAQ: ARLP) is one of the most profitable coal companies in the United States. CONSOL Energy (NYSE: CNX) started life as a coal miner, but it has been making a shift to natural gas that's been filled with red ink. The easy answer is, stick with the money-maker in the out-of-favor industry, but for long-term investors, that could be short-sighted.
Still vital
Coal is a vital part of the U.S. energy landscape; the fuel source supported 30% of the U.S. power supply in 2016. And if the U.S. Energy Information Administration is even close to right, it should stick at around that level for the time being. In other words, coal, despite the headwinds it's facing, is still very important to the future of the United States.
Image source: CONSOL Energy.
This is one of the reasons financially conservative Alliance Resource Partners is doing just fine. Unlike coal peers like Peabody Energy (NYSE: BTU) and Arch Coal, which funded aggressive growth plans with debt that eventually pushed them into bankruptcy court, Alliance's long-term debt made up a reasonable 25% (or so) of its capital structure at the start of the year. And unlike many peers, Alliance has actually remained profitable throughout the deep coal downturn. There was a distribution cut, but Alliance is easily one of the best-run coal miners in the country.
With coal expected to remain an important, though not expanding, fuel source, it would be easy to say Alliance is a better investment option than money-losing CONSOL Energy. Add in Alliance's hefty 7.6% yield, and there really is a lot to like. But coal's long-term picture isn't as bright as what is expected in the natural gas sector, which CONSOL is shifting toward. And that's an important fact for long-term investors to keep in mind.
Looking to the future
This is really a time issue. Alliance is a good option for investors seeking income today, but probably not the best option for someone looking for a long-term investment. Indeed, coal faces significant issues, including the broad shift toward natural gas in the energy space.
Coal has been losing market share to natural gas for years. Image source: U.S. EIA.
Part of that is the current low price for natural gas that's helped push CONSOL's bottom line into the red over the last couple of years. But low gas prices have made it cheaper to build and run gas-fired electric plants. Since power plants are long-lived assets, the market share that coal has lost to gas will be hard, if not impossible, for coal to win back. Add in the global focus on carbon, and coal miners will be hard-pressed to grow from here. Alliance is likely to hold the line better than most, but it will require a lot of hard work, and it isn't likely to include much business growth.
Gas, on the other hand, has materially increased its footprint in the power sector and is likely to find increasing uses in other areas, like chemicals. Add in the liquified natural gas export terminals being built in the United States, and there's more long-term support for demand than meets the eye today.
The problem with CONSOL is the numbers are kind of ugly. For example, it's lost money in each of the last two years. Its dividend has been cut to a token penny a share per year. Cash on the balance sheet has fallen from roughly $327 million at the end of 2014 to just $60 million or so last year. Debt, meanwhile, makes up around 40% of the balance sheet -- not outlandish, but certainly much higher than Alliance's debt load.
CONSOL realizes all of the negatives and is working to adjust. Its focus is on trimming debt, prudently growing production, and returning value to shareholders with opportunistic stock buybacks. And while results are rough to look at today, the focus is squarely on the long-term future for natural gas. Note, too, that CONSOL's transition from a coal miner to a gas driller isn't complete yet. With coal suddenly more interesting to some investors, CONSOL might actually accelerate its business transition by selling its remaining coal assets, a move that could help reduce debt more quickly than industry watchers are expecting.
CONSOL has its sights on a brighter future. Image source: CONSOL Energy.
Near or far?
The evidence seems to indicate that Alliance is a far better option than CONSOL if you're looking for current income. However, if you what you want is a long-term investment, the math looks a little different. Natural gas is increasingly the commodity of choice in power and is also being put to work in other areas. While CONSOL's results look miserable on many levels, it's still transitioning its business away from coal and toward gas. Once that's complete, the long-term outlook for CONSOL is likely to look far more promising, which is why investors with an eye toward the next 10 to 20 years should probably favor CONSOL over Alliance.
10 stocks we like better than CONSOL EnergyWhen investing geniuses David and Tom Gardner have a stock tip, it can pay to listen. After all, the newsletter they have run for over a decade, Motley Fool Stock Advisor, has tripled the market.*
David and Tom just revealed what they believe are the 10 best stocks for investors to buy right now...and CONSOL Energy wasn't one of them! That's right -- they think these 10 stocks are even better buys.
Click here to learn about these picks!
*Stock Advisor returns as of April 3, 2017.
Reuben Brewer has no position in any stocks mentioned. The Motley Fool recommends Alliance Resource Partners. The Motley Fool has a disclosure policy.