Better Buy: Alcoa Inc. vs. Barrick Gold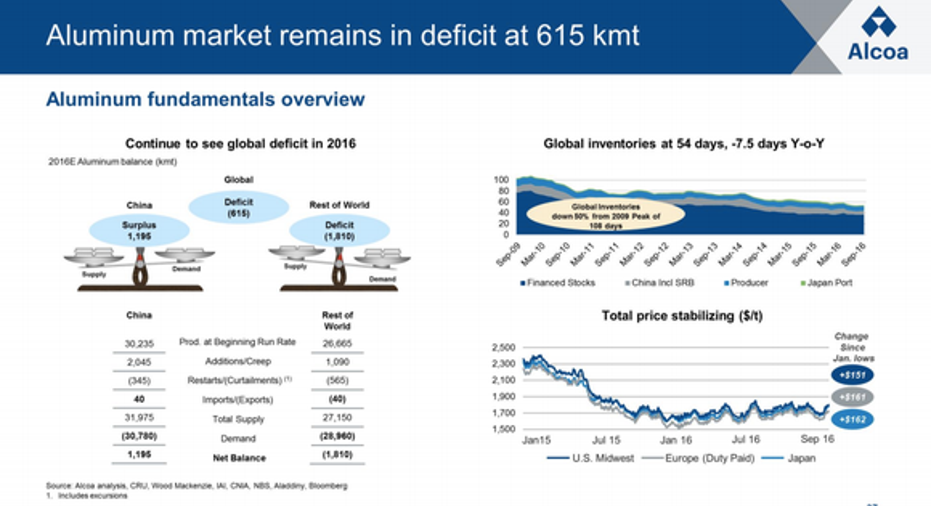 Aluminum producer Alcoa Inc. (NYSE: AA) and minerBarrick Gold (NYSE: ABX) are vastly different companies, but they are both heading in a very similar direction -- which is why investors should be comparing the two. In the end, as we shall soon see, only one of the pair is tapping into a shift in demand across industries that should support long-term growth.
Image source: Alcoa.
Improving cost structures
Barrick Gold has spent the last few years trimming its costs. In 2016 the miner's all-in sustaining costs for an ounce of gold are expected to be as low as $750. That's down from $915 an ounce in 2013. A big part of this cost reduction came from trimming production, which fell from 7.2 million ounces in 2013 to an expected 5 million to 5.5 million ounces in 2016. Essentially, the company has been refocusing on its best, lowest-cost assets and selling noncore properties. Along the way it has also been able to materially trim its debt load.
Alcoa's improvement along the aluminum cost curve. Image source: Alcoa.
Alcoa has been moving down a similar path, with the most notable change at the company being the separation from specialty-parts maker Arconic (NYSE: ARNC) in 2016. Leading up to that breakup, Alcoa spent a great deal of time cutting costs and selling facilities in the aluminum business. The aggressive moves it took improved its cost structure while maintaining its global footprint. And, after the Arconic split, long-term debt now stands at a reasonable 15% (or so) of the capital structure.
Different markets
So, in many ways, aluminum-focused Alcoa and gold miner Barrick are similar. But you can't look past the big differences in what they produce. Gold, that most precious of metals, has a vastly different supply-and-demand dynamic than aluminum, an industrial metal prized for its strength and light weight.
For example, according to the World Gold Council, around half the gold used in the third quarter of 2016 went toward making jewelry. Another 33% or so went toward investments, like bullion (the bars you put in a safe-deposit box; not bouillon, the broth you cook with). Buying jewelryand investing in gold, which is often viewed as a store of wealth, are driven by emotion. That's not to suggest that demand for gold will ever go away, but it will likely ebb and flow in often unpredictable ways.
Aluminum and its related products, on the other hand, are finding increasing demand in the construction of airplanes and cars, among other applications. The benefit is that aluminum is lightweight, allowing for a reduction in fuel use in vehicles and aircraft made of it. But it's also strong, which means its structural integrity can be maintained. And here's a nifty little fact: There's more demand than supply right now.
Aluminum demand is outstripping supply on the world stage. Image source: Alcoa.
In other words, Alcoa is working in a market that's likely to see solid demand and improving pricing. And, while you may think of aluminum in terms of soda cans, demand for aluminum group products should grow along with the increasing focus on energy efficiency. A great example is the way aluminum is displacing steel in the auto sector, with the FordF-150 a prime example of the shift. In the end, aluminum's long-term growth story appears better-grounded than gold's.
The long-term outlook
Alcoa and Barrick Gold have been trimming production, reducing debt, and focusing on cost containment. Each is a better company than it was not too long ago. Clearly, Alcoa's split from Arconic was a huge move relative to anything Barrick was involved in, but it left Alcoa in a stronger position overall. So, in some ways, these two companies are moving in what appears to be a similar, and positive, direction.
That said, the fundamentals underpinning Alcoa's long-term future are based on a demand shift toward the light and strong metals it produces in key global industries like aviation and automobiles. Demand for gold, Barrick's main product, is more sensitive to investor sentiment since gold is mainly used in jewelry and as a store of wealth. For trust long-term investors, Alcoa is the better option for long-term growth. As the world increasingly seeks out light and strong metals, Alcoa will happily be there to supply them and reward investors along the way.
10 stocks we like better than Alcoa When investing geniuses David and Tom Gardner have a stock tip, it can pay to listen. After all, the newsletter they have run for over a decade, Motley Fool Stock Advisor, has tripled the market.*
David and Tom just revealed what they believe are the 10 best stocks for investors to buy right now... and Alcoa wasn't one of them! That's right -- they think these 10 stocks are even better buys.
Click here to learn about these picks!
*Stock Advisor returns as of January 4, 2017
Reuben Brewer has no position in any stocks mentioned. The Motley Fool owns shares of and recommends Ford. The Motley Fool has a disclosure policy.