Better Buy: Alcoa Corporation vs. Silver Wheaton Corp.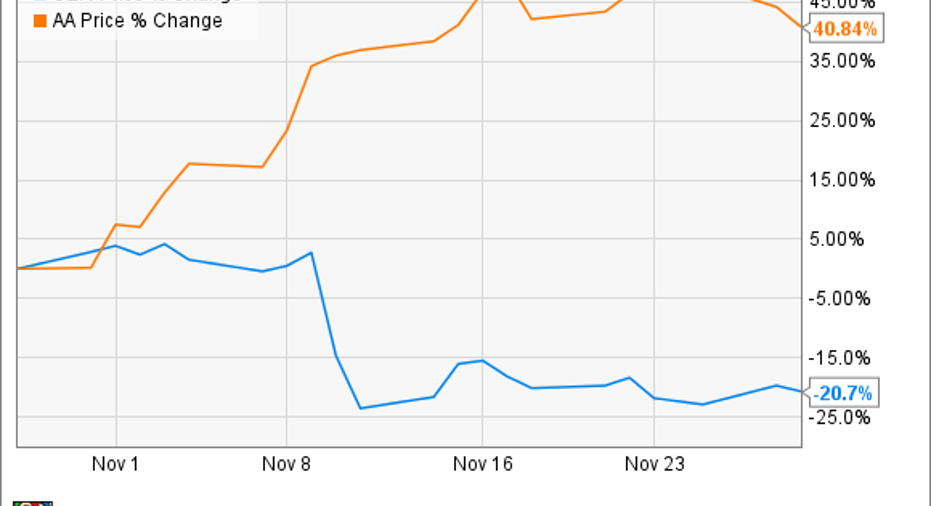 Is aluminum or silver a better bet now? Image ource: Getty Images.
Alcoa Corporation (NYSE: AA) and Silver Wheaton Corp. (NYSE: SLW) have established themselves as leaders in the metals and mining industry. Alcoa is the world's leading producer of bauxite and alumina, and Silver Wheaton is the world's largest precious metals streaming company. But while the fortunes of both companies hang on commodity prices, the stocks can sometimes move in different directions, as we're witnessing now: Silver Wheaton is down almost 20% in the past month even as Alcoa jumped a staggering 40%, as of this writing. It's no coincidence that precious metals slipped and alumina and aluminum inched higher during the period.
Still, the future of both companies depends on more than just commodity prices. An uptick in U.S. infrastructure spending could boost Alcoa's prospects, but any uncertainty in the U.S. economy or international markets like Europe could push demand for precious metals higher and benefit Silver Wheaton. So, which stock is a better buy now? Let's find out.
The bull case for Alcoa
Alcoa is at an interesting juncture, having just spun off its value-added business, Arconic(NYSE: ARNC), to operate as a stand-alone bauxite and aluminum manufacturer. The new Alcoa is now a purely commodity-centric company, which partly explains the market's excitement: LME aluminum prices are trading near 16-month highs as rising prices of thermal coal -- a key alumina input -- has hit domestic aluminum production in China.
Anticipation of higher infrastructure spending in the U.S. under Donald Trump's upcoming presidency has added fuel to the fire as aluminum has a variety of uses in key industries including manufacturing, transportation, electronics, and aerospace. Aluminum's light weight, durability, and versatility as a metal has attracted the attention of leading auto and aircraft makers including Ford and Boeing as they scramble to improve fuel efficiency. Naturally, this could present a big opportunity for Alcoa going forward.
With demand and prices of aluminum improving, investors now expect Alcoa to recoup its losses soon. Alcoa's financial standing is another reason the market is bullish. Before the split, Alcoa's $9 billion of debt was a major drag on its balance sheet. It has now offloaded the bulk of its debt to Arconic in a bid to keep its debt-to-equity ratio around 20% and achieve investment-grade credit ratings.
Putting it all together, Alcoa is now more focused, leaner, and stronger, and set to benefit from aluminum's growing appeal. Since the stock was languishing for the better part of the year, the split has provided investors the perfect opportunity to bet on a turnaround.
The bull case for Silver Wheaton
Silver Wheaton's story is different from Alcoa's since it doesn't mine metals or minerals. Instead, Silver Wheaton buys precious metals from gold and silver miners at fixed prices in exchange for upfront funding. It's a double-dip advantage, as Silver Wheaton doesn't incur mining costs and secures bullion streams at prices substantially below market rates. You might not understand how significant that is until I give you some numbers.
Consider this: Silver Wheaton's average cash costs for silver and gold in Q3 were $4.51 per ounce and $390 per ounce, respectively. It's easy to understand how profitable that must be when you compare those rates with spot gold and silver prices. Rising spot prices even helped Silver Wheaton reverse its year-ago loss of $0.24 per share to a profit of $0.19 per share in Q3. Gold accounts for roughly 40% of Silver Wheaton's revenues.
Growth in Silver Wheaton's silver and gold equivalent ounces over the years. Image source: Silver Wheaton.
It's a win-win business model. Silver Wheaton's leverage to gold and silver prices offers upside potential like any other precious metal miner, but low fixed costs limit the downside risks and enable the company to grow its cash flows even during weak market conditions. That's also why Silver Wheaton pays a dividend -- a rarity in the metals and mining space. The stock currently yields 1.3% in dividends.
Right now, Silver Wheaton is aggressively adding streaming assets, locking in several years of silver and gold equivalent production at low costs. Unless gold and silver fall off the cliff, Silver Wheaton's profits aren't going anywhere. Now, that's a strong investment thesis for long-term investors.
The winner: Silver Wheaton
Alcoa looks good as a turnaround play, but four factors concern me: lack of a strong profit record even during periods of high aluminum prices, limited visibility as a stand-alone company, the risks associated with Trump's potential protectionism policies since Alcoa has significant bauxite reserves outside North America, and the stock's recent run-up that seems to have gotten ahead of itself.
Comparatively, Silver Wheaton's stock might be volatile, but gold and silver will likely remain preferred hedge investments for a long time to come. Given the stock's recent drop, I'd consider it a better choice than Alcoa today.
10 stocks we like better than Alcoa When investing geniuses David and Tom Gardner have a stock tip, it can pay to listen. After all, the newsletter they have run for over a decade, Motley Fool Stock Advisor, has tripled the market.*
David and Tom just revealed what they believe are the 10 best stocks for investors to buy right now...and Alcoa wasn't one of them! That's right -- they think these 10 stocks are even better buys.
Click here to learn about these picks!
*Stock Advisor returns as of November 7, 2016.
Neha Chamaria has no position in any stocks mentioned. The Motley Fool owns shares of and recommends Ford. The Motley Fool owns shares of Silver Wheaton. Try any of our Foolish newsletter services free for 30 days. We Fools may not all hold the same opinions, but we all believe that considering a diverse range of insights makes us better investors. The Motley Fool has a disclosure policy.