Better Buy: AbbVie Inc. vs. Eli Lilly & Co.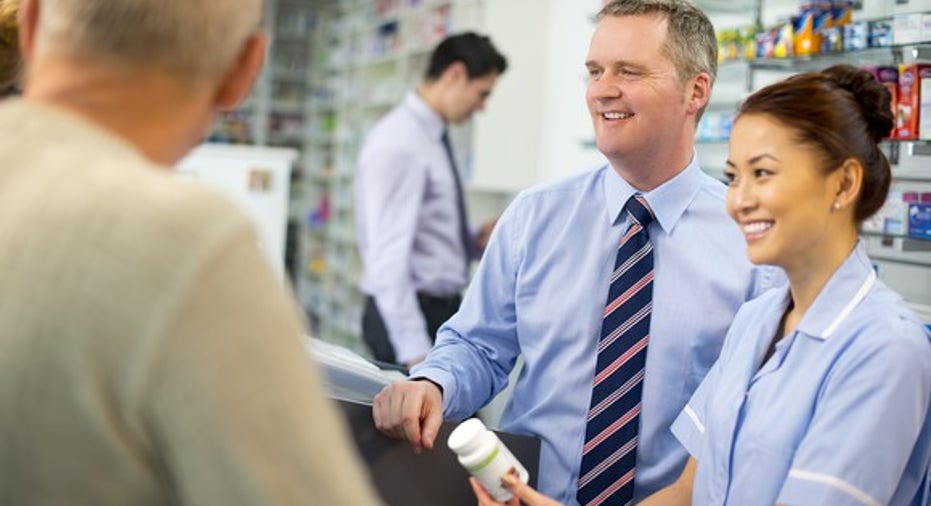 Image source: Getty Images.
Investors torn between income and growth appreciate Big Pharma stocks because they tend to provide both. Over the past decade, theiShares U.S. Pharmaceuticals ETFhas risen about 216%, trouncing the benchmark S&P 500's gain of 72% over the same period.
Shares ofAbbVie (NYSE: ABBV) andEli Lilly (NYSE: LLY) have the benchmark beat when it comes to dividends as well. At recent prices, both offer yields above the average dividend-paying stock in the S&P 500.
These drugmakers are both committed to returning profits to shareholders, but which is poised to provide more? To find out, we'll compare them on a number of metrics to see which is most attractive right now.
Products and patents
AbbVie's most important product is the world's best-selling drug, Humira. Since Humira earned its first FDA approval in 2002, AbbVie has expanded its label from treatment ofrheumatoid arthritis to 10 indications, including Crohn's disease and psoriasis.AbbVie has also raised Humira's U.S. list price more than 126% since 2011.The combination of price increases and addressable patient population expansion has kept it growing at a rapid pace.In the first half, the anti-inflammatory racked up $7.72 billion in global sales, a 16% increase over the previous-year period.
AbbVie's success with Humira is outstanding, but its reliance on the aging antibody is disturbing. Humira accounted for about 62% of the company's total revenue during the first half, and its U.S. composition-of-matter patent -- the most important one, as it protects every use of the formulation -- is expected to expire this December.Waiting in the wings is Amgen's ABP 501, a biosimilar version of Humira that impressed an independent advisory panel of 26 physicians last month. The FDA doesn't need to follow the panel's unanimous vote recommending approval of ABP 501 for seven of Humira's indications, but it probably will.
Exactly when ABP 501 will begin pressuring U.S. Humira sales is anybody's guess, but I strongly doubt it will hit pharmacy shelves before 2018. AbbVie has amassed more than 70 newer patents that cover manufacturing methods, formulations, and other aspects of Humira until 2022,so get ready for the intellectual-property battle of the century.
Image source: AbbVie Inc.
Eli Lilly's aging product lineup is also troubling. Its top three drugs -- Humalog, Alimta, and Cialis -- put up combined sales of $3.69 billion in the first half of the year, comprising 35.9% of total revenue for the period, but the trio's growth has stalled.Humalog's main U.S. patent expired a few years ago,and major patents protecting Alimta and Cialis in the U.S. expire next year.
Growth ahead?
With its leading products in peril, Eli Lilly is depending heavily on new launches for growth, and its diabetes program is helping. Its GLP-1 agonist, Trulicity, is growing by leaps and bounds, with second-quarter sales of $201.3 million 40% higher than the previous quarter's.
Novo Nordisk's older drug of the same class, Victoza, is on pace to reach $2.8 billion this year, but Trulicity could end up gaining a large share of its U.S. market. America's largest pharmacy benefit manager,Express Scripts, recently added Victoza to its exclusion list, and Lilly's Trulicity is a preferred alternative.
Unfortunately for Lilly, its recently launched psoriasis treatment, Taltz, landed on the same exclusion list, with Novartis' drug of the same class, Cosentyx, and Humira listed as preferred alternatives. Given the exclusion and increasingly crowded psoriasis field, I'll be surprised if Taltz ever approaches its $4 billionpeak annual sales estimate.
Image source: Eli Lilly & Co.
AbbVie's growth strategy includes buying its way into the cancer arena, and it's going well. It looks as if the company might come out ahead on its $21 billion acquisition of Pharmacyclics and its 50% share of Imbruvica sales. Earlier this year, Imbruvica capsules became the first chemotherapy-free treatment option for newly diagnosed patients with the most common form of leukemia.
AbbVie expects its share ofannual Imbruvica sales to peak at around $7 billion, and a more recently launched leukemia tablet, Venetoclax, could help it get there. TheRoche-partnered therapy earned approval for treatment of a genetically defined, difficult-to-treat group of leukemia patients this April,and a first-in-class combination approach with Imbruvica in this population could be on the way. With a list price of $109,500 per year, Venclexta itself could add over $1 billion annually to AbbVie's top line.
Value and dividends
Although I think AbbVie has a slightly better chance of offsetting impending losses, the market doesn't agree. With its stock trading around 34.6 times trailing earnings and about 22.5 times this year's estimates, Eli Lilly is one of the most expensive stocks in Big Pharma.
LLY PE Ratio (TTM) data by YCharts
When it comes to dividends, AbbVie has Eli Lilly beat again. Abbott has increased its distribution for 44 consecutive years, and since its spinoff in 2013, AbbVie has followed in its parent's footsteps. The offshoot has boosted quarterly payments several times from $0.40 to $0.57, for a forward yield of about 3.4% at recent prices.
Eli Lilly has been forced to freeze its dividend, and its shareholders have seen their quarterly payout rise just 4% over the past seven years to $0.51, for a yield of about 2.5% at recent prices.
LLY Dividend data by YCharts.
Despite some impressive dividend hikes, AbbVie only requires a sustainable 62% of trailing earnings to make its dividend payments, while Eli Lilly, with a precarious payout ratio of 87%, is struggling to make minor increases.
There's a slight chance Humira sales could quickly implode, but I think the odds that Eli Lilly will live up to its pricey valuation are much longer. With a larger, better-funded dividend, AbbVie is easily the better buy right now.
A secret billion-dollar stock opportunity The world's biggest tech company forgot to show you something, but a few Wall Street analysts and the Fool didn't miss a beat: There's a small company that's powering their brand-new gadgets and the coming revolution in technology. And we think its stock price has nearly unlimited room to run for early in-the-know investors! To be one of them, just click here.
Cory Renauer has no position in any stocks mentioned. You can follow Cory on Twitter @TMFang4apples or connect with him on LinkedIn for more healthcare industry insight. The Motley Fool owns shares of and recommends Express Scripts. The Motley Fool recommends Novo Nordisk. Try any of our Foolish newsletter services free for 30 days. We Fools may not all hold the same opinions, but we all believe that considering a diverse range of insights makes us better investors. The Motley Fool has a disclosure policy.