Better Bad News Buy: IBM or Intel Corporation?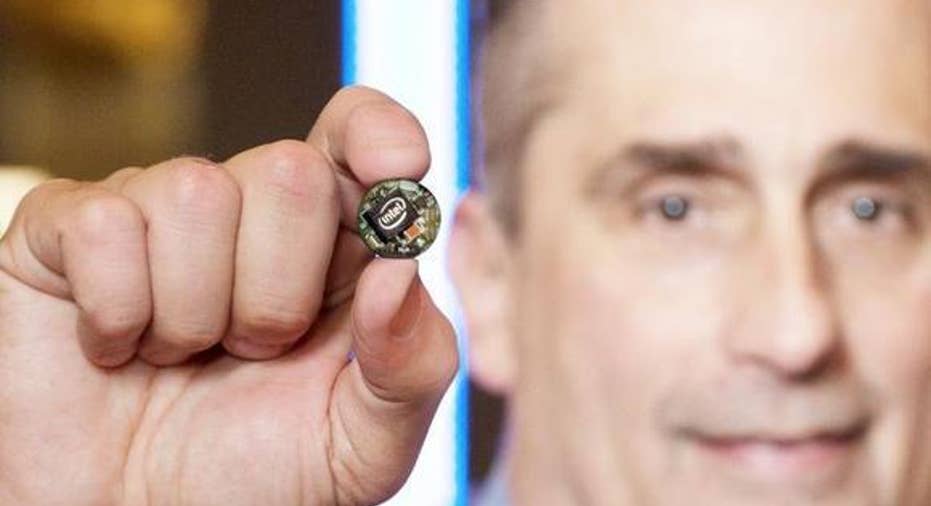 It's been a bad year for aging tech giants IBM and Intel . Big Blue shed 11% of its market value over the past 12 months, while shares of Intel merely matched the S&P 500's 1% decline. Neither stock is a great pick for growth investors, but value-seeking investors might be drawn to their low valuations and decent dividends. Let's compare IBM and Intel's recent earnings and growth prospects to see if either stock is a better "bad news buy".
Image source: Pixabay.
Top line comparisonIBM's sales fell 5% annually last quarter to $18.7 billion, representing its 16th consecutive quarter of annual revenue declines. Cognitive Solutions revenue, which include security and analytics solutions and its Watson AI platform, fell 1.7% to $4 billion. Global Business Services revenue fell 4.3% to $4.1 billion, Tech Services and Cloud Platforms revenue dipped 1.5% to $8.4 billion, and Systems Revenue declined 21.8% to $1.7 billion.
Revenue from the company's three "strategic imperatives" -- cloud, analytics, and engagement -- rose 14% annually and accounted for 37% of its trailing 12 month sales. However, that represents a slowdown from 17% growth in both the third and fourth quarters of 2015. The annual run rate of its cloud-as-a-service business rose 42% to $5.4 billion. A strong dollar hit Big Blue's results across the board -- on a constant currency basis, total revenues would only have fallen 2%.
Intel's revenue rose 7% annually to $13.7 billion last quarter, representing its second straight quarter of top line growth. Intel's top line wasn't bruised as badly by a strong dollar as IBM -- excluding currency impacts and other adjustments, revenue rose 8%. Client Computing (PC and Mobile) revenues rose 2% annually to$7.5 billion, thanks to a 19% increase in prices offsetting a 15% decline in volume. Data center revenue rose 9% to $4 billion, but that figure remained well below its prior forecast for 15% annual growth between2015 and 2019.
Intel's Internet of Things and Security units both posted double-digit sales growth, but the non-volatile memory unit posted a 6% decline due to sluggish market demand. The new Programmable Solutions unit, formed from its acquisition of Altera, posted "mid-single digit" growth after excluding acquisition-related adjustments.
Intel's Curie IoT module. Image source: Intel.
Bottom line comparisonIBM's non-GAAP earnings fell 19% annually to $2.35 per share, which still beat expectations by $0.26. GAAP earnings fell 14% to $2.09 per share. But that earnings beat was mainly attributed to IBM's official tax rate of -95.1% during the quarter, which came from a benefit related to a $1 billion refund on previously paid taxes. It was also propped up by $900 million in buybacks during the quarter. Looking ahead, IBM expects non-GAAP earnings of "at least" $13.50 for the full year, which would represent a 9.5% decline from 2015 and possibly missthe consensus estimate of $13.53.
Intel's GAAP earnings rose 2% to $0.41 per share, but non-GAAP EPS jumped 20% to $0.54, thanks to currency adjustments and $792 million in buybacks, beating estimates by seven cents. Looking ahead, Intel plans to boost its margins by cutting up to 12,000 jobs and exiting certain businesses in the near future. Intel believes the move will cause a $1.2 billion charge, but generate $1.4 billion in annual savings by mid-2017. Analysts currently expect Intel's earnings to rise 3% in 2016.
Analysts expect IBM's annual earnings to rise 2.7% over the next five years, which gives it a 5-year PEG ratio of 4.2. Intel's annual earnings are expected to rise 10% during that same period, which gives it a much lower PEG ratio of 1.3.
Catalysts and headwindsIBM has been singing the same song over the past few years: it has to divest slower growth businesses and invest in higher growth "strategic imperatives". The weight of those businesses is certainly increasing on Big Blue's top line, but overall growth is also slowing down as it faces tough competition from cloud leaders like Amazon and Microsoft .
Intel's strategy has been to diversify into non-PC markets to generate fresh sales growth. This includes investing in IoT modules, subsidizing mobile OEMs to use its Atom chips, and manufacturing memory chips and programmable solutions for cloud-based growth. But none of these businesses has generated enough sales to offset slowdowns at its PC and data center businesses.
So which is the better buy?Intel is clearly the better buy at current prices for three simple reasons -- its sales and earnings are rising, it doesn't face much competition in its core PC and data center businesses, and its forward valuations are lower. Meanwhile, IBM's sales and earnings are falling, its strategic imperatives face tough "best in breed" cloud competitors, and its forward valuations indicate that things won't get better anytime soon.
The article Better Bad News Buy: IBM or Intel Corporation? originally appeared on Fool.com.
Leo Sun owns shares of Amazon.com. The Motley Fool owns shares of and recommends Amazon.com. The Motley Fool owns shares of Microsoft. The Motley Fool recommends Intel. Try any of our Foolish newsletter services free for 30 days. We Fools may not all hold the same opinions, but we all believe that considering a diverse range of insights makes us better investors. The Motley Fool has a disclosure policy.
Copyright 1995 - 2016 The Motley Fool, LLC. All rights reserved. The Motley Fool has a disclosure policy.