Best Coffee Stock: Starbucks vs. Dunkin' Brands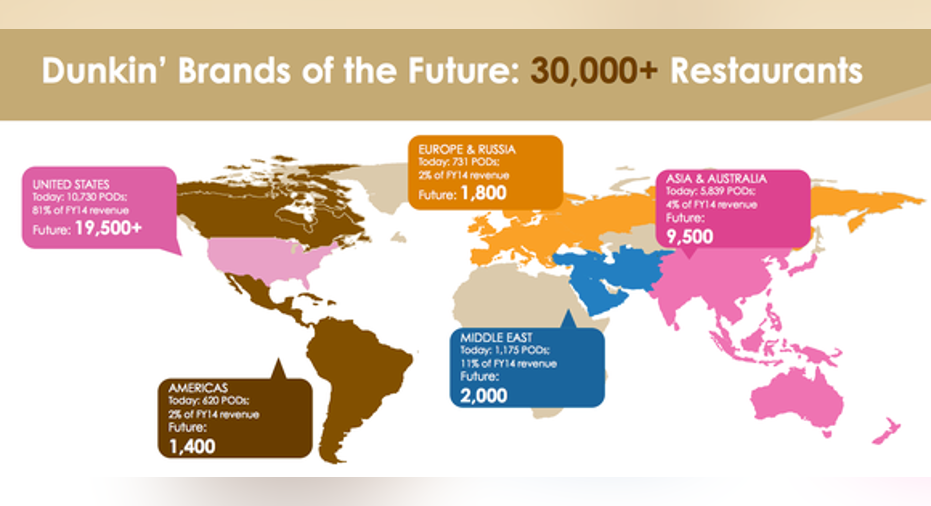 Image source: Getty images.
Coffee consumption is booming over the last several years, and this steaming-hot industry is offering delicious opportunities for profitable growth. Let's take a look at two leading players in the business, Starbucks and Dunkin' Brands , in order to find out which one is a better purchase for investors right now.
Financial performance
Starbucks is considerably bigger than Dunkin' Brands; the coffee juggernaut is expected to make $21.45 billion in sales during the fiscal year ending in September of 2016, versus nearly $855 million in forecasted sales for Dunkin' Brands this year. As of March 2016, Starbucks owns 23,921 stores around the world, While Dunkin' Brands has 1,833 Dunkin' Donuts stores and 7,638 Baskin-Robbins units on a global scale.
Growth tends to naturally slow down as a company gains size over time. Besides, Starbucks sells its products for higher prices than Dunkin' Brands, and this should theoretically mean a smaller potential market for Starbucks. However, Starbucks is still doing much better than Dunkin' Brands in terms of overall financial performance.
Starbucks is doing an amazing job at driving growth via multiple venues at the same time. Store base expansion is mostly focused on emerging markets: The company has over 2,000 stores in 100 cities in China, and it's adding over 10 new stores in the country every week. Importantly, Starbucks is also increasing sales at the store level via menu innovations and penetrating new day parts, which produces consistently growing same-store sales.
Image source: Starbucks.
Starbucks is a market leader in areas such as mobile order and pay. The company has 19 million users in its mobile platform in the U.S. alone, and mobile transactions represented approximately 4% of total transactions last quarter, a strong sequential increase of 40%. According to management, mobile is not only replacing traditional orders, but it's also driving incremental growth, especially during peak hours.
The company is delivering impressive financial figures: Starbucks produced $5 billion in revenue last quarter, a year-over-year increase of 9%. Global comparable-store sales grew 6% on the back of a 4% increase in the average ticket and 2% increase in traffic. Sales in China grew by a staggering 18% during the quarter.
Dunkin' Brands, on the other hand, delivered a more modest increase of 2.1% in total revenue during the first quarter of 2016, while comparable-store sales in the U.S. grew 2% at Dunkin' Donuts and 5% at Baskin-Robbins. The company's guidance is for total revenue to increase by 4% to 6% during the full 2016 year.
Almost 100% of Dunkin' Donuts and Baskin-Robbins stores are franchised, and this allows the company to expand its store base with minimal capital expenditures, since store opening expenses are paid by franchisees. Besides, this business model is conveniently flexible, especially when it comes to international store openings. The company believes it has enough room for nearly 30,000 stores worldwide over the long term, indicating that Dunkin' Brands still has enormous potential for expansion.
Image source: Dunkin' Brands.
Management is targeting comparable-store sales growth in the U.S. to be in the range of 2% to 4% over the next five years, while total net new unit development is estimated to be between 4% and 6% per year. Total revenue growth is forecasted to be in the mid-to-high single digits over this period, so even if Dunkin' Brands can deliver according to expectations, everything indicates the company will continue lagging Starbucks over the middle term.
Valuation
Investment decisions are not just about picking the best-performing companies, it's of utmost importance to keep valuations in mind. Even a top-quality company can be a mediocre investment if the price is too high, while an average business trading at conveniently low valuation levels can deliver attractive returns over time.
When it comes to Starbucks and Dunkin' Brands, valuation levels aren't very conclusive. Dunkin' Brands looks cheaper in terms of dividend yield and forward price to earnings, while Starbucks is more attractively valued when it comes to trailing price to earnings, price to earnings growth, and price to sales ratios.
| Company | Div. Yield | Trailing P/E | Forward P/E | PEG | PS |
| --- | --- | --- | --- | --- | --- |
| Starbucks | 1.46% | 33 | 25 | 1.74 | 4.1 |
| Dunkin' Brands | 2.66% | 37 | 19 | 2.9 | 5.1 |
Data source: SEC filings and FinViz.
Starbucks is a superior business delivering better financial performance than Dunkin' Brands, chances are that's not going to change any time soon, and there is no clear advantage for any of the two companies in terms of valuation. I'd pick Starbucks over Dunkin' Brands as the most caffeinated stock in the sector nowadays.
The article Best Coffee Stock: Starbucks vs. Dunkin' Brands originally appeared on Fool.com.
Andres Cardenal has no position in any stocks mentioned. The Motley Fool owns shares of and recommends Starbucks. Try any of our Foolish newsletter services free for 30 days. We Fools may not all hold the same opinions, but we all believe that considering a diverse range of insights makes us better investors. The Motley Fool has a disclosure policy.
Copyright 1995 - 2016 The Motley Fool, LLC. All rights reserved. The Motley Fool has a disclosure policy.