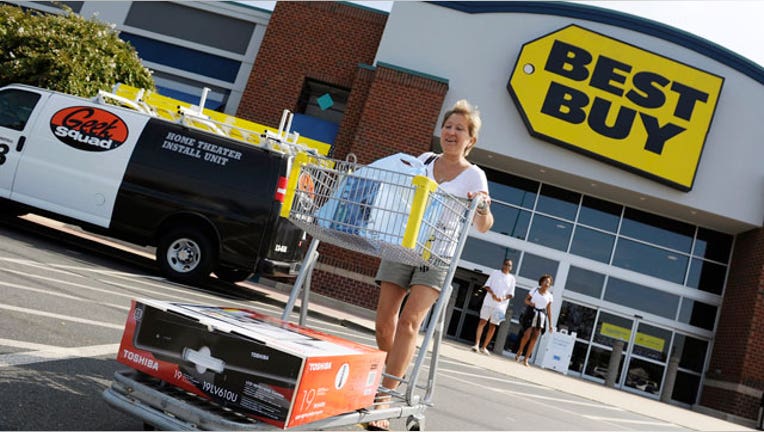 Best Buy (NYSE:BBY) revealed unexpected declines in third-quarter profits and revenues on Tuesday and took an axe to its guidance, sparking a 13% plunge in the electronics retailer's stock.
The Richfield, Minn.-based retailer said it earned $217 million, or 54 cents a share, last quarter, compared with a profit of $227 million, or 53 cents a share, a year ago. Analysts had called for EPS of 61 cents.
Revenue slid from $12.02 billion to $11.89 billion, trailing the Street's view of $12.45 billion. Same-store sales declined 3.3%, compared with a rise of 1.7% in the same period a year earlier. Gross margins increased from 24.5% to 25.1%.
"While sales were lower than we expected during the quarter, I'm pleased with our strong store execution, solid gross margin expansion and efforts to control costs," CEO Brian Dunn said in a statement.
Best Buy also downgraded its fiscal 2011 guidance due to poor visibility and the third-quarter results, projecting EPS of $3.20 to $3.40. Even the upper end of that new view would widely miss the Street's view of $3.59. Previously Best Buy forecasted EPS of $3.55 to $3.70.
The company also said its domestic market share declined by 1.10 percentage points last quarter and it sees its domestic market share shrinking in fiscal 2011.
"Based on lower than expected sales and earnings in the fiscal third quarter, and given our current visibility to potential outcomes in the fiscal fourth quarter, we now expect annual earnings to be below our previous fiscal 2011 EPS guidance," said Jim Muehlbauer, Best Buy's chief financial officer.
Shareholders punished Best Buy for the gloomy results and gloomier guidance, sending its stock down 13.31% to $36.13 ahead of Tuesday's open. Best Buy was up almost 6% on the year as of Monday's close.