Believe It or Not, YouTube May Spend More on Content than Netflix Does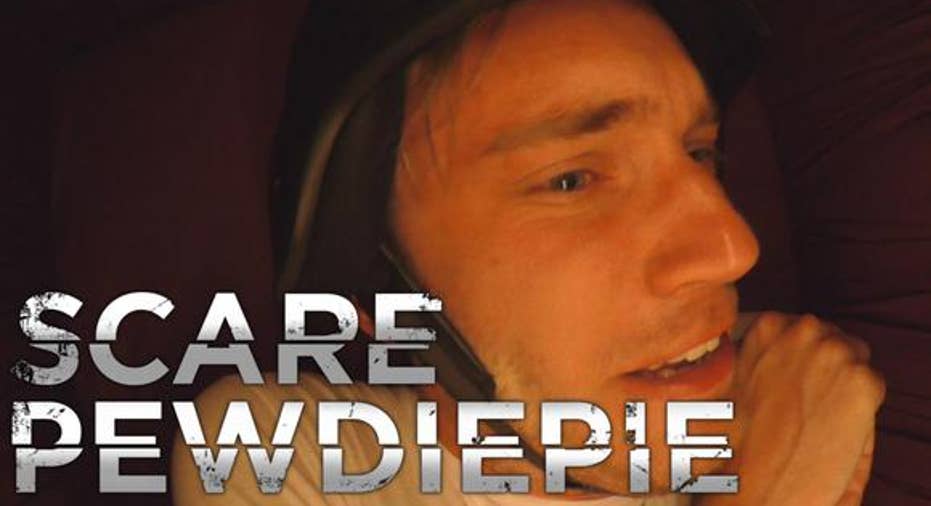 YouTube is investing in original content, such as "Scare Pewdiepie." Image source: YouTube.
When it comes to video content buyers, there's Netflix , and then there's everyone else. Netflix is expected to spend more on content in 2016 than HBO, Amazon, Hulu, and Showtime combined. With a budget of $5 billion in 2016, it's certainly throwing its weight around as the most subscribed-to streaming service in the world.
But another streaming service is already spending as much, if not more, on content, according to some analysts. YouTube is expected to generate $9 billion in gross revenue in 2015, according to Ken Sena, an analyst at investment bank Evercore ISI. At the standard 45/55 revenue split, Alphabet paid $5 billion to its Google subsidiary's content creators in 2015.
More valuable than Netflix?While YouTube is expected to bring in $9 billion in gross revenue during 2015, Netflix is expected to generate just $6.8 billion. Analysts expect Netflix's revenue growth will accelerate over the next year as it continues its rapid international expansion and price increases go into effect. Analysts estimate the streaming video on demand company will bring in $8.7 billion in subscription revenue in 2016 -- an increase of 28%.
YouTube, meanwhile, may see even faster revenue growth as more ad dollars shift to digital video and social media from print. Sena predicts that YouTube will generate $13 per user by 2020, putting its annual revenue around $20 billion, an average growth rate of 17% over the next five years.
YouTube's profits are inherently capped by its revenue-sharing model, in which it pays out 55% of ad revenue to content creators. YouTube also pays for some content through other means, like upfront contracts with homegrown celebrities, free studio space, and other licensing deals. YouTube may also look to license traditional television content in order to compete better with Netflix and other premium SVOD services.
Comparatively, Netflix's licensing deals are set years in advance, enabling it to leverage subscriber growth to maximize profits. As such, Netflix may have more potential for profit.
YouTube's value to AlphabetIf Sena's estimates are accurate, YouTube will account for approximately 5% of Alphabet's total revenue in 2015. That percentage is expected to rise as YouTube grows faster than the more mature Google business. But compared to Google's high-margin search engine and display advertising revenue, YouTube isn't very profitable. The business has yet to generate bottom-line earnings, and it's not clear that 2015 will be any different.
YouTube continues to invest in infrastructure, employees, and new products. Most recently, YouTube rolled out YouTube Red, which combines a full-fledged music streaming service with ad-free YouTube videos as well as original productions for $9.99 per month -- the same price as Netflix and other music streaming services.
Eventually, YouTube will ease off the gas pedal and start turning a profit for Alphabet investors, just as Netflix will do for its investors. At that point, we might expect profit margins to climb to levels more in line with Google's other major revenue sources. Last quarter, Alphabet reported an operating profit margin of 33%. At that rate, YouTube could add about $3 billion of operating profit to Alphabet in 2020. That's about 20% of the company's 2014 operating income.
The biggest content budget in the worldThe fact that YouTube spends more on content than Netflix shouldn't be a surprise. The streaming video site has approximately 1.3 billion monthly visitors, while Netflix only has 69 million monthly subscribers. Even though Netflix only purchases the highest-quality content, it's hard to imagine YouTube serving 19 times as many people for less. Both companies are on similar trajectories, and in fact may be feeding each other's growth as alternatives to traditional media.
The article Believe It or Not, YouTube May Spend More on Content than Netflix Does originally appeared on Fool.com.
Suzanne Frey, an executive at Alphabet, is a member of The Motley Fool's board of directors. Adam Levy owns shares of Amazon.com. The Motley Fool owns shares of and recommends Alphabet (A and C shares), Amazon.com, and Netflix. Try any of our Foolish newsletter services free for 30 days. We Fools may not all hold the same opinions, but we all believe that considering a diverse range of insights makes us better investors. The Motley Fool has a disclosure policy.
Copyright 1995 - 2016 The Motley Fool, LLC. All rights reserved. The Motley Fool has a disclosure policy.