Before You Buy Best Buy Stock, Here Are 3 Things You Need to Know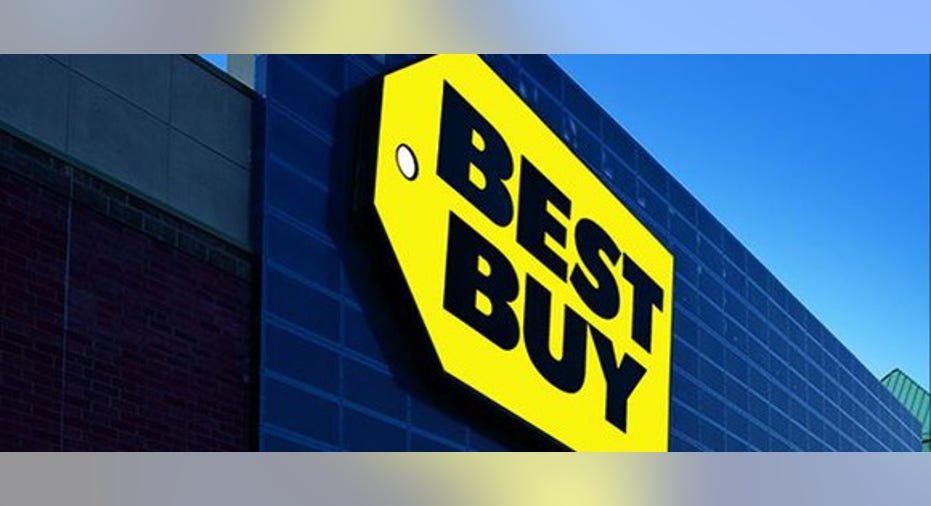 Every day, Wall Street analysts upgrade some stocks, downgrade others, and "initiate coverage" on a few more. But do these analysts even know what they're talking about? Today, we're taking one high-profile Wall Street pick and putting it under the microscope...
The news came down this morning: Merrill Lynch thinks Best Buy (NYSE: BBY) is a buy.
Bright and early Tuesday, Merrill Lynchannounced an upgrade to buy for the electronics retailer, and a new price target fully 26% higher than its old target -- $58. The timing was curious, however. After all, Best Buy stock is already up more than 52% over the past 52 weeks -- so why wait until now to upgrade it?
The answer: Merrill Lynch thinks Best Buy is doing better than ever today. Here are three things you need to know about that.
Image source: Best Buy.
1. Enjoy the supercycle (while it lasts)
Best Buy reported strong profits growth in its most recently reported quarter (Q4 2016), with net income per diluted share growing 37% year over year. And Best Buy might have done even better had it not been for what management called "continued softness in the mobile phone category."
This year, however, analysts are looking forward to new flagship smartphones being released by both Apple and Samsung in the second half of the year. In a write-up by TheFly.com this morning, Merrill Lynch notes that this "super cycle" of new phones being released by Apple and Samsung will "drive 2H comps and shares" at Best Buy.
While it remains to be seen exactly how popular the new phones will become, at the very least, there's a good chance their release will cure the company's "softness" problem.
2. More than just phones
Nor are new phones the only thing that Best Buy shareholders have to look forward to. Merrill also sees "stronger than expected product cycles" this year in TVs and in "smart home technology." The banker is also predicting that Best Buy will show strong growth in online sales of merchandise, in sales of "in-home services," and in high margin warranties as well.
Meanwhile, outside U.S. borders, TheFly reports that Merrill is "turning more positive on international growth" at Best Buy.
3. Reality check
All of this sounds very good, of course. But before we get too excited about Best Buy's prospects, let's take a quick reality check and examine how things have been going heretofore.
Best Buy's stock price is up strongly over the past year -- that's beyond dispute. As far as Best Buy's business goes, however, that's been more of a mixed bag. After reviewing data provided by S&P Global Market Intelligence, it appears that Best Buy has pared its operating costs by about 13% over the past five years. As a result, the company's income statement is now firmly in the black, and Best Buy has posted profits consistently over the past four years.
Most of Best Buy's cost-cutting, however, was accomplished by 2015, and operating costs have mostly flatlined at about $7.5 billion over the past two years. That being the case, for Best Buy to achieve analysts' consensus target of 11% long-term growth over the next five years, the company is going to need to grow its sales -- and that's proved a difficult trick to master.
Fact is, Best Buy's annual sales today sit 12% below where they were five years ago. Indeed, Best Buy's sales have declined every year over the past five years. For Merrill Lynch to be proven right in its endorsement of Best Buy stock, this is a trend that simply cannot continue. Best Buy has to find a way to grow its sales at the same time as it maintains spending discipline, and keeps its costs from growing in tandem. Clearly, Merrill Lynch thinks the company is capable of threading this needle -- but so far, the history doesn't support that thesis.
Final thing: Hope springs eternal
And yet, I just can't help hoping that Merrill Lynch is right about this upgrade. You see, when I look at Best Buy through my usual lens of "free cash flow, times growth rate, compared to market cap," Best Buy really does look like a buy to me. Here's why:
Last year, Best Buy reported GAAP earningsof $1.2 billion, but its actual cash profit (its free cash flow) last year was nearly $2 billion. Times an 11% growth rate, that gives me a rough $22 billion estimate for the company's fair value. And yet, right now, the entirety of Best Buy's market capitalization adds up to only $15.8 billion -- about a 28% discount to fair value. In fact, the stock's even cheaper than that when you factor it its $2.7 billion in net cash.
Now, skeptics may argue that this looks a lot like the dictionary definition of a "value trap" -- that Best Buy may look cheap, but because it cannot grow its sales, it's destined to remain cheap forever, and eventually to go bust. And I admit that that's a distinct possibility. That said, the valuation right now looks good to me, and if Merrill Lynch is right about this being the year that Best Buy finally figures out a way to grow its revenue, then now really would be a good time to buy the stock. Against my better judgment, therefore, I'm going to go ahead and side with Merrill Lynch on this one:
Best Buy really does look like a buy to me, too.
10 stocks we like better than Best BuyWhen investing geniuses David and Tom Gardner have a stock tip, it can pay to listen. After all, the newsletter they have run for over a decade, Motley Fool Stock Advisor, has tripled the market.*
David and Tom just revealed what they believe are the 10 best stocks for investors to buy right now... and Best Buy wasn't one of them! That's right -- they think these 10 stocks are even better buys.
Click here to learn about these picks!
*Stock Advisor returns as of April 3, 2017
Rich Smith has no position in any stocks mentioned. The Motley Fool has no position in any of the stocks mentioned. The Motley Fool has a disclosure policy.