Bed Bath & Beyond Inc. Finally Moving Beyond Buybacks With a Dividend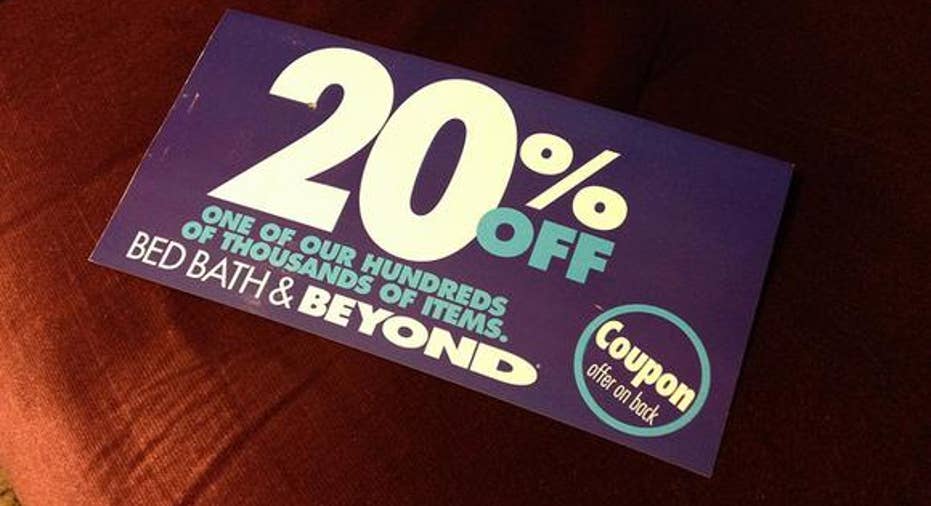 Bed Bath & Beyond has been able to mask the deleterious effects the slack economy has had on its operations by doing one thing, and one thing only: buy back stock. That may not be enough anymore.
There has been only one tool in Bed Bath & Beyond's toolbox that it has used for the past few years to relentlessly deliver hammer blows to prop up earnings. But with the release of its fiscal 2015 fourth quarter financial results the other day, the home goods retailer is finally adding another tool to return value, one that is at least arguably better for shareholders.
Investing in yourselfIf there is one thing you can count on seeing Bed Bath & Beyond do quarter after quarter, it is buying back huge tranches of stock. In the fourth quarter alone, the company repurchased seven million shares at a cost of $327 million. For the full fiscal year, the retailer bought back $1.1 billion worth of stock.
And these efforts had the salutary effect management was looking for: Earnings per share came in at $1.91, well ahead of the $1.83 the company recorded last year and better than the $1.81 Wall Street was expecting.
But last year, Bed Bath & Beyond had more than 178 million shares outstanding, while this year, after all the stock buybacks, it had just under 159 million. Without the share repurchases, on an apples-to-apples basis, the home goods retailer would have reported profits of just $1.70 per share. Maybe Wall Street is factoring in those massive buybacks in its estimates, but investors should not be fooled into thinking the business is so much stronger than it was last year.
False positivesLike insider buying and raising guidance,buying backcompany stock is generally considered a bullish signal on Wall Street. A company theoretically returns capital to shareholders while declaring management's belief that its own cheap shares are its best return on investment. And as Bed Bath & Beyond proves, so long as profits remain consistent, share repurchases can increase earnings per share, because they divide the same amount of earnings among a smaller pool of stock.
And clearly, the home goods retailer likes to buy big. In 2014, it spent $2.2 billion buying back stock and paid $1.3 billion for its shares the year before that.In fact, since 2010, Bed Bath & Beyond has spent over $7.5 billion buying back stock, yet its shares trade at virtually the same level they did back then. Net earnings have only grown from $791 million to $841 million, a 6% increase, yet the number of shares outstanding has fallen from 258 million to their current level of 159 million, a 38% reduction.
This is just financial engineering on the part of management to make its results look better.
Consumers aren't responding the way they used to when Bed Bath & Beyond's ubiquitous promotional coupons land in their mailboxes.
A payoff in dividendsBut Bed Bath & Beyond is upgrading its toolbox by adding a new quarterly dividend policy of $0.125 per share, with the first payout to be made on July 19. Based on its current share price, that would equate to a yield of about 1%. In terms of actually returning value to shareholders, a dividend is a more clear cut path to doing so, though after years of steadfastly resisting one, the new dividend may also indicate management foresees even tougher times ahead than simply buying back stock is able to mask.
Bed Bath & Beyond's results weren't wholly terrible this quarter, as revenue of $3.4 billion was up 2.4% over last year and like per-share profits, were ahead of analyst estimates. On a constant currency basis, comparable store sales -- an important retail metric that strips out growth from new store openings -- were 2.1% higher than last year. Yet they were hardly a massive improvement over what it was able to achieve last quarter when the company said the holiday season had gotten off to a rocky start.
Part of that is the new competitive landscape in which it operates. After years of neglect, Bed Bath & Beyond is finally making a concerted push into the digital arena, a recognition of the threat posed by online retailers. The company can no longer simply rely on the blue-and-white 20% off coupons flooding customer mailboxes to drive traffic and has had to come up with new marketing initiatives like a digital version of its new print catalog.
Still, the home goods store remains otherwise financially healthy, producing scads of free cash flow that allows it to pay for the new dividend as well as continuing to fund its expansion and all the stock buybacks. However, investors shouldn't mistake management's financial gymnastics for real business improvement.
The article Bed Bath & Beyond Inc. Finally Moving Beyond Buybacks With a Dividend originally appeared on Fool.com.
Rich Duprey has no position in any stocks mentioned. The Motley Fool owns shares of and recommends Amazon.com. The Motley Fool recommends Bed Bath & Beyond. Try any of our Foolish newsletter services free for 30 days. We Fools may not all hold the same opinions, but we all believe that considering a diverse range of insights makes us better investors. The Motley Fool has a disclosure policy.
Copyright 1995 - 2016 The Motley Fool, LLC. All rights reserved. The Motley Fool has a disclosure policy.