Battle Between Fighter Jets? Trump Pits Boeing Against Lockheed Martin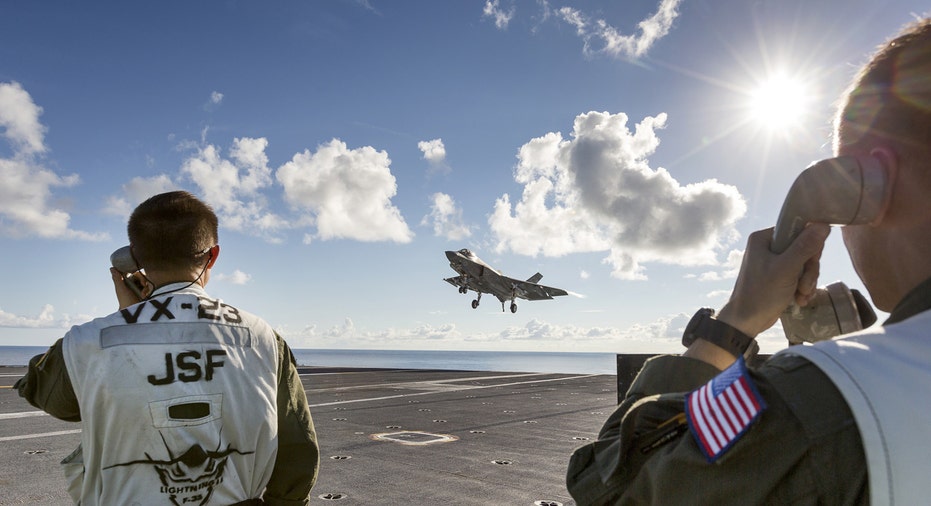 President-elect Donald Trump might be setting up a huge battle between fighter jets.
Trump has blasted Pentagon suppliers Lockheed Martin (NYSE:LMT) and Boeing (NYSE:BA) for cost overruns and now seems to be pitting the two companies against each other.
The incoming Republican president targeted Boeing for what he called "out of control" costs—an estimated $4 billion—to build two new Air Force One jets. He later called out Lockheed Martin, the world's largest defense contractor, for high costs and delays associated with the F-35 Joint Strike Fighter program.
Trump met with the CEOs of both companies on Wednesday. A day later, Trump said he put in a request to Boeing: How much would it cost to build a new F/A-18 Super Hornet?
"Based on the tremendous cost and cost overruns of the Lockheed Martin F-35, I have asked Boeing to price-out a comparable F-18 Super Hornet!" Trump wrote on Twitter (NYSE:TWTR).
Shares of Lockheed Martin fell as much as 2.3% on Friday morning, although the stock recovered some of its losses by midday. The Bethesda, Md.-based company was trading 1% lower at $250.21 a share.
Ticker
Security
Last
Change
Change %
BA
THE BOEING CO.
211.47
+4.19
+2.02%
LMT
LOCKHEED MARTIN CORP.
463.16
+4.44
+0.97%
"We have committed to working with the president-elect and his administration to provide the best capability, deliverability and affordability across all Boeing products and services to meet our national security needs," Boeing said in a statement.
Lockheed Martin declined to comment.
In the wake of Trump's initial criticism, Jeff Babione, Lockheed Martin's general manager for the F-35 program, said the company would "welcome the opportunity to address any questions the president-elect has about the program." He added that Lockheed Martin continues to work on making the versatile fighter less expensive to build and maintain.
The F-35 Lightning II, the most expensive weapons program in U.S. history, has come under fire from Trump and lawmakers on Capitol Hill. The total bill has nearly doubled to $400 billion following production and design issues. The program is also running about four years behind schedule.
The U.S. military has said the F-35 serves a wide range of roles, different than those of the F/A-18. The F-35 was designed to replace multiple existing fighter jets, including the F/A-18, F-16 and A-10.
Although the F-35 has outlasted the F/A-18 in most of their recent battles for government contracts, Canada decided last month to cancel its order with Lockheed Martin. Instead, Canada will order additional F/A-18 from Boeing, citing the F-35's price tag. The country will still consider the F-35 as a long-term replacement in its fleet of fighter jets.