Barnes & Noble Shares Leap as Nook Sales Seen Surging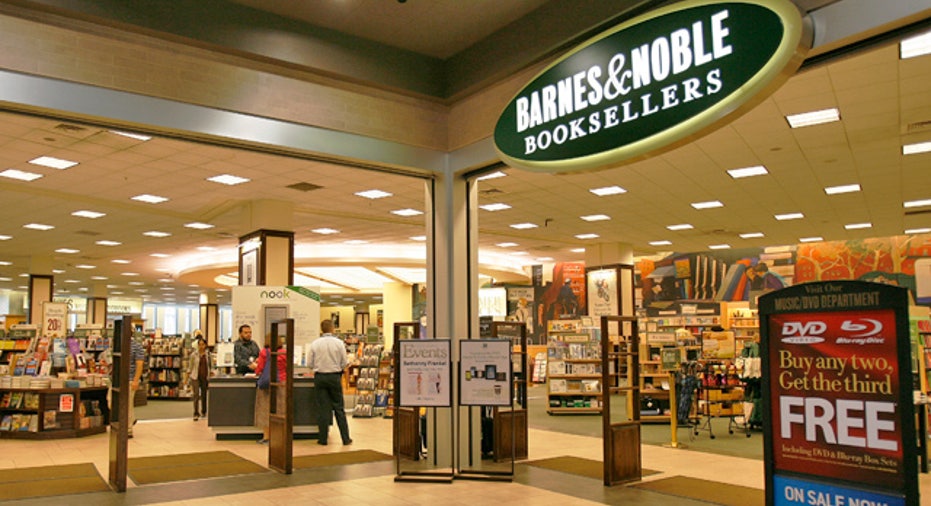 Shares of Barnes & Noble (NYSE:BKS) soared double-digits Tuesday morning as shareholders breathed a sigh of relief after the bookseller narrowed its first-quarter loss and projected slightly stronger-than-expected full-year sales amid solid Nook growth.
The largest U.S. bookstore chain said it lost $56.6 million, or 99 cents a share, last quarter, compared with a deeper loss of $62.5 million, or $1.12 a share, a year earlier. Analysts had been expecting a lighter loss of 94 cents.
Sales grew 1.6% to $1.42 billion, coming in just shy of the Street's view of $1.46 billion. Same-store sales declined 1.6%. Gross margins expanded to 27.3% from 25.2%.
Powered by "strong demand" for its Nook e-reader, Barnes & Noble said its online sales leaped 37% to $198 million. Store sales continues to decline, slipping 3% to $1 billion.
Wall Street cheered as the New York-based company projected Nook sales doubling to $1.8 billion, up from $880 million last year and just $123 million in fiscal 2010.
Barnes & Noble also sees full-year same-store sales growth of 2% to 3% and net sales of $7.4 billion, which would narrowly top forecasts for $7.38 billion. It also sees
However, Barnes & Noble said it sees a 2012 loss of 10 cents to 50 cents, compared with expectations for a loss of just 16 cents.
"Our strategy of growing market share in the exploding digital content business while maximizing cash flow and EBITDA from our retail operations is paying off, CEO William Lynch said in a statement. We plan to continue investing in the significant growth areas of our business, and in fiscal 2012, we expect to see leverage as our digital sales growth is projected to exceed the growth of investment spend."
Shares of Barnes & Noble soared 17% to $13.37 Tuesday morning, eating into the company's 19% decline in 2011 as of Monday's close.