Barnes & Noble Looks Ahead As Losses Widen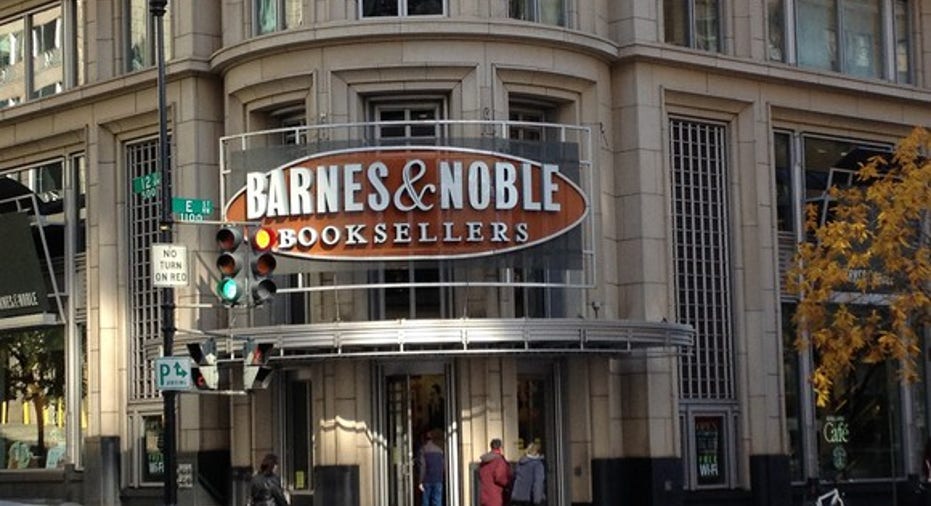 Image source: The Motley Fool.
Barnes & Noblereleased fiscal fourth-quarter 2016 results Wednesday after the market close. Shares of the bookseller bounced almost 6% in after-hours trading in response, practically recouping the stock's similar decline during the regular session leading into the report. Let's look at what Barnes & Noble accomplished in its latest quarter.
Barnes & Noble results: The raw numbers
| Metric | Fiscal Q4 2016 Actuals | Fiscal Q4 2015 Actuals | Growth (YOY) |
| --- | --- | --- | --- |
| Revenue | $876.7 million | $910.1 million | (3.7%) |
| Net income (loss) from continuing operations | ($30.6 million) | ($3.0 million) | N/A |
| EPS (loss) from continuing operations | ($0.42) | ($0.12) | N/A |
Data source: Barnes & Noble.
What happened with Barnes & Noble this quarter?
Earnings before interest, taxes, depreciation, and amortization (EBITDA) came in at a loss of $26 million, a figure that includes a previously disclosed $20.9 million pension settlement charge.
Barnes & Noble's quarterly net loss from continuing operations excluding that charge would have been $17.8 million, or $0.24 per share.
Retail sales fell 2.2% year over year, to $850 billion, primarily because of lower online sales and store closures.
Comparable-store sales fell 0.8%, making full-year comparable-store sales flat with fiscal 2015 -- in line with guidance.
Retail "core" comparable-store sales -- which excludes sales of Nook products -- also fell 0.8% year over year.
That brought full-year core comparable-store sales growth of 0.4%, slightly below guidance provided last quarter for the metric to rise 1% for the full year.
Retail EBITDA came in at a loss of $11.1 million, including the pension settlement charge. Excluding the charge, retail EBITDA would have been $9.8 million, representing a $23.3 million decline from the same year-ago period, driven by a combination of lower sales, increased promotions, and higher store wages and benefits.
Nook sales fell 33.3%, to $51.7 million.
Nook EBITDA losses were $14.9 million, including roughly $4 million of expenses for further cost structure rationalization activities.
Full-year Nook EBITDA losses narrowed to $64.7 million, compared with a loss of $83.9 million last fiscal year.
The company paid $11.3 million in dividends and repurchased 964,000 shares for $10.2 million (or an average price of $10.61 per share).
What management had to say
Barnes & Noble CEO Ron Boire stated:
Looking forward
For the full fiscal year 2017, Barnes & Noble anticipates comparable-store sales to fall within a range of roughly flat to a 1% increase over fiscal 2016. That should translate to consolidated EBITDA of $200 million to $250 million, including retail EBITDA of $240 million to $280 million, and narrowing Nook EBITDA losses, to a range of $30 million to $40 million, including transitional costs.
While this guidance might not seem impressive on the surface, it does represent notable improvement, as Barnes & Noble works to narrow its Nook losses and return its overall business to sustained growth and profitability. Though retail comps this quarter were a point of concern, Barnes & Noble should be able to appease investors if it's able to deliver on its promise for continued progress in the coming fiscal year.
The article Barnes & Noble Looks Ahead As Losses Widen originally appeared on Fool.com.
Steve Symington has no position in any stocks mentioned. The Motley Fool owns shares of Barnes and Noble. Try any of our Foolish newsletter services free for 30 days. We Fools may not all hold the same opinions, but we all believe that considering a diverse range of insights makes us better investors. The Motley Fool has a disclosure policy.
Copyright 1995 - 2016 The Motley Fool, LLC. All rights reserved. The Motley Fool has a disclosure policy.