Bargain Buys: These 3 Biopharma Stocks Are All Down Big in 2016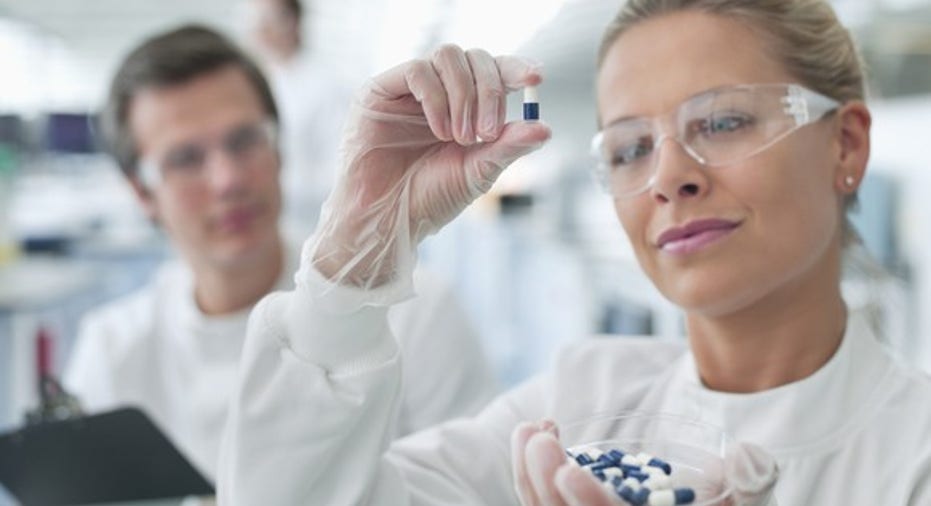 Image source: Getty Images.
The U.S. presidential election and the Brexit vote have combined to wreck havoc on biopharma stocks this year. On the bright side, these headwinds appear to have created some compelling bargains.
For example, AstraZeneca , Seattle Genetics , and Teva Pharmaceutical Industries Ltd. have all fallen by double digits this year, according to data fromS&P Global Market Intelligence,despite their strong value propositions for investors with a long-term outlook:
With this in mind, let's dig deeper and consider whether investors should buy these three beaten-down biopharma stocks right now.
AstraZeneca is a long-view biopharma play with tremendous upside potential
There's no denying that Astra's top line has taken a hit following thethe loss of patent protection for key products like acid reflux medication Nexium. After all, the drugmaker's sales are expected to dip by 1.3% this year and another 2.5% in 2017. And with the pound sterling taking a massive hit on the Brexit vote, Britain-based Astra will almost certainly face unfavorable foreign exchange rates moving forward, perhaps forcing a reduction in its sky-high dividend yield of almost 7%.
To mitigate these challenges, Astra is pivoting toward the emerging immuno-oncology space, with the goal of returning to growth by 2018 and increasing its annual revenues by a whopping 86% by 2023. The feasibility of Astra's lofty long-term guidance should get its first real test with the company's key regulatory filings for its programmed death-ligand 1, durvalumab, in head and neck cancer and lung cancer next year. Of course, experimental-stage drugs are never a sure bet, and durvalumab has run into some bumps along the way that may delay the drug's expected regulatory time frame.
Seattle Genetics has born the brunt of the market's wrath this year
Because Seattle Genetics remains cash-flow negative nearly five years after the approval of its flagshipantibody-drug conjugate (ADC), Adcetris, the drugmaker's stock has struggled mightily in this volatile market. The good news is that Seattle Genetics is close to releasing top-line data for Adcetris' pivotal-stage trial incutaneous T-cell lymphoma, and the company expects the drug's other late-stage trials forfront-line classical Hodgkin lymphoma andfront-line mature T-cell lymphoma to read out within the next two years. If things go as planned, Seattle Genetics will double the number of approved indications for its lead product in just a few short years.
Beyond these late-stage trials for Adcetris, the biotech also sports a deep and diverse clinical pipeline of anti-cancer drugs based mainly on its ADC platform. As an example, the experimental ADC vadastuximab talirine (SGN-CD33A; 33A), indicated as a front-line treatment for patients with acute myeloid leukemia, has garnered a significant amount attention lately because of its 41% complete remission rate in a small, early-stage study that prompted the company to push the drug into a pivotal-stage trial.
Seattle Genetics ended the most recent quarter with over $600 million in cash, meaning that it should be able to fund its robust clinical pipeline without having to dilute shareholders into oblivion.
Teva is close to finally acquiring Allergan's generic-drug unit
Investors have been waiting for nearly a year for Teva to formally buy Allergan's massive generic-drug business, which sports over a thousand products. As Teva has now apparently cleared the deck in terms of meeting the Federal Trade Commission's antitrust requirements following multiple divestitures in the past month, this deal should be consummated within a matter of weeks, according to both Allergan and Teva. If so, Teva's top line is forecast to jump by 12.5% next year, implying that this generic-drug maker's shares are currently trading at a reasonable forward price-to-earnings ratio of 8.4.
Having said that, there are still numerous unresolved issues surrounding Teva's forward-looking valuation once this deal goes through -- such as the sustainability of its revenues from flagship multiple-sclerosis drug Copaxone. To fill in the gaps, Teva is planning to provide some color on its long-term value proposition come September. So, while the details might be somewhat fuzzy at this stage, the main takeaway is that Teva should be in a much stronger position from a revenue standpoint after this deal closes, and the optimistic outlook suggests that Teva may even transform into one of the fastest-growing healthcare stocks as early as next year.
Are these three stocks good bargains?
Projecting future valuation scenarios is a tricky business, especially in the highly regulated world of biopharmaceuticals. One clinical or regulatory setback, after all, can change a company's outlook almost instantly. Nonetheless, my take is that Astra, Seattle Genetics, and Teva are all nearing an inflection point in terms of their core value propositions. Astra should be able to break into the high-growth immuno-oncology space with durvalumab soon, Seattle Genetics is barreling toward pivotal-stage data readouts for Adcetris, and Teva's deal with Allergan looks like a game-changer. As the market has seemingly already built in the worst case for each stock -- given how they have been trading so far in 2016 -- I think these three biopharma stocks are indeed compelling bargains right now.
The article Bargain Buys: These 3 Biopharma Stocks Are All Down Big in 2016 originally appeared on Fool.com.
George Budwell owns shares of Allergan. The Motley Fool recommends Seattle Genetics and Teva Pharmaceutical Industries. Try any of our Foolish newsletter services free for 30 days. We Fools may not all hold the same opinions, but we all believe that considering a diverse range of insights makes us better investors. The Motley Fool has a disclosure policy.
Copyright 1995 - 2016 The Motley Fool, LLC. All rights reserved. The Motley Fool has a disclosure policy.