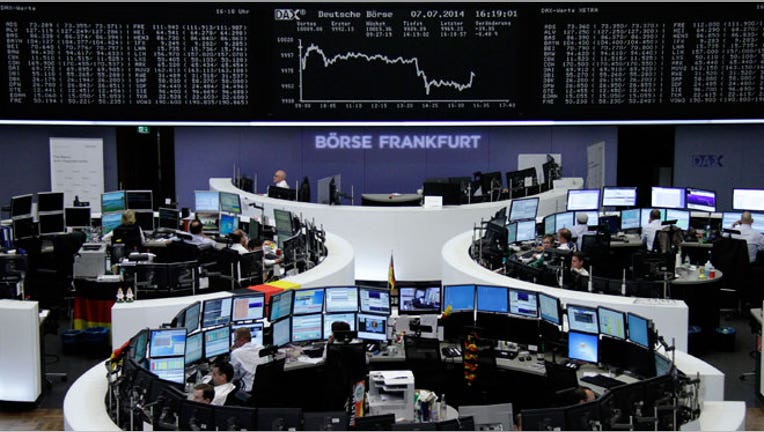 European stocks fell for a third consecutive day on Tuesday, once again dragged down by financials as shares in Deutsche Bank slid on deepening concern about its health after its $8.5 billion cash call.
A batch of weak corporate earnings reports and the biggest fall in German industrial orders since the depths of the global financial crisis also disappointed investors, setting the tone for a lackluster session in Europe.
Europe's leading index of the top 300 shares fell as much as 0.5 percent, with the region's banking index down as much as 0.7 percent. By 0945 GMT the FTSEuroFirst had clawed back ground to trade only slightly lower on the day, and financials were down 0.3 percent.
Deutsche shares fell almost 3 percent to a fresh 2017 low. They have lost more than 10 percent in the last few days since the bank said it would tap investors for $8.5 billion.
"Weak German industrial orders suggests it's not a one-way ticket in Europe – there's been a lot of bullishness around European equities lately but maybe this is a sign it's not all positive. Deutsche Bank is not helping either," said Neil Wilson, senior market analyst at ETX Capital.
British temporary power provider Aggreko slumped almost 11 percent and French retailer Casino Guichard fell 5 percent after publishing their results.
German industrial orders slumped 7.4 percent in January, the biggest fall since January 2009 and nearly three times as steep as the 2.5 percent fall expected by economists.
U.S. futures pointed to a slightly lower open on Wall Street, cooling from last week's record highs as investors prepare for an all-but-certain interest rate hike next week.
MSCI's broadest index of Asia-Pacific shares outside Japan rose 0.4 percent, and Japan's Nikkei closed down 0.2 percent.
DOLLAR UP
In currencies, the dollar inched higher against a basket of trade-weighted peers. The dollar index rose 0.1 percent to 101.73, mirroring Monday's slender gain.
A rate hike from the Federal Reserve next week is virtually fully priced into financial markets, so the dollar and U.S. bond yields might be vulnerable to a correction lower.
But investors saw enough room to push the greenback and yields higher on Tuesday, lifting the 10-year yield for the fifth day in a row back above 2.50 percent and the two-year yield up a basis point to 1.32 percent.
Sterling was the biggest mover on major FX markets, falling nearly a third of one percent against the dollar to a seven-week low of $1.2202.
Britain's House of Lords will on Tuesday try to force the government to give lawmakers a greater say over the terms of Britain's exit from the European Union and final approval of an eventual deal with the block.
Analysts at Morgan Stanley said on Tuesday they expect the pound to snap back as high as $1.45 by the end of next year.
"Sterling looks increasingly cheap in a historical context and our FX strategists (have) recently turned more bullish on the currency, targeting $1.28 for year end and $1.45 by the end of 2018," they wrote in a note on Tuesday.
The euro was steady at $1.0575 and the dollar was flat against the yen at 113.90 yen.
In commodities, U.S. oil rose 0.3 percent to $53.55 a barrel, following Monday's 0.2 percent drop, and Brent crude also rose 0.3 percent to $56.17.
Gold slipped 0.1 percent to $1,225 an ounce.
(Reporting by Jamie McGeever; Editing by Dominic Evans)