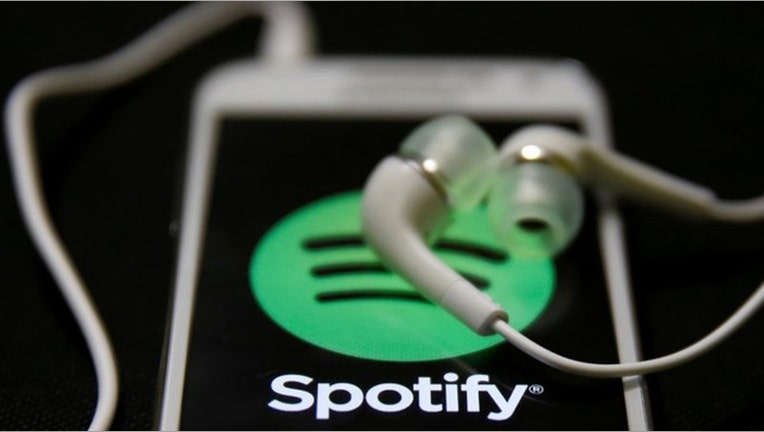 Spotify AB is expected to receive approval from the Securities and Exchange Commission to move forward with a listing of its shares on the New York Stock Exchange, a key step in the music-streaming service's plan to avoid a traditional initial public offering.
Spotify plans to list its shares on the NYSE using an unusual method known as a direct listing. Before it can do so, the exchange must win approval from the SEC to change its rules. The NYSE has applied for such a change and the SEC has indicated to Spotify it's likely to approve, people familiar with the situation said.
The Swedish company was valued at $8.5 billion during a private capital injection in 2015. Its valuation is now closer to $20 billion, based on a recent share swap between Spotify and Chinese internet giant Tencent Holdings, some of the people said. Spotify has been targeting March or April for its debut, according to people familiar with the matter.
The SEC has not yet made an official decision on the NYSE's proposal. It could potentially reject it or ask for further amendments. Spotify could also still change its mind and decide to delay or even not move forward with a direct listing.
If the debut goes well, it could encourage other highly valued and cash-rich startups like Airbnb Inc. to pursue direct listings, people familiar with the matter have said.
In a direct listing, a company transfers its shares to an exchange without raising money as is done in a typical IPO. Companies have shied away from the unusual process in part because there is a greater risk that the shares could flop since there are no underwriters to set and prop up the price.
Among the draws: Direct listings enable companies to save on the hefty underwriting fees associated with traditional IPOs, and there aren't restrictions on when insiders can sell shares.
The NYSE in March filed its initial proposal with the SEC to amend its direct-listing rules in March. Since then it has repeatedly amended the plan, most recently on Dec. 8, regulatory filings show.
The SEC has until Feb. 15 to either approve or disapprove, according to an order released by the agency last week.
The SEC had concerns that Spotify's direct listing could open the door for other companies with potentially risky financial profiles to access the public markets without giving investors sufficient protection, the people said.
The NYSE added various safeguards to its original proposal, filings show. Under one, there would be a firm providing a third-party valuation that would have an arm's-length relationship with the company seeking to list shares on the Big Board. The valuation couldn't come from a firm that had recently sold the company investment-banking services, for instance.
Direct listings are shaping up to be an opportunity for stock exchanges too.
The NYSE, a unit of Intercontinental Exchange, competes fiercely with Nasdaq for listings. Nasdaq had traditionally been the home of tech IPOs, but since Facebook's troubled 2012 debut the NYSE has won many of the largest ones, including those of Alibaba Group Holding and Snap.
Nasdaq has been the go-to exchange for direct listings by private companies for the past decade, completing about a half-dozen since 2006 while the NYSE has had none, according to the two exchanges.
The NYSE, the traditional home of blue-chip stocks, has eased its rules in recent years to attract companies that otherwise would go to Nasdaq. Last year, for example, it moved to loosen its rules for special-purpose acquisition companies, entities with no assets that raise cash for acquisitions.
Write to Maureen Farrell at maureen.farrell@wsj.com and Alexander Osipovich at alexander.osipovich@dowjones.com