Bank of Americas Biggest Wildcard for 4Q Earnings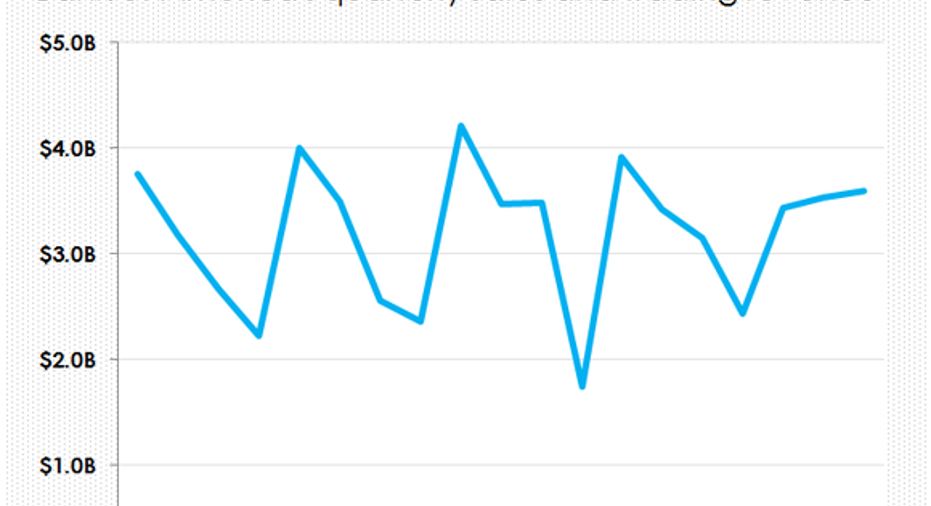 Image source: iStock/Thinkstock.
Bank of America (NYSE: BAC) isn't your typical commercial bank. In fact, that's only half its identity; it's also an investment bank with a sizable presence on Wall Street.
Being a so-called universal bank is good for Bank of America because it diversifies its revenue streams. However, because Wall Street-related revenue is so volatile, it makes analyzing Bank of America much more difficult for the ordinary investor.
Bank of America's trading revenue
In the third quarter of this year, Bank of America earned $3.6 billion from the sale and trading of securities to institutional investors -- hedge funds, university endowments, insurance companies, etc.
That was its best performance since the beginning of 2014. It's also more revenue than all but the biggest commercial banks in the country earn in an entire year.
But what investors need to realize is that this figure is a moving target. This is obvious from a cursory glance at a historical chart of Bank of America's quarterly sales and trading revenue.
Data source: Bank of America. Chart by author.
This shows us that trading revenues at Bank of America (and other banks) tend to conform to a seasonal pattern.
They're lowest in the fourth quarter of each year, as traders and institutional investors close their books and take time off for the holidays. They then tend to be highest in the first quarter, as traders and institutional investors reposition their portfolios for the new year.
Appreciating seasonality
A seasonal pattern like this isn't in and of itself a problem. Lots of markets and industries operate according to cycles. Retail stores are a prime example, generating a large share of their annual revenue in the fourth quarter.
The seasonality can be a problem, however, if you're not aware of it. Take Bank of America's pending fourth-quarter results, which it's set to release on Friday, as an example.
At a recent industry conference, CEO Brian Moynihansaid that Bank of America's fixed-income trading revenue would be up in the fourth quarter by around 15% compared to the year-ago period. That's good, but it's not as good as it seems because, as we've seen, trading revenues tend to be significantly lower in the fourth quarter than they are in all other quarters.
In the fourth quarter last year, Bank of America earned $2.4 billion from sales and trading, though only $1.6 billion of that came from its fixed-income division. That compares to a total of $3.6 billion in sales and trading revenue in the third quarter of this year, with fixed-income trading contributing $2.6 billion.
The 15% difference between these numbers is obviously material, equating to $150 million. That's not a ridiculous amount of money for Bank of America, given that its quarterly earnings are trending toward $5 billion, but it's enough to make a difference between missing or beating analyst expectations.
10 stocks we like better than Bank of America When investing geniuses David and Tom Gardner have a stock tip, it can pay to listen. After all, the newsletter they have run for over a decade, Motley Fool Stock Advisor, has tripled the market.*
David and Tom just revealed what they believe are the 10 best stocks for investors to buy right now... and Bank of America wasn't one of them! That's right -- they think these 10 stocks are even better buys.
Click here to learn about these picks!
*Stock Advisor returns as of January 4, 2017
John Maxfield owns shares of Bank of America. The Motley Fool has no position in any of the stocks mentioned. The Motley Fool has a disclosure policy.