Bank of America's Biggest Success of the Past Decade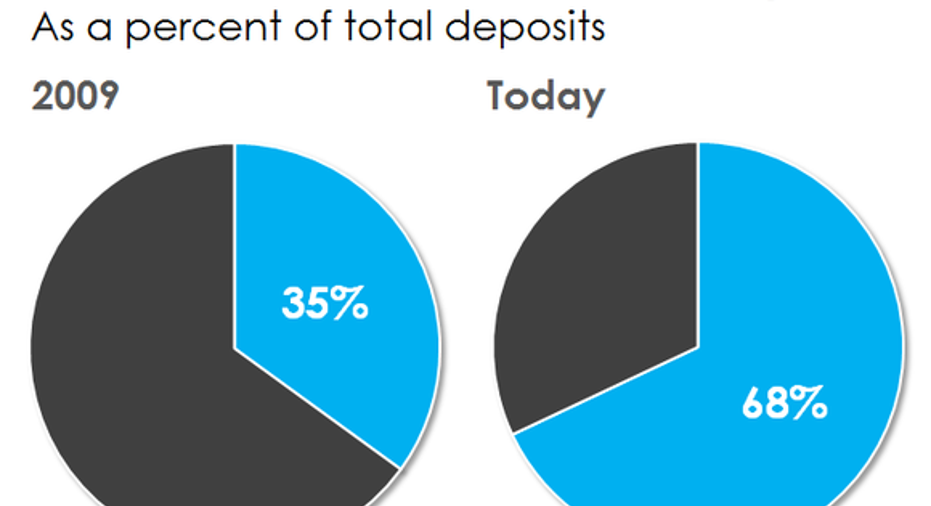 Image source: iStock/Thinkstock.
Bank of America has had its fair share of missteps over the past decade, but it's also had successes. Topping the list for the latter is the progress it's made in mobile banking, which has enabled the bank to slash operating expenses in its consumer banking segment.
You can get a sense for Bank of America's success in this regard by looking at the number of people who use its mobile application. In the most recent quarter, the bank boasted 19.6 million active mobile users. That's five times the number it had in 2009. To put this in perspective, Bank of America has 60 million total clients within 45 million households.
The impact on Bank of America's transaction mix has been dramatic. Mobile check deposits are up by a factor of 10 since 2012, and now account for 16% of all deposit transactions at the North Carolina-based bank. If you also factor in ATM transactions, two-thirds of Bank of America's deposit transactions are now automated. That compares to only 35% in 2009.
Data source: Bank of America. Chart by author.
Transactions that are conducted on a mobile phone or an ATM are much more cost-effective for Bank of America. It estimates that an automated deposit costs 90% less than an assisted deposit. The average cost per $100 in deposits has accordingly dropped by 34% since 2010, going from $2.61 to $1.71 as of the first quarter of 2016.
These trends have allowed the bank to cut costs in two ways. The headcount in its consumer bank has dropped by 40,000 people, or 37%, since 2009. And it's closed approximately 1,500 branches, equating to a 23% reduction over the past seven years. Bank of America now has the greatest value of deposits ($122 million) per branch of any bank.
The net result is that Bank of America has seen its total expenses fall materially over the past few years. Its total annual expenses excluding litigation have declined by $15 billion, or 21%, since 2011. There are other factors at play here, as the bank has simultaneously had to deal with higher expenses related to the servicing of delinquent mortgages, but there is little question that its cost savings insofar as deposit-taking is concerned stem largely from its success with mobile banking.
In sum, while it's easy to focus on Bank of America's struggles, as I have a tendency to do even though it's my biggest stock holding, that's only part of the bank's story from the past decade. A second and more uplifting aspect of its recent performance is its aggressive approach to mobile banking, which should help the $2.2 trillion bank stay relevant in the years to come.
The article Bank of America's Biggest Success of the Past Decade originally appeared on Fool.com.
John Maxfield owns shares of Bank of America. The Motley Fool recommends Bank of America. Try any of our Foolish newsletter services free for 30 days. We Fools may not all hold the same opinions, but we all believe that considering a diverse range of insights makes us better investors. The Motley Fool has a disclosure policy.
Copyright 1995 - 2016 The Motley Fool, LLC. All rights reserved. The Motley Fool has a disclosure policy.