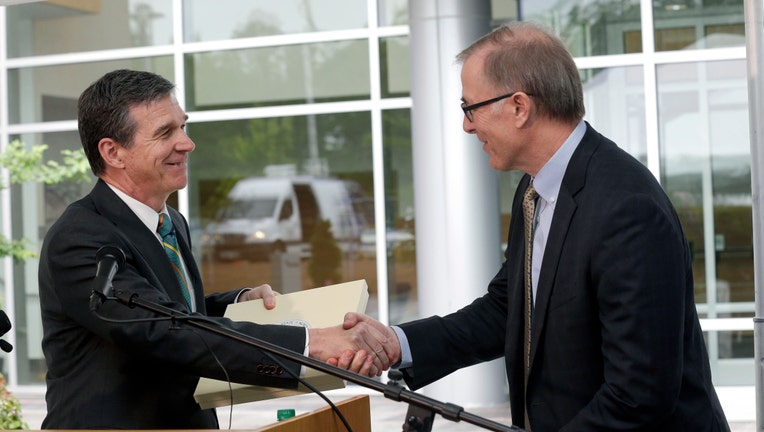 Credit Suisse has long planned to shift jobs to North Carolina as it downsizes, but the Swiss bank says it had to put those plans on hold until the legislature partially repealed the state's law limiting the rights of gay and transgender people.
The bank announced a major expansion in the state Tuesday, promising 1,200 jobs with an average salary of more than $100,000 at its North Carolina technology hub after the state promised more than $40 million in tax incentives.
The suburban Raleigh site, now housing 1,700 Credit Suisse employees and contractors, will grow to the Zurich-based bank's second-largest U.S. location after New York City, Vice Chairman Wilson Ervin said.
"The HB2 legislation was a major challenge for our decision process. We believe that a culture of inclusion and acceptance is critical for our company, for our workforce and our clients. We opposed that law," Ervin said as Gov. Roy Cooper joined him for a news conference.
"During the period that HB2 was on the books, we had to put our plans on hold. We did not think that expansion could be done in a way that was consistent with our core values," Ervin added.
Deutsche Bank and PayPal also canceled North Carolina expansion plans after House Bill 2 became law in March 2016. Some major U.S. cities still forbid official travel to the state, saying HB2's replacement still discriminates.
Critics say Cooper's compromise with GOP leaders five weeks ago was little more than a ploy to end the boycotts, because local governments still can't protect people from discrimination over sexual orientation and gender identity, and the Republican-led legislature put itself firmly in charge of bathroom policies.
Still, Ervin called it "an important first step that re-establishes the minimum conditions for us to expand in the state."
Credit Suisse follows last month's decision by the NCAA and the Atlantic Coast Conference to resume holding championship events in North Carolina after last year relocating events. The NBA is also considering bringing back its All-Star Game, which it pulled from Charlotte.
The bank had considered the jobs for Jersey City, New Jersey, according to documents reviewed by the state committee which approved the tax breaks. With local tax breaks and community college training included, the incentives could total $44 million.
The bank also has U.S. operations in Chicago, Houston, Los Angeles and San Francisco, and employs more than 45,000 people in 50 countries focused on banking, investing and finance. But after two years of losses, it's cutting up to 6,500 jobs this year after slashing its overall headcount by 7,200 last year.
Credit Suisse also has a security motive, deciding after the 2001 terrorist attacks to move some vital back-office operations away from New York City.
The company's Research Triangle Park location has been a support and information technology center for its investment banking division, and also includes some finance professionals. The new jobs are in information technology, cyber-security, machine learning, finance, and other corporate functions.
Chairman Urs Rohner said the bank is issuing new shares to raise about 4 billion Swiss francs (US$3.98 billion) to finance the ongoing restructuring.
Credit Suisse lost 2.44 billion Swiss francs (US$2.42 billion) last year, but reported a return to profit in the first quarter of this year at 596 million francs (US$594 million) on the strength of a surge in its wealth management business.
This is the state's largest corporate expansion since MetLife Inc. said in 2013 that it would move 2,600 jobs to North Carolina, where a dollar tends to stretch farther than other states.
___
Dalesio reported from Raleigh, North Carolina. Follow him at http://twitter.com/emerydalesio ; read his work at https://apnews.com/search/emery%20dalesio .