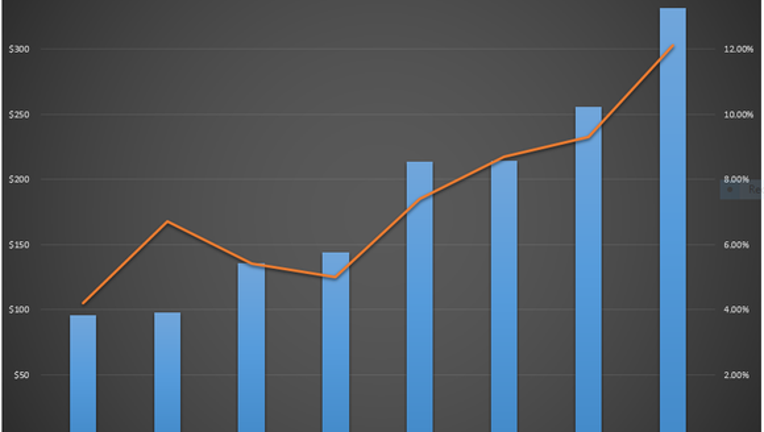 This year hasn't been an easy one for Baidu (NASDAQ: BIDU). There was negative publicity involving mismanagement of its online health forums. It faced public outcry due to the death of a college student who underwent an experimental cancer treatment advertised on its site. And the Chinese government introduced new strict regulations on internet advertising which weighed heavily on short-term results. Investors haven't been pleased with the company lately.
However, investors may be overlooking an area that could provide huge growth for the Chinese search leader: subscription video on demand (SVOD). Baidu, with its majority ownership in video platform iQiyi, has been investing heavily in content. According to its most recent financial release, Baidu invested nearly $332 million -- 12% of its revenue -- on content in the quarter, which it disclosed was largely a result of iQiyi's increased content spending.
Image source: Pixabay.
Money for nothin'
SVOD is a booming industry in China, though it has been largely unprofitable. In the early days of video on demand (VOD) in China, consumers were accustomed to viewing content for free. Providers used the ad-supported model, which included advertisements before, during and/or after videos.
The tide is turning: Chinese consumers are beginning the transition from the ad-supported model to subscription plans. In mid-2015, iQiyi added a paywall and began to charge for new releases; this paid off as subscribers quadrupled over the next year. That change is evident industrywide in the number of consumers paying for content. According to statistics portal Statista.com, Chinese consumers paying for SVOD in 2016 grew over 56%, to 26.93 million, from 17.25 million the prior year. That number is expected to triple to 81.52 million by 2021, and generate revenue of $2.9 billion.
The iQiyi platform currently has 520 million monthly active users, though the majority of those aren't paying customers. Baidu reported in its June conference call that it had exceeded 20 million paid subscribers for the first time. The company believes that the key to monetizing the remaining users is investing in content, and over the last several years, an increasing amount of Baidu's revenue has been earmarked for content spend:
Data source: Baidu. Chart by author.
Netflix and chill
Investors looking to understand the potential for growth in this area need look no further than Netflix (NASDAQ: NFLX). With worldwide subscribers of over 86 million, it is the market-leading SVOD provider. Its domestic base of 47.5 million members is about 15% of the U.S. population of 325 million.
Back in early 2012, Netflix reported that it had exceeded 20 million streaming subscribers for the first time, similar to the number of paying streaming subscribers iQiyi reported earlier this year.
Image source: Netflix
With a population exceeding 1.3 billion, China provides a much larger pool to draw from. Not all Chinese consumers are in a position to consume VOD, so perhaps the middle class presents a more reasonable comparison. Reports estimate that China's urban population is 730 million, with 68% in the middle class, or 496 million potential consumers. These numbers are only expected to grow. If iQiyi were to reach a Netflix-like penetration of 15%, it could have nearly 75 million customers.
This is all fun with numbers, of course. Competition in the SVOD space is intense, and a number of China's largest internet companies are spending heavily on content for supremacy in the space. Netflix itself attempted to enter the streaming business in China, only to find the regulatory environment too difficult. In its most recent letter to shareholders, Netflix conceded the difficulty of tackling the Chinese market:
The Foolish final word
If all that weren't enough,The Wall Street Journalisreportingthat Baidu may be planning an IPO of iQiyi that would raise up to $1 billion and value the video-streaming unit at near $5 billion. This is a testament to the strength of its SVOD offspring.
While challenges remain for Baidu in the short term, the company is looking toward its future. SVOD may be a money-losing proposition now, but it taps into an emerging trend and demographic; investing in that market could prove extremely prescient over the longer term.
10 stocks we like better than Baidu When investing geniuses David and Tom Gardner have a stock tip, it can pay to listen. After all, the newsletter they have run for over a decade, Motley Fool Stock Advisor, has tripled the market.*
David and Tom just revealed what they believe are the 10 best stocks for investors to buy right now... and Baidu wasn't one of them! That's right -- they think these 10 stocks are even better buys.
Click here to learn about these picks!
*Stock Advisor returns as of Nov. 7, 2016
Danny Vena owns shares of Baidu and Netflix and spends far too much time streaming content. The Motley Fool owns shares of and recommends Baidu and Netflix.
Try any of our Foolish newsletter services free for 30 days. We Fools may not all hold the same opinions, but we all believe that considering a diverse range of insights makes us better investors. The Motley Fool has a disclosure policy.