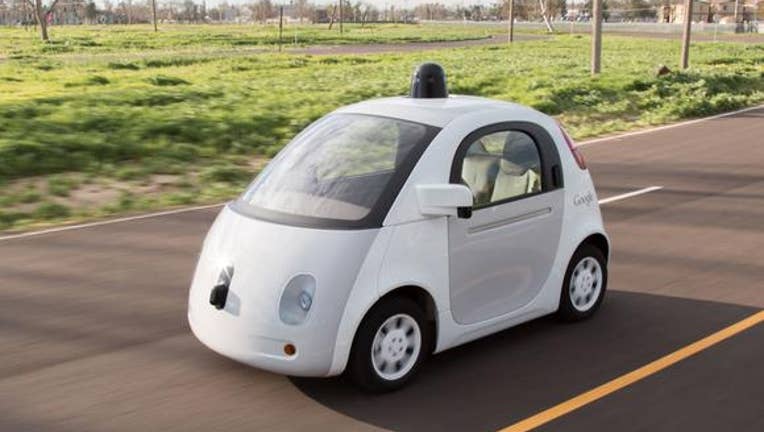 Baidu's self driving car. Image source: Baidu.
Baidu recently became the first Chinese company to produce a self-driving car. While other companies have already produced such vehicles, this is big news for the Chinese market. Baidu is taking steps to become more like Alphabet , but is taking a slightly different path toward producing mass-market autonomous vehicles. Self-driving cars seem like a near certainty, and as a shareholder I'm glad Baidu is getting involved.
Becoming more like Alphabet?Baidu is often referred to as the Google of China. [Google, which includes search, YouTube, Android, and more, is now part of holding company Alphabet.] Both were built into multibillion-dollar companies on the backs of superior online search services and dominance of their home markets. Both have shown themselves to not be content with simply milking the online search cash cow and have ventured into a number of different initiatives.
Autonomous driving has been a project for Alphabet for years. It's logged more than 1 million self-driven miles over six years. In early December, according to a Wiredarticle,Baidu's vehicle "drove an 18.6-mile route around the capital city that included side streets as well as highways." Baidu achieved this milestone a little more than a year after BMW announced it was teaming up with Baidu for automated driving trials in China.Alphabet recently formed a partnership with carmaker Ford.
Google's self-drivingprototype vehicle. Image source: Google.
Baidu taking a slightly different pathAs with any new advancement, there are going to be a number of competing visions as to how to best develop and implement the technology behind it. I think it's unlikely that one company or partnership will prove to completely dominate the market, especially with all of the heavy hitters -- includingTesla Motors and Apple --that have thrown their hats in the ring or are expected to. Baidu and Alphabet are taking different approaches to getting their vehicles to the mass market.
Alphabet has chosen to design and build a car that will be fully autonomous in all conditions from day one. Baidu is attempting to release technology that will allow vehicles to start out being autonomous on easier routes and terrains. From the same Wiredpiece: "[Baidu is] working on fully autonomous vehicles that will be limited geographically, like a bus that drives the same route every day. Limiting the route limits the challenges the vehicle will face." I'm in favor of getting safe autonomousvehicles to the mass market asquickly as possible and then enhancing future iterations from there. If that means that we start with buses that can only drive around the outskirts of the city, then so be it. Regardless of the path taken, theopportunities for both companies are immense.
Autonomous cars are a near certaintyBaidu Senior Vice President Wang Jin was quoted as saying the company has "set a target to commercialize our operations in the next three years," and said that within a decade, around 80% of new cars would have self-driving technology. Self-driving technology will help to reduce carbon emissions, traffic, and vehicular injury. It will increase the amount of productivity and leisure time for commuters and has the possibility ofbeing one ofthe most important and widespread technological advances of the youngcentury.
One would expect big companies such as Alphabet, Apple, BMW, Ford, and Tesla to be interested in this opportunity and investing for the future. The Chinese opportunity here, as with nearly every other facet of the economy, is massive, and Baidu has the inside lane. As a shareholder, I'm happy to see it partnered up with such a revered automaker and taking its place alongside the U.S. tech companies at the adults' table. Baidu is fighting for a piece of this pie, and I think it'll be successful in nabbing it.
The article Baidu Inc. Takes Another Step Beyond Search With Autonomous Car originally appeared on Fool.com.
Suzanne Frey, an executive at Alphabet, is a member of The Motley Fool's board of directors. James Sullivan owns shares of AAPL, BIDU, and TSLA. The Motley Fool owns shares of and recommends GOOG, GOOGL, AAPL, BIDU, and TSLA. The Motley Fool recommends F. Try any of our Foolish newsletter services free for 30 days. We Fools may not all hold the same opinions, but we all believe that considering a diverse range of insights makes us better investors. The Motley Fool has a disclosure policy.
Copyright 1995 - 2015 The Motley Fool, LLC. All rights reserved. The Motley Fool has a disclosure policy.