Baidu and Tencent Just Invested in this Electric Vehicle Maker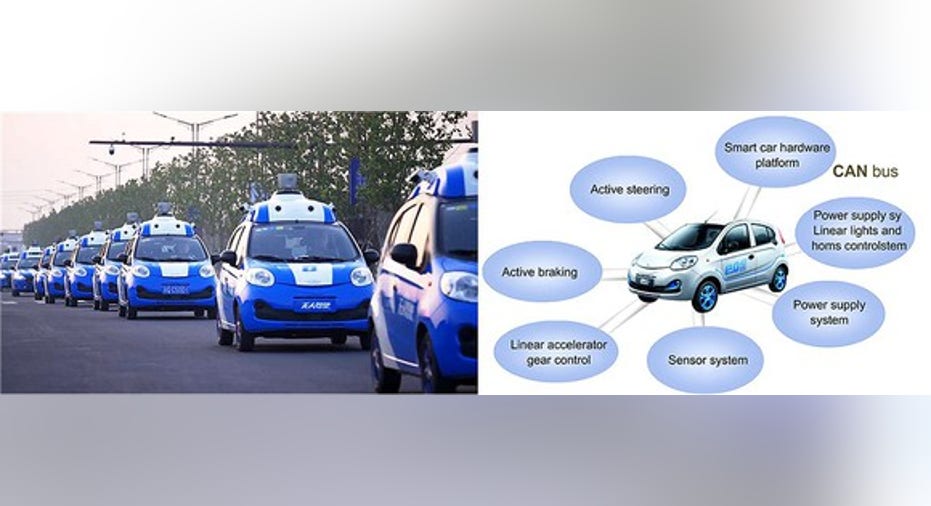 Baidu (NASDAQ: BIDU) and Tencent (NASDAQOTH: TCEHY) are generally considered fierce rivals in the Chinese internet market. Both companies are expanding their online-to-offline (O2O) ecosystems by bundling multiple services within their mobile apps, and both companies frequently invest in rival companies.
However, Baidu and Tencent recently came together tolead a 600 million yuan ($87 million) funding round in Shanghai-based electric vehicle maker NIO, formerly known as NextEV. That round -- which attracted other major investors like DG Capital, TPG, Hillhouse Capital, and Lenovo-- valued the start-up at 20 billion yuan ($2.9 billion). NIO has raised nearly $1 billion within the past two years.
NIO's EP9, the fastest EV supercar in the world. Image source: NIO.
NIO was founded in 2014 by Li Bin, the former chairman of Chinese automotive marketing site Bitauto.com. Last November, NIO unveiled the EP9, which set a world record as the fastest electric vehicle in the world at the Nrburgring Nordschleife racetrack in Germany. The company also recently announced that it would launch its NIO EVE autonomous EVs in the U.S. market in 2020.
Why this investment matters to Baidu
Baidu is commonly called the "Google of China", but its core search business has been slowing down due to competitive pressure from social networking rivals like Tencent's WeChat and Weibo, e-commerce rivals like Alibaba's Taobao and Tmall, and a government crackdown on misleading ads -- particularly regarding healthcare products.
Baidu is trying to offset that slowdown by expanding into adjacent markets like cloud services, artificial intelligence, and driverless cars. Those three businesses can be integrated with Baidu's market-leading search and maps -- which could eventually let users hail a ride from the Baidu app, pay with Baidu Wallet, and be ferried to their destination by an autonomous EV.
That's why Baidu recently made some big moves into the automotive market. It started testing out driverless cars on public roads in late 2015, formed a driverless tech research center in Silicon Valley last April, and unveiled the fully autonomous, Chinese-made Chery eQ EV last August. Baidu has declared that its first commercial vehicle, an autonomous shuttle bus, will arrive next year.
Baidu and Chery's fleet of autonomous EVs. Image source: Chery.
Baidu powers these vehicles with a combination of NVIDIA'sautomotive chips, HERE Maps, and its own AI algorithms. Baidu also holds a minor stake in Didi Chuxing, the Chinese ridehailing leader which acquired Uber's Chinese business last year. In early March, Baidu established an Intelligent Driving group led by the company's president and chief operating officer, Lu Qi. All these efforts could make Baidu's dream of merging its ecosystem with autonomous EVs come true.
Why this investment matters to Tencent
Tencent owns the biggest social networks in China -- its QQ chat app has877 million monthly active users (MAUs), and its WeChat mobile messaging app has846 million MAUs. Over the past few years, Tencent expanded WeChat from a basic messaging app into a platform which lets users hail cabs, make payments, order products, play games, and perform other tasks without ever leaving the app.
This strategy, which lets Tencent build an app ecosystem within iOS and Android without actually owning a mobile OS, forced Baidu and other rivals to add similar services to their apps. Like Baidu, Tencent wants its users to seamlessly hail autonomous EVs from WeChat and make payments with its WePay mobile wallet.
WeChat's mobile app. Image source: iTunes.
Last year, Tencent, Foxconn, and Chinese automaker Harmony Auto co-founded EV maker Hexiefuteng. Hexiefuteng will produce lowto mid-range EVs, and its subsidiary Future Mobility will launch pricier EVs for the luxury market. Last July, Future Mobility declared thatit could launch a fully autonomous EV by 2020.
Last December, Tencent, Singapore's GIC sovereign wealth fund, and Chinese mapping company Navinfo jointly acquired a 10% stakein HERE Maps. That move will bolster Tencent's biggest weakness against Baidu -- its lack of a widely used mapping service. Only about eight million people use Tencent's own mapping service, compared to341 million mobile MAUs who use Baidu Maps.
The road ahead...
Baidu and Tencent's driverless efforts won't clash until autonomous EVs actually hit public roads, but the Chinese government wants 10% of all cars within the country to be self-driving by 2030. For now, the battles between Baidu and Tencent will be waged with the expansion of their O2O ecosystems, investments in companies like NIO, and the founding of new companies like Hexiefuteng.
10 stocks we like better than BaiduWhen investing geniuses David and Tom Gardner have a stock tip, it can pay to listen. After all, the newsletter they have run for over a decade, Motley Fool Stock Advisor, has tripled the market.*
David and Tom just revealed what they believe are the 10 best stocks for investors to buy right now... and Baidu wasn't one of them! That's right -- they think these 10 stocks are even better buys.
Click here to learn about these picks!
*Stock Advisor returns as of February 6, 2017
Leo Sun owns shares of Baidu, Tencent, and Weibo. The Motley Fool owns shares of and recommends Baidu and Nvidia. The Motley Fool recommends Weibo. The Motley Fool has a disclosure policy.