Bad News for GameStop: Companies Are Going Direct to Gamers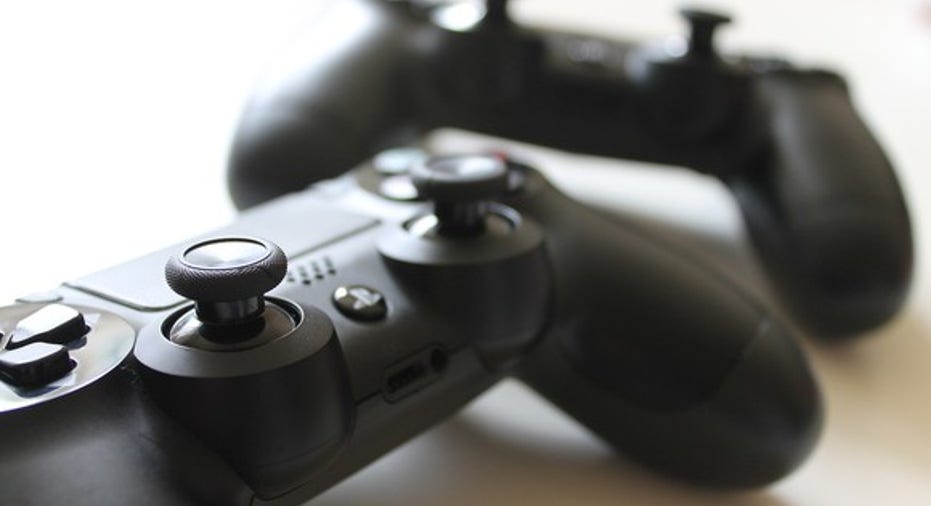 The shift to digital distribution of video games is causing difficulty for GameStop. IMAGE SOURCE: PIXABAY.
With physical sales of video games giving way to digital sales, GameStop(NYSE: GME)is in trouble. In January, the game retailer reported that holiday sales declined 16.4% and comparable-store sales decreased 18.7%. The company also reported losing market share during the holiday period based on data from NPD.
Physical game sales are in decline
To management's credit, they have seen the writing on the wall for several years and have attempted to essentially exit the physical video game business as GameStop has expanded into other retail segments like electronics and other merchandise.
By diversifying GameStop's retail operation, management is allowing the physical video game business to decline while replacing it with growing non-physical game merchandise.This presents an entirely different problem for shareholders who don't really own a video game retailer anymore, but a business transforming itself into a general electronics and merchandise retailer.
Meanwhile, GameStop is still very dependent on physical video game sales, and it also faces mounting competition from Amazon.com. Plus, it may take years for non-gaming related business segments to take off. In the meantime, game publishers, console makers, and social gaming sites like Amazon's Twitch are providing gamers more convenient access to games.
The shift to digital is getting worse for GameStop
Later in the spring, Amazon.com's Twitch game streaming site will begin placing "buy" buttons on website broadcasts for computer games from 20 companies. More than 2 million unique streamers use Twitch per month to broadcast live gameplay, and these broadcasts reach 9.7 million daily active users.
The news from Twitch may not be as bad for GameStop as it seems on the surface since PC direct downloading has been around for a while. For years, GameStop has been dealing with competition from Valve Corporation's Steam direct downloading service, which was reported to have over 125 million users in 2015.As of 2013, 92% of PC game purchases were downloaded.Console gamers have been slow to catch on, but console migration to direct downloading is a slowly rolling avalanche, with GameStop lying directly in its path.
Electronic Arts, for example, reported that 32% of its unit sales on current-generation consoles are from full game downloads.The publisher's trailing-12-month sales from full game downloads grew 38% year over year in the recent quarter to $666 million. Electronic Arts' physical game sales, in contrast, have been flat in recent years.
The direct download trend is helping expand game publishers' margins at the expense of middlemen like GameStop. Subscription services like Sony'sPlaystation Now service and Microsoft'srecent announcement of its new Xbox Game Pass service will only prod gamers further in this direction.
Microsoft's Xbox Game Pass service will give players access to over 100 Xbox One and Xbox 360 titles for $9.99 per month.One of the features of the service will be the ability to download the full game directly to the Xbox One console, which is important for gamers who want smooth, uninterrupted gameplay free of internet connectivity issues. Xbox gamers will also be able to purchase games digitally at a discount with their Game Pass subscription.
These new services will only make it more difficult for GameStop. In the last quarter, 46% of GameStop's net sales came from new hardware and software, while 24% came from pre-owned games. All together, new and used video game hardware and software made up 57% of total gross profit in the third quarter of 2016.
On top of these digital sales trends, GameStop is experiencing the same stiff competition from Amazon's massive retail operation that other retailers have experienced. Amazon offers a special discount for new video game releases exclusively for its Prime members.While GameStop sells new release games at the full retail price of $59.99 plus sales tax and shipping, Amazon Prime members can purchase the same game for $47.99 with the added benefit of free two-day shipping.
The stock is not as cheap as it looks
GameStop is finding it difficult to navigate around the trends moving against it, and the investment community senses it, as GameStop shares plunged 10% after Microsoft's Xbox Game Pass announcement.
With GameStop shares trading for only six times earnings, the stock looks extremely tempting for a value investor.The market is not always rational and can sometimes take a stock to unjustified high or low valuation levels.In this case, I think the market is right to discount GameStop shares as the company's overall performance continues to point to a value trap.
10 stocks we like better than GameStopWhen investing geniuses David and Tom Gardner have a stock tip, it can pay to listen. After all, the newsletter they have run for over a decade, Motley Fool Stock Advisor, has tripled the market.*
David and Tom just revealed what they believe are the 10 best stocks for investors to buy right now...and GameStop wasn't one of them! That's right -- they think these 10 stocks are even better buys.
Click here to learn about these picks!
*Stock Advisor returns as of February 6, 2017.
Teresa Kersten is an employee of LinkedIn and a member of The Motley Fool's board of directors. LinkedIn is owned by Microsoft. John Ballard has no position in any stocks mentioned. The Motley Fool owns shares of and recommends Amazon. The Motley Fool has the following options: short April 2017 $28 puts on GameStop. The Motley Fool recommends Electronic Arts. The Motley Fool has a disclosure policy.