Bad beasts, good treats: Feral hog slaughterhouse takes off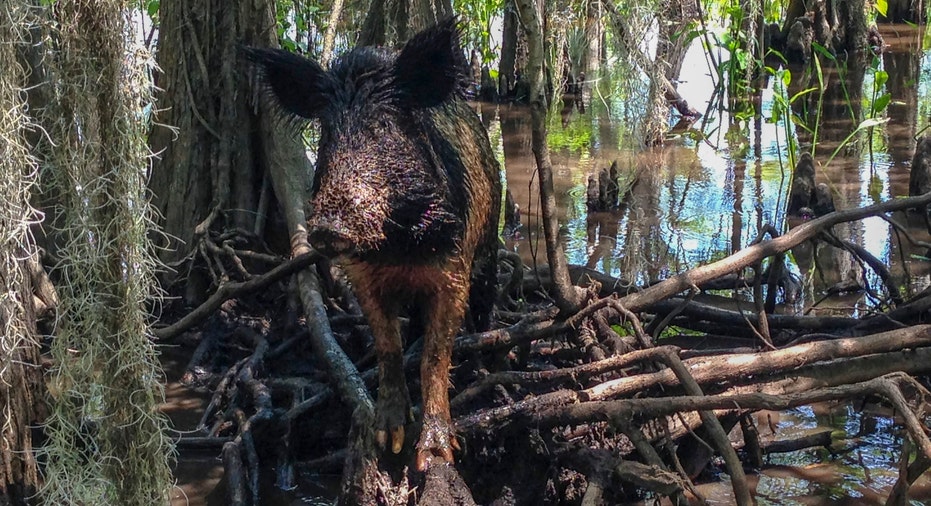 In a region that takes food seriously, feral hogs are despised as destructive, but their rich, dark meat is winning fans among Louisiana chefs.
A small slaughterhouse is butchering the wild pigs , which cause the state $76 million-plus in annual damage, and selling sausage to grocery stores and meat to restaurants, where chefs are turning it into savory prosciutto, chorizo and meatballs.
"To me, it is the most interesting thing I have seen in years," said Rene Bajeux, executive chef for the Palace Cafe and three other Dickie Brennan & Co. restaurants in New Orleans. "It is good for everything — good for business, good for cooking, good for the ecology, good for everything. Those bad beasts are a good treat."
Springfield Slaughter House 's main business is butchering wild boar, which otherwise would be gobbling crops, competing with local wildlife and ripping up levees, fragile wetlands and other green spaces.
Feral hogs probably do more than $1.5 billion damage nationwide each year, according to the USDA, and the problem is only getting bigger: from 1982 to 2012, the invasive species spread from 17 states to 36.
Owner Charlie Munford got into the wild hog business in 2015. He'd been working with farmers, slaughterhouses and chefs to provide local beef, lamb, pork and goat to restaurants when he bought the slaughterhouse about 40 miles northwest of New Orleans in 2014.
Hunters have to bring the hogs, weighing in at 90 to 300 pounds, to Munford's slaughterhouse alive so they can be inspected before slaughtering. Munford estimates he's killed about 1,000 over the past year.
But one small slaughterhouse can take only a bite out of the estimated 600,000 feral swine in Louisiana: Authorities say 70 percent of the population would have to be killed each year just to keep the numbers from growing.
At his slaughterhouse, Munford first stayed with the traditional meats. Then he read about a program to slaughter feral hogs for commercial sale in Texas — about 461,000 between 2004 and 2009. The Louisiana Department of Agriculture and Forestry was already considering a program similar to Texas' and helped Munford get started. Feral swine are now 90 percent of his business; the rest is domestic pork.
Wild boar saved the slaughterhouse after a plan to raise and sell grass-fed beef to a grocery chain fell through, he said.
"The restaurant demand for beef, lamb and domestic pork has declined. ... It would have been hard to stay in business without a major game-changer," Munford said.
Of the 19 state-inspected slaughterhouses, Springfield is the only one selling wild boar, although state officials say they've gotten inquiries from others that are interested.
Its wild boar line includes whole hogs and 20-pound boxes of primal cuts such as hams, shoulders and bellies for sale to restaurants. More than half the business is sausages, which are sold to grocery stores.
Customers include some top chefs. Bajeux makes about 80 pounds of wild boar bacon every week for weekend brunches and offers a variety of other dishes such as wild boar stew and chili. One recent day, his chillers held wild boar sausage and cold cuts including salami, coppa, and prosciutto-like speck.
Emeril's Delmonico makes wild boar meatballs served with caponata, chef de cuisine Anthony Scanio said. Like Bajeux, he also makes wild boar charcuterie, often used in specials.
Since these pigs have spent their lives running around in the open, this pork is not "the other white meat."
"The meat is much darker," Scanio said. "I think it tastes darker as well — iron, mineral notes. It's like game, essentially."
It's so much leaner than domestic pork that Munford's sausage is 30 percent wild pig and 70 percent farm-raised. "We don't want the sausage to be too lean or too gamy," he said.
At City Pork Brasserie and Bar in Baton Rouge, chef Ryan Andre likes the stronger flavor.
"It's kind of like a cross between pork and beef," Andre said. He cooks down a 70-pound hog weekly to make wild boar flautas, his top-selling appetizer.
The wild boar effort contrasts with one about 20 years ago to get nutria, an invasive rodent, on restaurant menus and grocery shelves. People love pork already, but the same cannot be said for nutria, which look a bit like rat-tailed beavers.
"That was a difficult sell," Scanio said.
Baton Rouge chef Philippe Parola, who was part of that campaign, puts much of the blame for its failure on federal inspection rules. He contends that the federal government must loosen rules requiring meat to be inspected both alive and dead to encourage more efforts to eat invasive mammals like feral hogs or nutria.
Munford said he applauds Parola's aim, but thinks there are excellent reasons for the live inspection.
"When something's dead out in the field and then transported in an unrefrigerated vehicle, it can go bad really quick. Especially in a hot climate," he said.
State officials hope to expand the slaughterhouse program as one more piece in a puzzle that also includes regular hunting — the beasts are "outlaw quadrupeds" that can be shot year-round during daylight shooting hours — and even paying to have hogs shot with machine guns from helicopters. They say they've gotten inquiries from other slaughterhouses, but none has signed up so far.