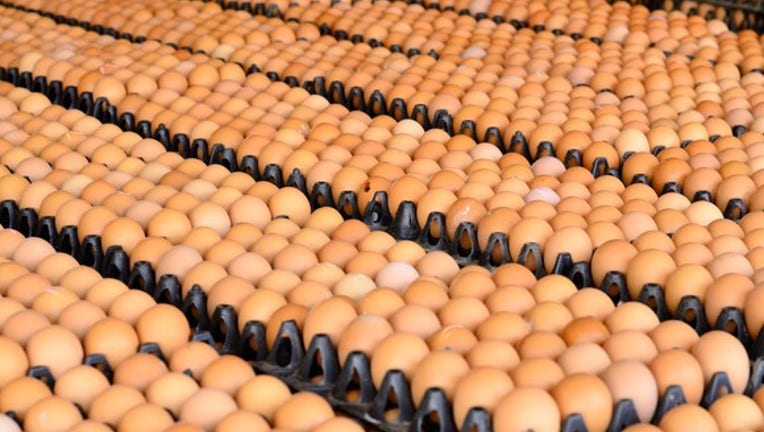 Avian influenza has reared its head again and the poultry industry finds itself on edge. Right now the biggest threat is to the meat bird segment, or broilers as they're called, but if it spreads to the layers, or those that produce the nation's egg supply, Cal-Maine Foods (NASDAQ: CALM) may be the one to have its feathers ruffled most.
Following the devastating outbreak that hit the industry in 2015, some 50 million turkeys and chickens were killed in an attempt to halt the spread of the flu. While the broiler market began to recover late last year, egg producers like Cal-Maine are still feeling its impact.
Image source: Getty Images.
All its eggs in one basket
Cal-Maine Foods is the country's largest producer and distributor of fresh shell eggs. In its fiscal 2017 third quarter that ended Feb. 25, it had sold nearly 264 million dozens of shell eggs, and although that seems like a heckuva lot, it's actually 5% lower than last year, or 14 million fewer dozens. In fiscal 2016, Cal-Maine sold 1.05 billions of dozens, which itself was down from its record high of 1.06 billion in 2015.
What's worrisome is that Cal-Maine's own flocks weren't affected by the flu outbreak two years ago that ultimately saw approximately 12% of the national flock of laying hens euthanized. Even so, its business was still caught up by the impact on the industry.
Sales plunged 25% in the first quarter following the outbreak and caused it to record a loss of a penny per share compared to a profit of $0.96 per share in the prior year. The following quarter sales, however, plummeted 60%,followed by another 54% in the quarter after.Cal-Maine is still feeling the fallout from the virus, with sales down 32% in the just-ended period, though it had seemedthe worst of it had passed.
Image source: Getty Images.
High hopes may be dashed
Both Tyson Foods (NYSE: TSN) and Pilgrim's Pride (NASDAQ: PPC), two of the country's biggest protein producers, were also impacted by the avian flu, but both saw a recovery begin to take shape last year.
Pilgrim's Pride, for example, noted on its fourth quarter earnings conference call with analysts in February that it benefited in the period from improved pricing while Tyson said its prices had improved 1.4% year over year. Both were also expecting the rest of the year to continue improving, and Pilgrim's Pride was looking forward to increased demand and higher prices in foreign markets (Tyson said foreign markets were too small for it to have an effect on its performance).
Europe and Asia were experiencing a new bird flu outbreak, which was the reason for Pilgrim's Pride's optimism, but these forecasts occurred before the U.S. outbreaks. Now that avian flu is back, and hitting just the broiler market so far, these two protein producers may once again take a hit.
Still small fry
In terms of the 2015 crisis, the current outbreak is comparatively small. So far only a handful of farms in Tennessee, Alabama, Kentucky, and Wisconsin have been found with avian flu, and only one of those so far has been diagnosed with a high-pathogenic virus.
Image source: Getty Images.
The pathogenic qualities of a virus refer to its ability to produce disease, but "low path" viruses, which are common in wild waterfowl like ducks and geese (and which remain largely unaffected by them), can mutate into "high path" ones if they get into domesticated birds. At least one of the affected farms lies beside a body of water on the migratory path of the wild birds and it may be how the flock was infected. So far the viruses found are not seen as infecting people, and reportedly do not raise food safety concerns, but out of an abundance of caution and to help stop its further spread, hundreds of thousands of birds have been slaughtered.
To send the largest U.S. egg producer into another downward spiral wouldn't require an outbreak as widespread as the last one, nor like last time would Cal-Maine's flocks need to be infected. Rather, only a couple of additional highly publicized cases would be enough to get it to crack.
Cal-Maine Foods shares are down 17% in 2017 and over 32% from their 52-week high, but ensuring that these isolated cases don't turn into an epidemic for the nation's birds is the highest priority for this top egg producer.
10 stocks we like better than Cal-Maine FoodsWhen investing geniuses David and Tom Gardner have a stock tip, it can pay to listen. After all, the newsletter they have run for over a decade, Motley Fool Stock Advisor, has tripled the market.*
David and Tom just revealed what they believe are the 10 best stocks for investors to buy right now... and Cal-Maine Foods wasn't one of them! That's right -- they think these 10 stocks are even better buys.
Click here to learn about these picks!
*Stock Advisor returns as of April 3, 2017
Rich Duprey has no position in any stocks mentioned. The Motley Fool has no position in any of the stocks mentioned. The Motley Fool has a disclosure policy.