Automakers Topple Sales Record After Big December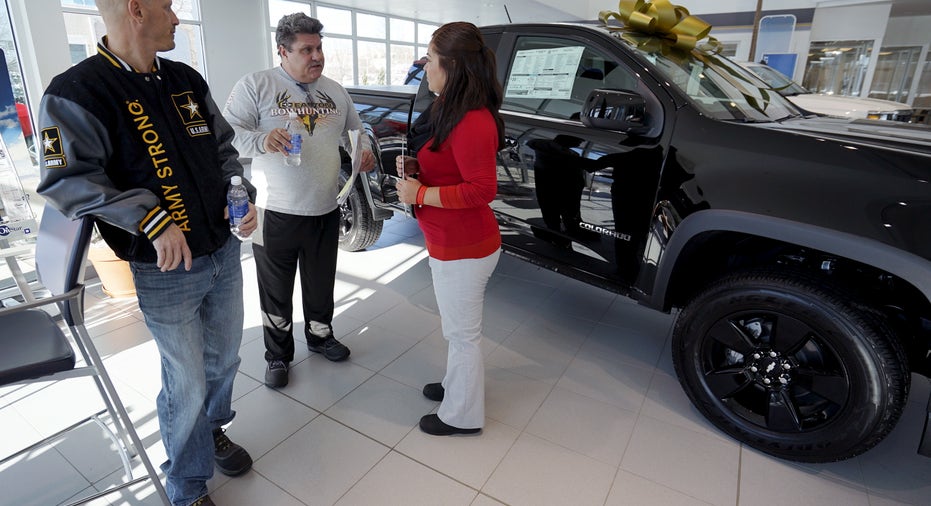 Updated 2:59 p.m. ET
U.S. auto sales soared to another record high in 2016, primarily driven by General Motors (NYSE:GM) and Ford (NYSE:F) as they closed the year with a strong December.
Analysts expected holiday promotions to propel auto sales in the final month of the year, but the final outcome for 2016 was unclear. Kelley Blue Book had said December would prove to be the best month of the year, although full-year sales were on pace to fall just shy of 2015's record of about 17.47 million vehicles sold. Edmunds senior analyst Jeremy Acevedo said it was "shaping up to be a true photo finish."
December sales ultimately outpaced expectations, cementing the sales record.
U.S. light-vehicle sales totaled 17.54 million vehicles, according to data compiled by Automotive News. In December, sales easily beat forecasts with a seasonally adjusted annual rate of 18.4 million vehicles, the fifth-best mark in the industry's history.
The holiday season helped fire up sales in December. Automakers took part in the deal frenzy, and by Ford's estimation, brands spent $530 per unit more in incentives. Even though discounts continued to rise, average transaction prices reached an all-time high of $35,309, according to Kelley Blue Book.
GM stood out with a 10% gain in December sales volume compared to the same month in 2015, largely due to demand for Chevrolets. The bowtie brand posted a 12.8% sales increase. GMC, Buick and Cadillac also recoded monthly sales growth.
For the full year, GM sales slipped 1.3% to 3.04 million, as the company pursued a strategy of cutting fleet sales by 18%. The nation's top seller of new vehicles said its retail sales—or deliveries to individual customers—climbed nearly 2% year-over-year. GM's market share and transaction prices also improved.
Ticker
Security
Last
Change
Change %
GM
GENERAL MOTORS CO.
34.13
-0.15
-0.44%
F
FORD MOTOR CO.
12.59
+0.20
+1.61%
FCAU
n.a.
n.a.
n.a.
n.a.
TM
TOYOTA MOTOR CORP.
145.73
-0.27
-0.18%
HMC
HONDA MOTOR CO. LTD.
29.83
+0.24
+0.81%
Ford's 2016 sales edged 0.1% higher to 2.61 million units, while December sales were up 0.3% on strong SUV and truck demand.
Ford was lifted by sales growth at Lincoln, which overshadowed slight declines for the namesake brand in December and the full year.
Fiat Chrysler Automobiles (NYSE:FCAU) said its December sales dropped 10% amid lost momentum for the Jeep brand. Fiat Chrysler's 2016 sales were down 0.4%.
Toyota's (NYSE:TM) monthly sales increased 2%. Honda (NYSE:HMC) booked a 6.4% gain, and combined Honda and Acura sales in 2016 set a company record in America. Nissan's December sales jumped 9.7%.
Losing Steam?
After back-to-back record years, automakers are bracing for sales to cool off in 2017. Kelley Blue Book is projecting between 16.8 million and 17.3 million vehicles will find a buyer this year, saying a buildup in inventories and an increase in the supply of used cars will put pressure on new-vehicle sales. Automakers have already cut some production of small cars and other models in response to slower retail demand. Ford chief economist Emily Kolinski Morris said a consumer survey showed that fewer Americans feel now is a good time to buy a car, fueled by concerns over higher interest rates.
Despite expectations for a modest decline in total sales, the industry is still poised to sell a near-record number of vehicles this year.
CFRA Research, which sees 2016 as the peak year for U.S. auto sales, added that economic growth, higher consumer confidence, a strong stock market and moderate gas prices will continue to push buyers into profitable trucks and SUVs.
"We see a healthy sales plateau above [17 million] units through '18," Efraim Levy, an equity analyst at CFRA Research, wrote in a note to clients Wednesday, reiterating a "strong buy" opinion on shares of GM.
GM chief economist Mustafa Mohatarem said consumer confidence reflects optimism about the U.S. economy, and customer demand will continue to support a "very healthy" U.S. auto industry.