Autodesk Stock Upgraded -- Again! Here's What You Need to Know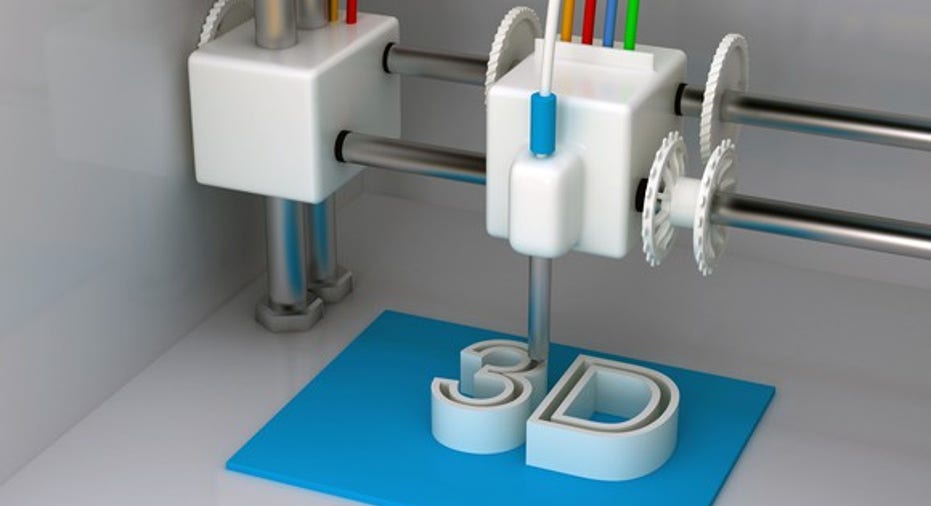 Autodesk (NASDAQ: ADSK) shares are on a tear.
Autodesk stock has gained more than 17% so far this month, as investors clue in to a story of potentially wildfire growth at the 3D computer-assisted design (CAD) software maker. So far, two separate analysts have upgraded Autodesk stock over the past two days, with Rosenblatt raising Autodesk from sell to neutral on Thursday, and today, Canaccord Genuity chiming in with an upgrade from hold to buy.
What's behind all this excitement over Autodesk? Funny that you ask!
Here are three things you need to know.
Computer assisted software, such as Autodesk makes, is the brains behind the 3D printing revolution. Image source: Getty Images.
1. Shout hurray, it's investor day!
Autodesk's surge appears to be tied to the company's holding of an investor day on Dec. 6. While we don't know exactly what Autodesk said at this event, it's clear that analysts in attendance were impressed.
As reported on TheFly.com, coming out of the conference, analysts at Cowen & Co. immediately raised their target price on the stock from $79 to $87. This was quickly followed by Rosenblatt's upgrade and $81 price target on Thursday -- a target that has already been hit. Then, Canaccord upgraded this morning.
2. High hopes for 2020
According to the latter, Autodesk stock that costs just $81 and change today should rise as high as $95 within a year -- and that's just to start with. In fact, Canaccord is predicting that Autodesk will double in value over the next three to four years, and average 15% to 20% gains over the next five years.
At the top end of that estimate, we could be looking at a potential run from $81 a share today, to as much as $194 per share by 2021. Granted, this is a bit of an outlying estimate. Granted too, our data here at Motley Fool CAPS show that Canaccord is not necessarily the most reliable of oracles. But even so, if the analyst is anywhere close to right on this one, investors could be looking at some pretty impressive gains from this stock going forward.
3. What's behind the hype -- er, hope?
Canaccord bases its optimistic forecast for Autodesk stock on a belief -- apparently laid out at the investor day mentioned above -- that Autodesk will grow its rate of per-share free cash flow production to "$6 in FCF by 2020 and $11 per share in 2022." But is that realistic?
According to data from S&P Global Market Intelligence, Autodesk stock generated $228 million in positive free cash flow over the past 12 months. Divided among 222.6 million shares outstanding, that's a bit more than $1 a share. So what Canaccord is really saying is that over the next four years, it expects Autodesk to sextuple its cash profitability, and then nearly double it again two years later.
Suffice it to say this is a very aggressive target. It's so aggressive that, if Canaccord turns out to be anywhere near right about its estimates of free cash flow growth, then Autodesk stock probably deserves to do a whole lot better than merely double in price, as the analyst predicts, over the next four years. An 11-fold improvement in free cash flow production should actually be worth a whole lot more to investors.
The most important thing: Being realistic
In fact, though, I suspect that Canaccord is probably being a bit overoptimistic about the stock. So let's dial back the enthusiasm a bit, and see how Autodesk looks today.
GAAP-unprofitable last year, and likely to be unprofitable again this year, the best number we have available for hanging a valuation on Autodesk stock is its free cash flow -- so let's go ahead and use that one.
With $228 million in trailing free cash flow, and a market capitalization of $18.2 billion, Autodesk stock currently sells for a valuation of 80 times earnings. Canaccord's enthusiasm notwithstanding meanwhile, most analysts who follow the stock see profitability at Autodesk growing at just 15% annually over the next five years. What that means is that as currently valued, Autodesk stock sells for a price-to-FCF-to-growth ratio of about 5.3 -- which is every bit as expensive as it sounds. Let's also not forget that the last time Autodesk reported earnings (just two weeks ago), it guided investors to expect slower growth, not faster, than what Wall Street was looking for.
When you take all of the above and put it into context: Canaccord Genuity's poor record of picking winners, its free cash flow projections for Autodesk that verge on the absurd, and Autodesk management's own conservative stance on its growth prospects, I'm left with just one conclusion:
Canaccord Genuity is wrong to upgrade this stock. Autodesk is overpriced, and doomed to fall.
10 stocks we like better than Autodesk When investing geniuses David and Tom Gardner have a stock tip, it can pay to listen. After all, the newsletter they have run for over a decade, Motley Fool Stock Advisor, has tripled the market.*
David and Tom just revealed what they believe are the 10 best stocks for investors to buy right now... and Autodesk wasn't one of them! That's right -- they think these 10 stocks are even better buys.
Click here to learn about these picks!
*Stock Advisor returns as of Nov. 7, 2016
Fool contributorRich Smithdoes not own shares of, nor is he short, any company named above. You can find him onMotley Fool CAPS, publicly pontificating under the handleTMFDitty, where he currently ranks No. 340 out of more than 75,000 rated members.
The Motley Fool has no position in any of the stocks mentioned. Try any of our Foolish newsletter services free for 30 days. We Fools may not all hold the same opinions, but we all believe that considering a diverse range of insights makes us better investors. The Motley Fool has a disclosure policy.