Australia awards UK's BAE $26 billion navy frigate contract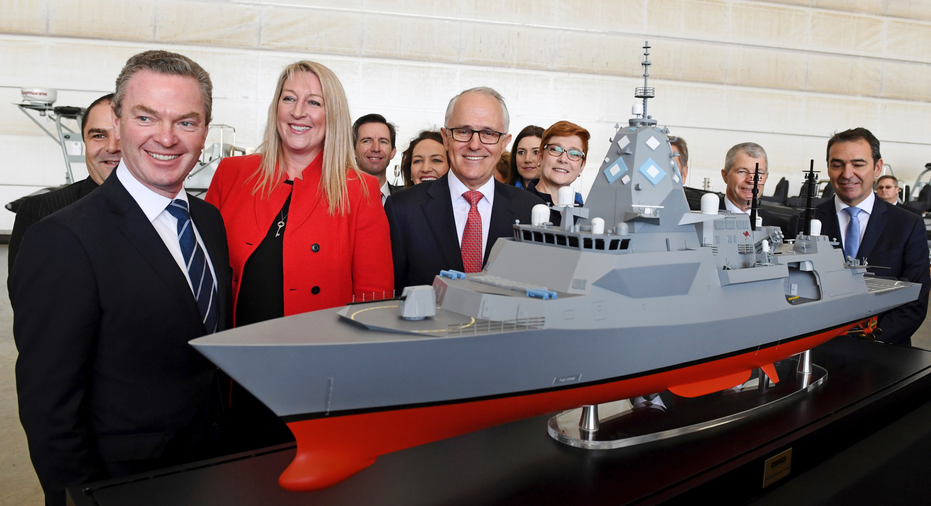 British defense company BAE Systems has won a 35 billion Australian dollar ($26 billion) contract to build Australia's new fleet of nine navy frigates, the government said on Friday.
The company's Type 26 Global Combat Ship will be the design for the frigate program to replace the eight aging Anzac-class frigates, which have been in service since 1996.
The new ships will be built by the Australian government-owned company ASC Shipbuilding in the southern city of Adelaide and will be known as the Hunter class, with the navy to receive advanced guided-missile frigates beginning in the late 2020s.
Prime Minister Malcolm Turnbull said the program would create 5,000 direct jobs nationally, and 10,000 indirectly through a national supply chain.
"This city, Adelaide, will be the center of naval shipbuilding in Australia. It will be one of the major shipbuilding centers in the world and in the region," Turnbull said.
The Hunter class frigates gave Australia the highest levels of lethality and deterrence, Turnbull said.
BAE had been shortlisted for the frigate program with Italian company Fincantieri and Spain's Navantia.
Defense Industry Minister Christopher Pyne said BAE had the advantage of being based in Britain, which like Australia is a "Five Eyes" ally. Five Eyes is an intelligence gathering network that also includes the United States, Canada and New Zealand.
"That wasn't the most important consideration. Obviously in some respects it makes the arrangements easier because the U.K and Australia are very close militarily," Pyne said.
ASC Shipbuilding will become a BAE subsidiary under the deal. Finance Minister Mathias Cormann said the temporary ownership of the shipbuilder for the life of the contract would make BAE fully responsible for delivering the ships on budget and on time.
British Foreign Minister Boris Johnson said the project was a sign of a strong bilateral relationship.
"Fantastic news that #Australia has chosen @BAESystemsplc Type 26 frigate... Even further proof the UK-Australia relationship is stronger than ever!" Johnson tweeted.
BAE Systems Australia Chief Executive Gabby Costigan said the contract was an important milestone in BAE's 65-year relationship with Australia.
"BAE Systems will provide Australia with the world's newest and most advanced anti-submarine warfare frigate aptly named the Hunter class," Costigan said.
"That will be absolutely critical to defending the nation for decades into the future," she added.