Austal Takes Over Littoral Combat Ships Biz From General Dynamics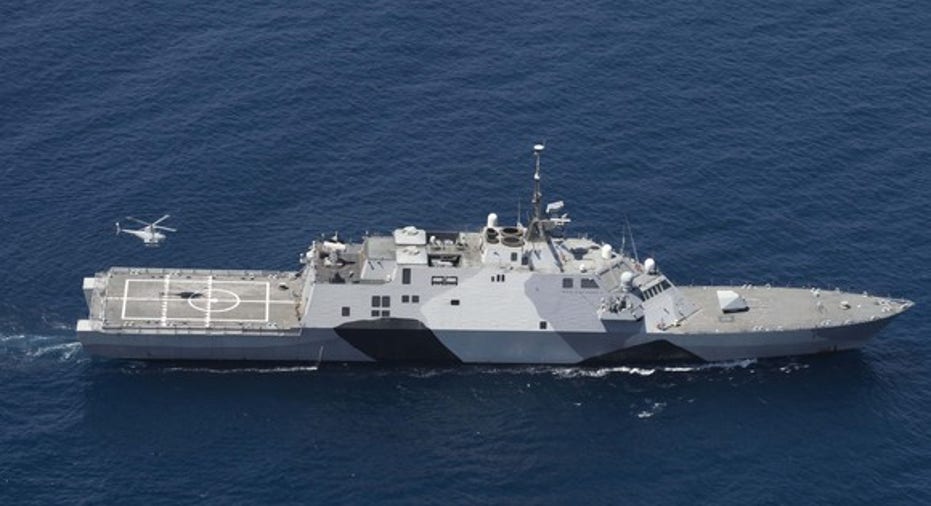 America's littoral combat ship program is shrinking, and that's not the worst news: If Lockheed Martin isn't careful, a new rival could rise up and steal the entire business away.
LOCKHEED MARTIN BUILT AMERICA'S FIRST LITTORAL COMBAT SHIP,THEUSSFREEDOM (LCS 1). BUT IF LOCKHEED'S NOT CAREFUL, IT COULD LOSE THE FRANCHISE TO AUSTAL. IMAGE SOURCE:LOCKHEED MARTIN.
As we reported last month, U.S. Secretary of Defense Ashton Carter has ordered the U.S. Navy to scale back its plans for building a 52-ship fleet of Littoral Combat Ships. As of today, the Pentagon is saying it wants no more than 40 of these vessels to be built -- and dibs have already been claimed for 26 of 'em.
40 tin cans of beer on the wall, take 26 down, pass 'em around...
That leaves 14 contracts still up for grabs in the ever-shrinking LCS fleet, and only two companies left to bid on them. Lockheed Martin is one -- Lockheed built the first-ever littoral combat ship -- LCS-1, the USS Freedom, and Lockheed has won contracts on a one-for-me, one-for-thee basis every since.
The other builder is Australia's Austal . Austal started out as a subcontractor on General Dynamics' LCS contract, and built two of the vessels for its partner. Since then, however, Austal has traded places with General Dynamics and assumed the prime contractor role on future contracts.
At first glance, this seems like it should be a no-news news item. Historically, LCS contracts were split down the middle between Lockheed Martin and General Dynamics. Henceforth, they'll be split down the middle between Lockheed Martin and Austal. No big deal, right?
Right? Wrong.
Except that it will actually be a very big deal. Because at some point in the not too distant future, SecDef Carter wants to Navy to halt its practice of paired contract awards. No longer will Lockheed build one LCS, and General Dynamics or Austal the other. Pretty soon, the LCS fleet will be built according to just one single ship design -- down-selecting either Lockheed Martin's monohull design or Austal's trimaran-based LCS for the construction of the remainder of the fleet.
And here's the problem for Lockheed Martin: In recent months, Lockheed-built littoral combat ships have suffered a string of embarrassing failures that have the Navy questioning the "quality and performance" of Lockheed-built warships. First, the USS Milwaukee (LCS 5) suffered an engine outage on her maiden oceangoing voyage, and then the USS Fort Worth (LCS 3) suffered an outage of its own in port in Singapore.
In contrast, no similar issues have been reported with the Austal/General Dynamics-built ships. To the contrary, the USS Jackson (LCS 6), built under Austal's prime contractorship, just completed one of what DoDBuzz calls "one of its toughest performance tests," in which "10,000-pound explosive" charges are exploded at ranges "successively closer to the ship" to see how well it holds up to the shock waves.
Additional tests are scheduled to take place over the next few weeks, but assuming the Jackson withstands them, the vessel could widen its lead over Lockheed Martin's competing LCS design. This is a crucial test for Austal as it takes over the prime role in building its vessels, as well as a huge chance for Austal to steal a march on its rival -- and potentially steal the entire LCS franchise away from Lockheed.
The upshot for investors
At current LCS prices, the remaining 14 littoral combat ships to be built could deliver roughly $10 billion in revenues to the company that wins the contracts to build them. Right now, Austal appears most likely to win the loot -- and Lockheed Martin to lose it.
The article Austal Takes Over Littoral Combat Ships Biz From General Dynamics originally appeared on Fool.com.
Fool contributorRich Smithdoes not own shares of, nor is he short, any company named above. You can find him onMotley Fool CAPS, publicly pontificating under the handleTMFDitty, where he's currently ranked No. 278 out of more than 75,000 rated members.The Motley Fool has no position in any of the stocks mentioned. Try any of our Foolish newsletter services free for 30 days. We Fools may not all hold the same opinions, but we all believe that considering a diverse range of insights makes us better investors. The Motley Fool has a disclosure policy.
Copyright 1995 - 2016 The Motley Fool, LLC. All rights reserved. The Motley Fool has a disclosure policy.