Augmented Reality Stocks: What to Watch in 2017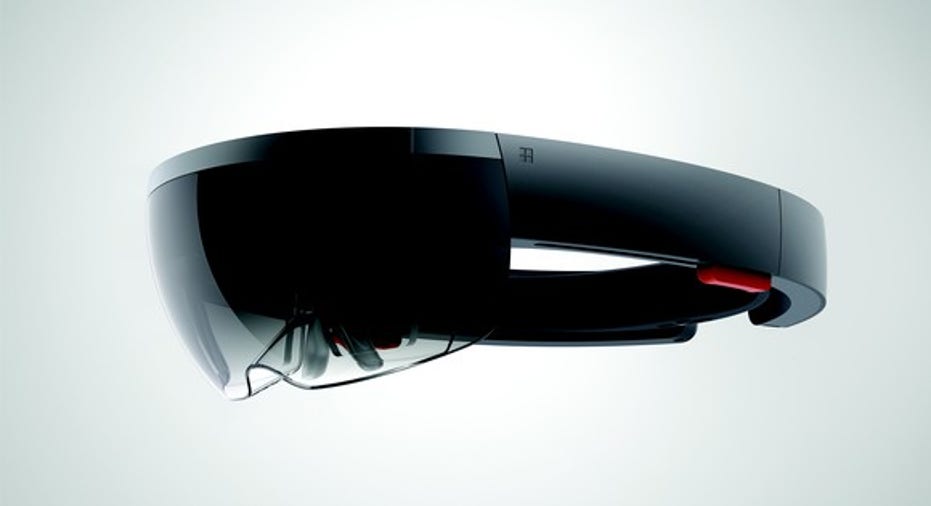 Image source: Microsoft.
Augmented reality and virtual reality will be one of the most talked about tech trends in 2017. Powered by consumer interest in apps like Nintendo's Pokemon Go, which had a rapid rise and fall that generated plenty of buzz last year, research firm IDC predicts the market for AR hardware will grow roughly 190% each year from 2016 to 2020. Keeping in mind that all that spending growth has to eventually end up in some companies' pockets, let's quickly review three of the best stocks to buy in augmented reality in 2017.
Microsoft
Microsoft(NASDAQ: MSFT)has made a concerted push to establish its HoloLens headset as the first bona fide computing platform for augmented reality. Though still a few years away from being mass market ready -- the developer-only headgear costs $3,000 per unit -- the early signs appear encouraging. Microsoft's HoloLens website lists 89 augmented reality apps designed for HoloLens usage. That's a small number, but it shows that Microsoft understands the importance of courting developers in creating any lasting computing platform -- a lesson it learned the hard way by missing the smartphone OS arms race to Apple and Alphabet.
Image Source: Microsoft
As a sign of its interest in the space, Microsoft's Windows 10 Creators update will feature AR and VR readiness next year. The company clearly hopes that going all-in on AR and VR will extend the relevance its cash cow Windows software has in what could be the next generation's preferred computing medium. Having demoed the HoloLens, it's undeniable that the technology could eventually prove useful across a whole suite of corporate use cases, though it struck me as still needing a fair amount of time to mature. So while Microsoft's HoloLens might not be the defining AR product of 2017, the company's current efforts will likely place it at the epicenter of this long-term growth market.
Intel
Like other growth markets in tech, investing in the semiconductor companies that serve entire growth markets has been as a well-worn strategy. Among semiconductor names, PC giant Intel (NASDAQ: INTC) has moved aggressively into this space through its RealSense sensors, its own branded AR product dubbed Project Alloy, and its collaboration with Microsoft on its Windows 10 Creators update.
To help consolidate as much of the AR market as possible, Intel is reportedly making its Project Alloy open source, which it hopes will encourage developers to design apps around Intel's x86 chip architecture, which also benefits Microsoft. Intel sees an opportunity to become the de facto market leader for AR platforms in the future, harkening back to the PC-era glory days of Wintel. Whether Intel can make its x86 chip architecture the go-to standard for AR isn't clear (see below), but its shareholders should certainly find it comforting that Intel is taking an ambitious approach to the budding augmented reality market.
NVIDIA
The company that might upend Intel's ambitions on AR market dominance is graphics chip leader NVIDIA (NASDAQ: NVDA). NVIDIA stock has gone through the roof this year as its deep specialization in graphics processors, or GPUs, has found a host of new applications in next-gen tech growth markets like self-driving cars, big data, artificial intelligence, and the Internet of Things.
Sticking to its longtime dominance among diehard video game enthusiasts, NVIDIA has focused more on the virtual reality side of the AR/VR paradigm, as VR seems like the next platform of choice for the gaming industry. However, there's little question that NVIDIA's edge in graphics processing couldn't easily gain adoption in coming AR hardware, likely to Intel's chagrin. Since NVIDIA is legally blocked by Intel from designing chips for Microsoft Windows, NVIDIA processors will have to gain adoption on products developed for Alphabet's Project Tango AR platform, which certainly appears plausible.
Just getting started
Like the virtual reality market, the augmented reality market is just getting started. Keeping that in mind, it's important to remember it will take years for revenues from AR products to materially impact the results of any of the above mentioned multi-billion dollar tech stocks. However, given their massive resources and early moves into the AR and VR industries, Microsoft, Intel, and NVIDIA are certainly sensible options to invest in this long-term growth market.
10 stocks we like better than Microsoft When investing geniuses David and Tom Gardner have a stock tip, it can pay to listen. After all, the newsletter they have run for over a decade, Motley Fool Stock Advisor, has tripled the market.*
David and Tom just revealed what they believe are the 10 best stocks for investors to buy right now... and Microsoft wasn't one of them! That's right -- they think these 10 stocks are even better buys.
Click here to learn about these picks!
*Stock Advisor returns as of Nov. 7, 2016
Suzanne Frey, an executive at Alphabet, is a member of The Motley Fool's board of directors. Andrew Tonner owns shares of Apple. The Motley Fool owns shares of and recommends Alphabet (A shares), Alphabet (C shares), Apple, and Nvidia. The Motley Fool owns shares of Microsoft and has the following options: long January 2018 $90 calls on Apple and short January 2018 $95 calls on Apple. The Motley Fool recommends Intel. Try any of our Foolish newsletter services free for 30 days. We Fools may not all hold the same opinions, but we all believe that considering a diverse range of insights makes us better investors. The Motley Fool has a disclosure policy.