AT&T's Cricket Brand Is Going After T-Mobile's Unlimited Data Customers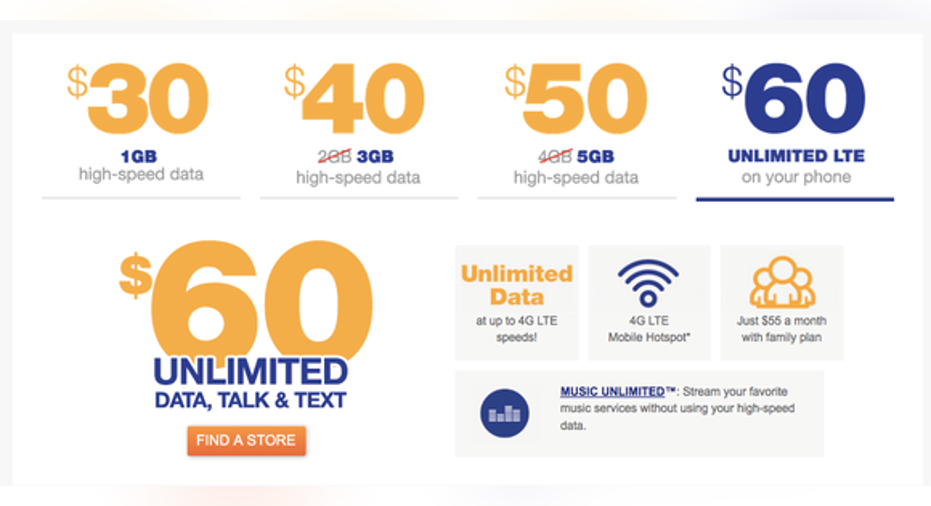 When it comes to its core brand,AT&T has taken the tactic of ignoringT-Mobile as a competitor.
T-Mobile's low-priced brand has been surging in popularity. It is now thenations third-largest carrier. This is partly due to its prices, and partly because of its maverick efforts to drop overage fees and offer consumers free video streaming, and its willingness to sell unlimited data plans. AT&T has stayed above the fray, but that does not mean the wireless leader has no concerns about its upstart rival.
Instead of taking on T-Mobile by cutting prices at its flagship brand, or going back to offering new customers unlimited data, AT&T has decided to use its low-cost Cricket brand to answer the challenge. The company has specifically targeted T-Mobile customers in itslaunch announcement.
"T-Mobile charges at least $25 more each month for its Simple Choice Unlimited Plan for one smartphone line on a smaller 4G LTE network. Very Uncool," wrote Cricket. "Plus if you join the Cricket Nation now, we'll give you a $100 bill credit when you switch from T-Mobile."
T-Mobile charges $95 for unlimited high-speed data. Image source: T-Mobile.
That sounds good on paper, but it won't work. Cricket may be owned by AT&T, but to the public, it's just not the same. The prepaid plans it offers won't seem like an apples to apples comparison for T-Mobile customers because there's a stigma against having a wireless plan which does not come with some credit vetting.
Essentially, it's the difference between having name-brand jeans and an identical pair made in the same factory without the branding. It shouldn't matter, but to much of the public it does.
A bit about wireless carriersEssentially there are two tiers of wireless carriers. At the top sits the four major players, including T-Mobile and AT&T. Those brands are postpaid, where customers pay a monthly bill after using the service. All four major carriers also operate or partner with prepaid brands. In AT&T's case that's Cricket, and in T-Mobile's it's MetroPCS. Generally, even though Cricket uses AT&T's network and MetroPCS runs over T-Mobile's, consumers consider the prepaid carriers to be less prestigious, which is likely because they don't require a credit check.
By using Cricket to counter T-Mobile, AT&T is operating as though price is the biggest deciding factor for most people when choosing a network provider. Though that may be true for some customers, historically people have not abandoned their (more expensive) postpaid plans for cheaper prepaid ones. Instead, the consumer-base of Cricket and MetroPCS has traditionally been people who don't have the money or the credit rating for a postpaid, top-tier carrier.
A $100 credit or a cheaper price probably won't change that for T-Mobile users.
What is AT&T trying to do?AT&T is attempting to have its cake and eat it, too. It's going after T-Mobile by undercutting its prices, while not making any changes to its core brand.
Cricket is a clever way for AT&T to offer a competitive downmarket product with unlimited data. AT&T mostlyphased out unlimited plans years ago. It still offers them to some grandfathered customers, but new users can't get them, and overage fees on limited plans (as well as consumers buying bigger data packages than they need) have been a significant revenue source for the company.
AT&T clearly wants to protect its current billing structure while also having a product for consumers looking to save money. Those users were probably never going to opt for a full-fare carrier, so by taking on T-Mobile with Cricket, AT&T could also open itself up to new customers.
What is Cricket offering?AT&T-owned Cricket has introduced a $70-a-month unlimited talk, text, and data plan, Fortune recently reported. Consumers who opt for auto-pay get a $5 discount, bringing the cost of the plan down to $65 a month.
That's a very aggressive offer from Cricket that undercuts T-Mobile's unlimitedoffer, which costs $95 a month. The Cricket deal, however, is still more expensive than the$60 unlimited planoffered by T-Mobile-owned Metro PCS.
Cricket can also tout the fact that it operates over AT&T's network. That should give it a perceived, if not a real, advantage over T-Mobile if only because the public has been inundated with marketing promoting the strength of the AT&T network.
MetroPCS has a cheaper deal than Cricket. Image source: MetroPCS.
Close but no cigarThis is a smart play by AT&T, but it probably won't work. Consumers perceive the four major wireless carriers as different services than the prepaid providers. Consumers aren't, for the most part, comparing T-Mobile with Cricket, or MetroPCS with AT&T.
People can switch from AT&T to T-Mobile without any sort of negative perception, and they have slowly been doing that, according to data fromConsumer Intelligence Research Partners(CIRP). But making the move to Cricket from T-Mobile is a clear downgrade on a perception basis (albeit not on a real one).
So, instead of undercutting T-Mobile, Cricket has come out with an offer that costs a little more than MetroPCS, which is the brand consumers are likely to compare it to. AT&T could potentially counteract that by running ads that push the AT&T connection, but based on price alone, this is unlikely to stop customers from defecting to T-Mobile.
This is a smart play, but it probably won't have any business impact.
The article AT&T's Cricket Brand Is Going After T-Mobile's Unlimited Data Customers originally appeared on Fool.com.
Daniel Kline has no position in any stocks mentioned. The Motley Fool has no position in any of the stocks mentioned. Try any of our Foolish newsletter services free for 30 days. We Fools may not all hold the same opinions, but we all believe that considering a diverse range of insights makes us better investors. The Motley Fool has a disclosure policy.
Copyright 1995 - 2016 The Motley Fool, LLC. All rights reserved. The Motley Fool has a disclosure policy.