Athenahealth, Inc. Reports Slowing, but Solid, Growth in Q4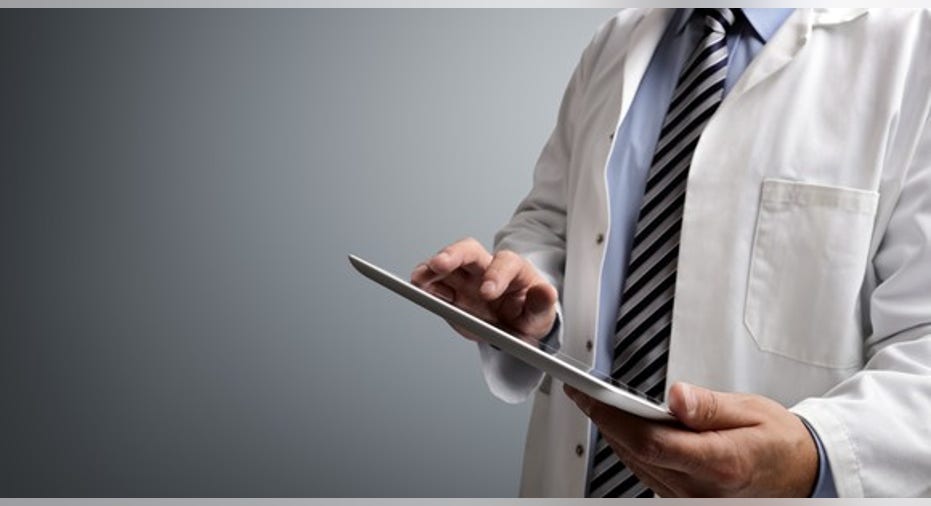 The third quarter of 2016 was a blowout for athenahealth (NASDAQ: ATHN). Earnings more than doubled year over year. The healthcare technology company announced its fourth-quarter results after the market closed on Thursday. This time around, Athenahealth's numbers were good -- but its growth cooled off somewhat. Here are the highlights.
Image source: Getty Images.
Athenahealth results: The raw numbers
| Metric | Q4 2016 | Q4 2015 | Year-Over-Year Change |
| --- | --- | --- | --- |
| Sales | $288.2 million | $257.5 million | 11.9% |
| Net income from continuing operations | $9.8 million | $7.7 million | 27.3% |
| Adjusted EPS | $0.62 | $0.45 | 37.8% |
Data Source: Athenahealth.
What happened with Athenahealth this quarter?
Most companies wouldn't complain about sales growth of nearly 12%. However, Athenahealth is accustomed to much higher growth rates. Despite the slowdown, the company still posted strong earnings growth, thanks primarily to an improved gross margin.
Athenahealth yet again posted solid numbers for its three major product lines:
1,366 net new additional physicians and 2,226 net new additional providers using athenaCollector.
1.537 net new additional physicians and 2,288 net new additional providersusing athenaClinicals.
2,009 net new additional physicians and 3,074 net new additional providersusing athenaCommunicator.
A major achievement in the fourth quarter by the company was partnering with Automatic Data Processing todeliver payroll and time and attendance services to the small hospital market. The two companies agreed to integrate ADP's Workforce Nowpayroll and time and attendance solutions with Athenahealth'sathenaOne system for hospitals and health systems.
What management had to say
Athenahealth CEO Jonathan Bush said, "Our expanding network now connects care across nearly 88,000 providers, nearly 86 million patients, and over 143,000 network endpoints. And as the largest network in healthcare, our data-driven insights combined with our highly efficient and scalable back office work enables our clients to focus on the health of their patients, not paperwork, expand their market share, and get paid more, faster."
Bush added: "Today, we are more confident than ever about our ability to achieve our vision of building the healthcare internet. Our increasing depth and breadth of product management, technical design and development expertise, combined with our increasing bandwidth to focus on our own strategy versus the government mandates of recent years, should make us even more productive in 2017 as we deepen our services and build out our unique network."
Looking forward
Athenahealth reaffirmed the 2017 guidance previously announced in December. The company expects 2017 revenue of$1.29 billion to $1.33 billion. GAAP (generally accepted accounting principles) operating income for the year is projected to be between $61 million and $81 million. Athenahealth anticipates non-GAAP adjusted operating income of $170 million to $190 million.
The boom days experienced during the rush by physicians and hospitals to implement electronic health-record systems to receive financial incentives offered in the HITECH Act are over. Athenahealth's path to growth is to capture more market share among physician groups, and expand aggressively into the hospital market. The company is actively working to accomplish both of these goals.
Perhaps the biggest risk for Athenahealth lies less with its core business and more with its stock. Shares trade at a premium -- over 270 times trailing 12-month earnings and more than 52 times forward earnings. Athenahealth needs sustained high sales growth and earnings growth to keep its stock momentum going.
10 stocks we like better than athenahealth When investing geniuses David and Tom Gardner have a stock tip, it can pay to listen. After all, the newsletter they have run for over a decade, Motley Fool Stock Advisor, has tripled the market.*
David and Tom just revealed what they believe are the 10 best stocks for investors to buy right now... and athenahealth wasn't one of them! That's right -- they think these 10 stocks are even better buys.
Click here to learn about these picks!
*Stock Advisor returns as of January 4, 2017
Keith Speights has no position in any stocks mentioned. The Motley Fool recommends athenahealth and Automatic Data Processing. The Motley Fool has a disclosure policy.