Asiana chair apologizes for flights lacking meals, suicide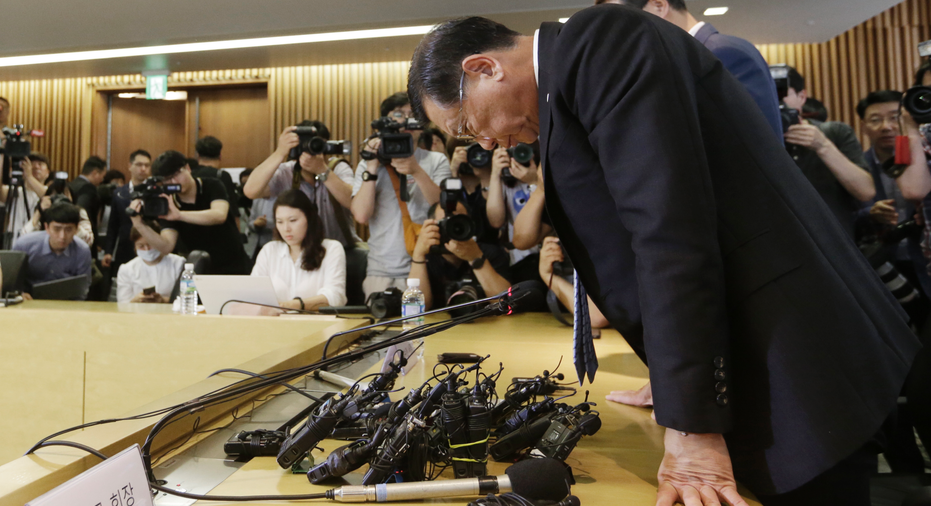 The chairman of South Korea's Asiana Airlines apologized Wednesday for inflight meal service disruptions and a reported suicide at a supplier to one of its catering companies.
Park Sam-koo, chairman of the country's second-largest air carrier, said he felt a moral responsibility after the boss of a company that had been helping supply the meals killed himself, according to media reports citing police.
"I express my deep apology to the bereaved family," Park said at a press conference. "I'm sincerely sorry to the passengers whose work got disrupted due to flight delays and who experienced inconveniences due to the lack of food."
The apology came as criticism mounted over reports linking the apparent suicide to pressure from Asiana on its caterer.
Asiana Airlines said 114 out of 310 flights had left South Korea without meals since Sunday. Most were short-haul flights to Asian destinations. Passengers were given vouchers that could be used to purchase duty free items on Asiana flights.
Many flights were delayed by more than an hour as meals arrived late. Asiana said as of Wednesday, the problem had been resolved.
It arose after the airline tried to change its meal catering service.
A fire at the factory of Gate Gourmet Korea, Asiana's new supplier delayed meal supplies while the previous catering service ended in June. The airline temporarily hired another catering service that had to ramp up output to 20,000 meals per day from 3,000 meals per day to meet Asiana's needs. The company whose boss killed himself, was a supplier to that caterer.