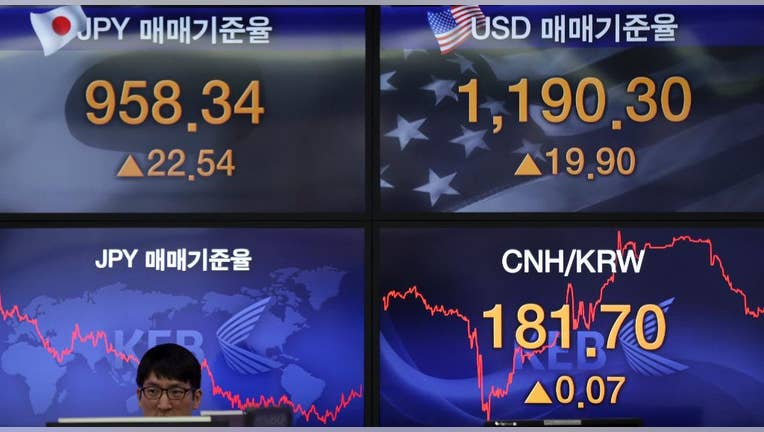 Asian stock markets stabilized Thursday as the fall in the Chinese yuan slowed and the country's central bank tried to dampen speculation of further devaluation.
KEEPING SCORE: Japan's Nikkei 225 rose 1 percent to 20,595.55 and South Korea's Kospi gained 0.4 percent to 1,983.46. Hong Kong's Hang Seng climbed 0.6 percent to 24,055.03 while the Shanghai Composite Index in mainland China added 0.5 percent to 3,904.38 after briefly slipping into negative territory. Australia's S&P/ASX 200 advanced 0.1 percent to 5,387.90.
YUAN SLIDE: The Chinese currency fell for a third day but by afternoon its decline was only 0.5 percent compared with drops of up to 2 percent on the previous days. The surprise move earlier this week to loosen the mechanism that controls the yuan and send the currency lower reverberated through global markets but the turmoil is now abating. Sentiment was soothed further by comments from the central bank. The official reason for letting the tightly controlled yuan fall is to make it more responsive to market forces but a weaker yuan also gives a competitive boost to exports from China, where the economy is slowing.
ANALYST VIEW: The Chinese central bank's "opaque communications policy may well have led to panic over-selling earlier in the week," Angus Nicholson of IG markets said in a commentary. "The markets have now digested the prospects of a CNY devaluation and are judging it as not as big of a risk as earlier."
WALL STREET: Major U.S. benchmarks finished flat with the Dow Jones industrial average down less than a point to close at 17,402.51. The Standard & Poor's 500 rose less than 0.1 percent to 2,086.05. The Nasdaq composite inched up 0.2 percent, to 5,044.39.
CURRENCIES: The dollar rose to 124.51 yen from 124.26 yen in late trading Wednesday. The euro slipped to $1.1125 from $1.1156.
ENERGY: Benchmark U.S. crude rose 20 cents to $43.50 in electronic trading on the New York Mercantile Exchange. The contract rose 22 cents to close at $43.30 a barrel on Wednesday. Brent crude, an international benchmark, added 29 cents to $50.46 in London.