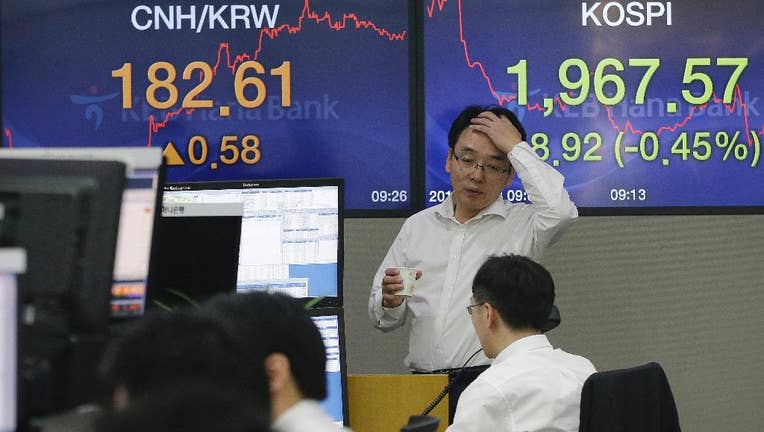 Asian stocks were mostly higher Friday, perked by relief that the U.S. Federal Reserve held off on raising interest rates for the time being.
KEEPING SCORE: Japan's benchmark Nikkei 225 slipped 1.4 percent to 18,169.13, as the dollar weakened against the yen, sending export issues lower. But South Korea's Kospi added 0.8 percent to 1,991.81 and Hong Kong's Hang Seng was up 0.5 percent to 21,964.63. The Shanghai Composite Index rose 0.3 percent to 3,096.50. Other regional markets were also moderately higher, rising in Taiwan, Singapore, Indonesia and the Philippines. Australia's S&P/ASX 200 rose 0.8 percent to 5,186.80.
THE FED: The Federal Reserve decided Thursday to keep interest rates at record lows for now, citing weakness in the global economy and unsettled financial markets. But Fed Chair Janet Yellen indicated a rate hike is still likely this year. The Fed meets again next month and in December.
THE QUOTE: "In the grand scheme of things, the decision by the Fed to leave rates unchanged is indicative that the global economy and the US economy is performing worse than previously projected," said IG strategist Angus Nicholson in a commentary. "Yellen noted that October was still a 'live' meeting, but she did seem to downplay the probability of a rate hike by saying it was only a 'possibility'. Given her statements and the pricing of the bond market, if a Fed rate hike is to happen this year, December is now the most likely date."
WALL STREET: The Dow Jones industrial average lost 65.21 points, or 0.4 percent, to 16,674.74 on Thursday. The Standard & Poor's 500 fell 5.11 points, or 0.3 percent, to 1,990.20 and the Nasdaq composite index rose 4.71 points, or 0.1 percent, to 4,893.95.
ENERGY: Benchmark U.S. crude was down 19 cents at $46.71 a barrel in electronic trading on the New York Mercantile Exchange. The contract fell 25 cents to $46.90 a barrel in New York on Thursday. Brent crude, a benchmark for international oils, rose 5 cents to $49.91 a barrel after falling 67 cents to $49.08 the previous day.
CURRENCIES: The euro recovered to $1.1405 from $1.1399. The dollar weakened to 119.73 yen from 120.37 yen.