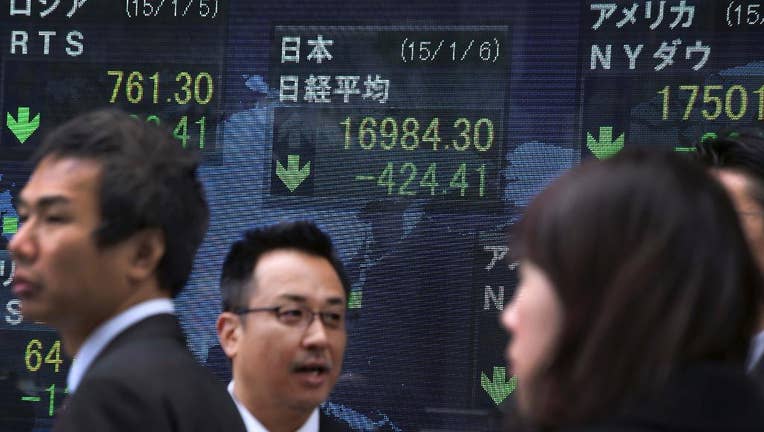 Asian stocks sank Tuesday for a second day as slumping oil prices and concern Greece might leave the European currency union fueled unease about the global growth outlook.
KEEPING SCORE: Tokyo's Nikkei 225 tumbled 2.8 percent to 16,919.90 and Seoul's Kospi fell 1.8 percent to 1,881.45. Hong Kong's Hang Seng shed 1.6 percent to 23,351.60 and China's Shanghai Composite surrendered 0.2 percent to 3,342.84. Australia's S&P/ASX 200 dropped 1.6 percent to 5,364.80. Benchmarks in Southeast Asia, India and New Zealand also fell.
OIL SLUMP: The prolonged slide in oil prices should help economic growth by reducing energy costs but the depth of the downturn has fueled concern it might foretell a global slowdown. Also, as the price of oil falls, energy companies might cut jobs, put off investment or go out of business. On Monday, Transocean, a company that provides offshore drilling services to oil companies, was one of the biggest decliners on Wall Street, losing 7.1 percent.
EURO JITTERS: The possibility that Greece's anti-austerity Syriza party might win national elections this month has fed doubts about whether the country will stick to terms of its bailout and remain in the euro bloc. Germany has warned against reneging on bailout terms. The euro already was under pressure from concern about the region's growth outlook and expectations the European Central Bank will expand monetary stimulus.
ANALYST'S TAKE: "The fundamentals in oil are unlikely to change in the first half of this year, which will see oil bedding down into its bear market for months to come," said strategist Evan Lucas of IG Markets in a report. "Cheaper energy means reduced costs and expenditure for commercial enterprises and consumers, which in theory should spur growth. On the other hand, if net importers such as the Eurozone continue to see energy prices hold due to the slide in the currency, this effect will be minimal."
WALL STREET: The S&P 500 index dropped 37.62 points, or 1.8 percent, to 2,020.58 on Monday. That was the biggest one-day slump for the index since Oct. 9. The Dow Jones industrial average fell 331.34 points, or 1.9 percent, to 17,501.65. The Nasdaq composite fell 74.24 points, or 1.6 percent, to 4,652.57.
CURRENCIES: The euro edged up to $1.1958 after falling Monday to a nine-year low of $1.1862. The dollar declined to 118.98 yen from the previous session's 119.44 yen.
ENERGY: U.S. benchmark crude gained 6 cents to $50.10 per barrel in electronic trading on the New York Mercantile Exchange. On Monday, the contract briefly dipped below $50 before closing down $2.65 at $50.04 per barrel. Brent crude, used to price international oils, also rose after a steep drop, rising 22 cents to $53.33. It plunged $3.31 on Monday to close at $53.11.