Asian Shares Mostly Fall, China Plunges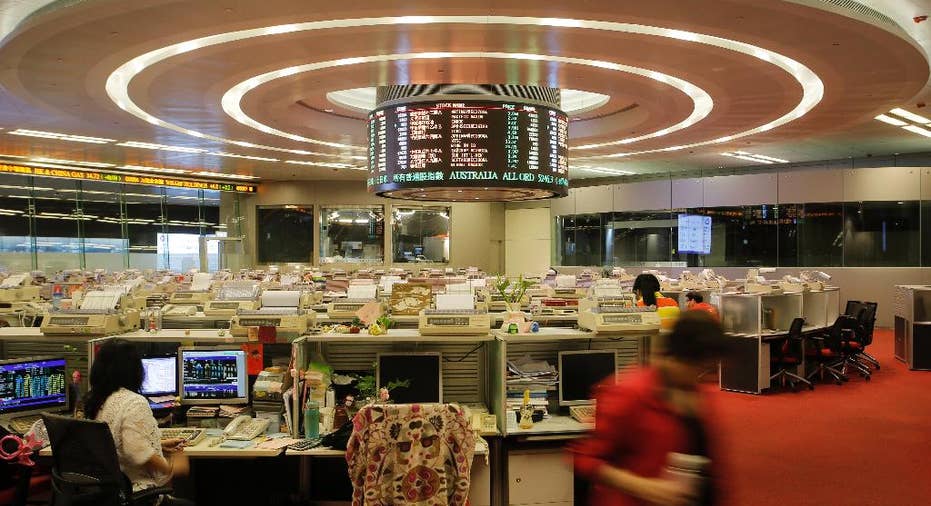 China shares plunged Thursday, as widening losses in Hong Kong and signs of lessening intervention by Beijing spooked investors on the mainland.
The Shanghai Composite Index finished down 3.2% at 2880.48. It has lost 44% from its June peak, and was extending losses after falling into bear-market territory last week. A bear market is defined as a 20% drop or more from a recent high.
An acceleration of Chinese share losses followed declines in Hong Kong, where the Hang Seng Index reversed course late in the morning. The Hang Seng gave up earlier gains to close down 1.8% at 18542.15.
Elsewhere, the Nikkei Stock Average closed down 2.4% at 16017.26, adding to Wednesday's losses that kicked the benchmark into bear-market territory, joining China and Hong Kong.
Australia's S&P/ ASX 200 held onto a gain of 0.5% at its finish. That benchmark, at 4864, is about 18% down from its recent peak in April.
South Korea's Kospi was down slightly by 0.3%. Meanwhile, India's S&P BSE Sensex was last trading down 0.2%. Indian shares have lost 19% of their value from their peak a year ago.
A global rout picked up again after a brief reprieve in most of Asia in the morning.
Resource, steel and brokerage shares fell in Shanghai, dragging down the broader index. Nearly all of the stocks listed on the Shanghai and Shenzhen exchanges declined, according to Wind Information, with 91 of them dropping by the daily maximum of 10% allowed by Chinese authorities.
Some analysts said local investors likely sold Shanghai shares off quickly in the last hour when they observed that Chinese state-owned funds hadn't come in to support the market. These funds, the so-called "National Team," had been tasked to buy up stocks starting last summer, but have been notably more absent this year.
"The sudden retreat of the Hong Kong market intensified worries that it hasn't bottomed out yet," said Shen Zhengyang, analyst at Northeast Securities.
In addition, a liquidity injection by the central bank virtually wiped out hope that there might be another reserve ratio cut for banks before the Chinese Lunar New Year, starting Feb.7, according to analysts. A net cash injection of 315 billion yuan this week into the banking system was the largest of its kind since January 2012, aimed at easing liquidity pressure ahead of the Chinese New Year.
The injection follows the central bank's decision earlier this week to pump 600 billion yuan of funds into the banking system via short- and medium-term loans to lenders, an alternative form of monetary easing aimed at lowering funding costs in a struggling economy.
"There's nothing there stopping the market from going down," Andrew Sullivan, managing director at Haitong International, said of investors' disappointment that Beijing hasn't announced major monetary stimulus.
The mood may also have turned more pessimistic after China's securities official Fang Xinghai said at a global conference in Davos, Switzerland, Thursday that the world should get used to volatility of A-shares, the yuan-denominated shares trading on the mainland's exchanges. The televised interview was widely circulated by local Chinese media. Investors interpreted his comments to mean that the government may reduce market intervention, according to analysts.
In Japan, analysts blamed the latest fall in shares on persistent concerns about recent sharp drops in crude oil prices and the fallout on the economies and finances of commodity-producing countries.
The stock declines in Japan also came after Bank of Japan Gov. Haruhiko Kuroda largely reiterated that the country's economic fundamentals are firm and price trends are steadily improving. His comments may have disappointed some market participants who hoped the BOJ is getting closer to additional monetary easing. Another 2.2% fall in the Nikkei would erase all of its gains since the BOJ's expansion of easing in October 2014.
Meanwhile, interest rates in Hong Kong climbed, putting more pressure on the region's shares.
The three-month lending rate between Hong Kong banks surged to 0.75% on Thursday, up from 0.4% yesterday, marking a new high since April 2009 after the global financial crisis. The one-month rate hit as high as 0.35%, a 6 1/2 -year high, compared with 0.1% Wednesday.
The levels are still low, but analysts expect a possible further increase amid ongoing concerns about Chinese slowing economic growth. Higher rates portend more difficulty for home buyers in the city.
In Hong Kong, Henderson Land Development Co. Ltd. was down 6.1%. The Hang Seng China Enterprises Index, a gauge of Chinese firms listed in Hong Kong, was down 2.2% at 7835.64.
Still, on Thursday, the Hong Kong dollar eased off its 8 1/2 -year low against the U.S. dollar from the previous day. And the Japanese yen weakened from its one-year high against the dollar, also yesterday.
The Hong Kong dollar traded at HK$7.8190 to one U.S. dollar, roughly unchanged from its late-day level Wednesday.
The Japanese yen was last up 0.1% at Yen116.80 per one U.S. dollar.
Yifan Xie, Kosaku Narioka,Debi Nayak and Shefali Anand contributed to this story.
Write to Chao Deng at Chao.Deng@wsj.com