Asian Shares Fall, Japan's Nikkei Enters Bear Market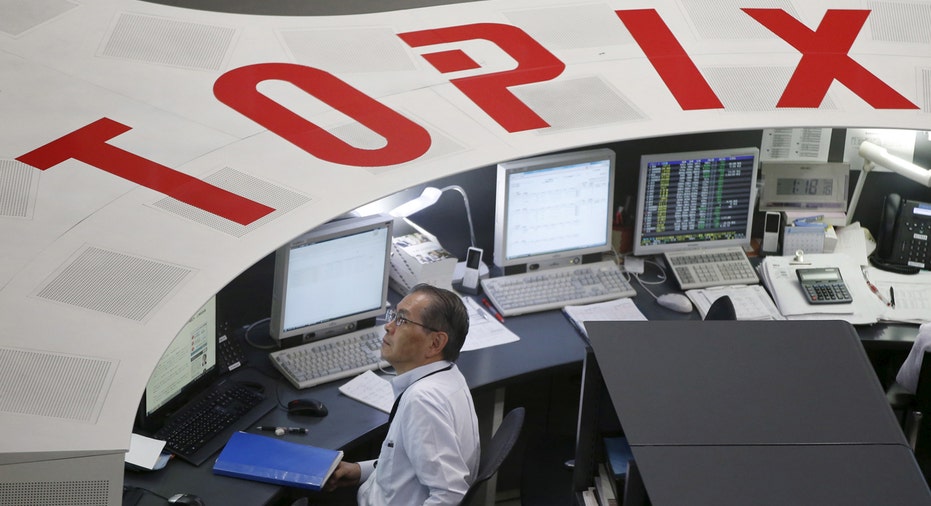 Hong Kong stocks hit a 3 1/2 -year low and Japan's Nikkei closed in bear market territory, as this year's global selloff resumed in the region on Wednesday.
Investors are concerned about a weakening Hong Kong dollar, further declines in the oil market and a lack of major economic stimulus from Beijing, traders and analysts said.
The Hong Kong dollar fell to its weakest level since 2007--HK$7.8228 against the U.S. dollar--amid worries that China's slowdown is hurting the city's economy and markets.
Hong Kong authorities have repeatedly said they will maintain a three-decade old peg of the local dollar to the greenback. But traders continue to push the currency weaker, with expectation of future depreciation.
The Hong Kong dollar's decline weighed on markets across the region.
Chinese stocks in Hong Kong, falling 4.2%, dragged down the Hang Seng Index, which dropped 3.5% to 18946.4. The benchmark was below 19000 for the first time since July 2012.
The Nikkei Stock Average closed down 3.7% at 16416.19, as the Japanese yen strengthened as much as 1.1%, at Yen116.4 U.S. dollar--its strongest level in a year. The yen--up 3% year-to-date--is making Japanese exporters less competitive.
The Nikkei is now off 21% from its recent closing high in June. A bear market is defined as a drop of at least 20% from a recent peak.
The South Korea's Kospi fell 2.3%. The Shanghai Composite Index was down 1%, having fallen into bear territory last week. Australia's S&P/ASX 200 finished down 1.3% to 4841.50, down 19% from its recent high in April.
Wednesday's losses marked a new round in this year's declines, with investors pushing up Hong Kong on their list of concerns. Depreciation of the Chinese yuan and volatility in Shanghai shares triggered the first round of global selling, beginning on the first trading day of this year.
"Nothing seems to be going in the right direction," said Robert Levine, sales trader at brokerage CLSA.
He said losses on Wednesday likely snowballed late in the morning because of automatic selling triggered when the Hang Seng Index fell below 19,000 and the Hang Seng China Enterprises Index dropped below 8100. The HSCEI was last at 8031--its lowest since 2009.
Late morning, the three-month lending rate between Hong Kong banks jumped to its highest since 2009, at 0.58%, fueling concerns about higher borrowing costs for the city's home owners.
Hong Kong-listed Henderson Land Development Co. Ltd. and Cheung Kong Property Holdings Ltd. plunged more than 6% each.
Meanwhile, oil prices slipped further below $30 a barrel, and investors nervously watched China, where shares retreated after the first back-to-back up days this year.
Brent crude oil was last down 2.1% at $28.15, giving up earlier gains in Asia. U.S. oil futures fell 3.3%, at $28.46 a barrel overnight, the lowest level since September 2003. The Tuesday session in the U.S. was the first since sanctions were lifted against Iran, raising worries that it will increase its supply amid a flooded market.
The energy sector in Australia finished down 3.9%. The sector was down 4.8% in Hong Kong, with PetroChina Co. Ltd. plunging 5.1%.
In China, one worry weighing on local sentiment is the onset of new shares, which can depress valuations of existing shares.
China's securities regulator said late Tuesday after the market closed that it had approved seven new initial public offerings, ending a four-month IPO freeze that began during the $5 trillion stock market rout last summer. All seven listings will be completed on the Shanghai and Shenzhen stock exchanges before China's Lunar New Year holiday--beginning Feb. 7--at a pace of one per day. Concern about new shares was part of the reason China's stock market sold off steeply earlier this year.
Chinese investors were jittery Wednesday, even after central bank said after markets closed the day before that it would inject 600 billion yuan of funds into the market to meet medium-term liquidity demand. The move came as Chinese people begin withdrawing money for the holiday.
Some analysts expect China's central bank to cut reserve requirement ratios for banks before the Chinese Lunar New Year. But CLSA's Mr. Levine said authorities likely want markets to stabilize a bit before announcing any easing.
"Instead of wasting all their bullets... [the central bank] wants to wait," Mr. Levine said.
China's central bank guided the currency onshore to its strongest level against the U.S. since Jan. 6. The currency, which is allowed to trade 2% above or below the bank's daily "fix," was last at 6.5793, roughly unchanged from its previous close.
Other Asian currencies slid, with South Korea's won leading losses, down 0.7%. The Taiwanese dollar extended its fall to its weakest level against the U.S. dollar since 2009, while India's rupee fell to its weakest level since 2013, down 0.5%.
Gold prices gained 0.1% to 1089.80 a troy ounce.
Anjani Trivedi contributed to this article.
Write to Chao Deng at Chao.Deng@wsj.com