Asian shares advance, Japan slips as Abe-Trump meeting looms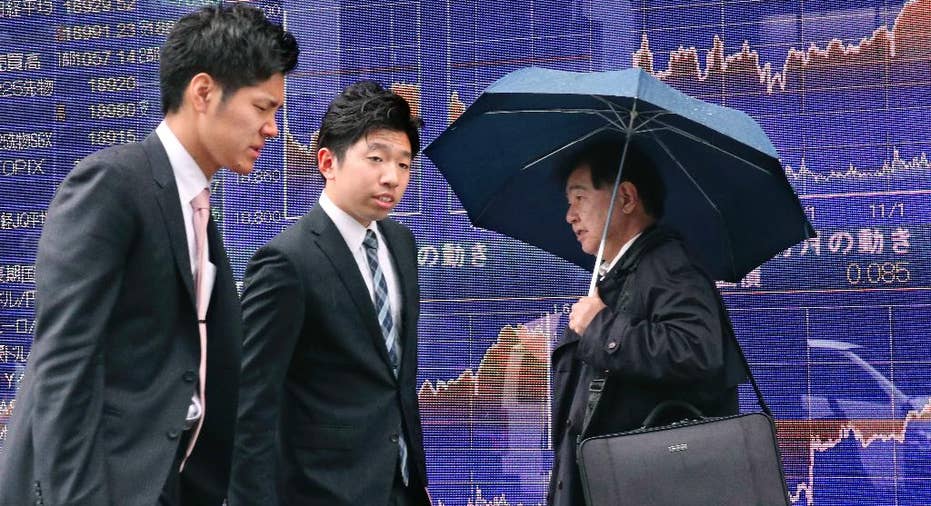 Shares were mostly higher in Asia on Thursday after the Nasdaq composite set a new record for the second day in a row. Japan's benchmark fell back as the dollar held steady ahead of meetings between Prime Minister Shinzo Abe and President Donald Trump.
KEEPING SCORE: Japan's Nikkei 225 stock index lost 0.5 percent to 18,907.67 but most other indices were higher. Hong Kong's Hang Seng index gained 0.1 percent to 23,502.27 and the Kospi in South Korea advanced 0.2 percent, to 2,068.26. The Shanghai Composite index climbed 0.3 percent to 3,176.87. Australia's S&P ASX/200 edged 0.2 percent lower to 5,664.60, while shares in Southeast Asia were mostly higher.
ABE-TRUMP SUMMIT MEETING: Trump's complaints over trade and currency rates worry many in Japan Inc. and Abe hopes to sell him on a job creation and investment package when they meet this week. With Japan's largest export market at stake, investors are wary of big manufacturers' shares.
ANALYST'S VIEWPOINT: Despite eking out gains Wednesday, U.S. markets are "very low-spirited," Stephen Innes of OANDA said in a commentary. "The Trump trade is the primary focus for equity markets and without any further guidance on U.S. tax policies, investors stay on the sidelines, annoyed and concerned about the unknown."
JAPAN MACHINERY ORDERS UP: Orders of "core machinery" that exclude ships and utilities rose 6.7 percent in December from the month before, suggesting relative strength in business investment, though economists cautioned against reading too much into such statistics.
WALL STREET GAINS: The Standard & Poor's 500 index rose 1.59 points, or 0.1 percent, to 2,294.67. The Dow Jones industrial average fell 35.95 points, or 0.2 percent, to 20,054.34. The Nasdaq added 8.24 points, or 0.2 percent, to 5,682.45. The index also closed at a record high on Tuesday and last Friday. The Russell 2000 index of small-company stocks fell 2.32 points, or 0.2 percent, to 1,358.74. Corporate earnings are sustaining gains: More than half of the companies in the S&P 500 index have reported quarterly results so far, and roughly 60 percent have posted earnings that beat financial analysts' estimates. Coca-Cola, Twitter and Viacom are among the big companies due to report results Thursday.
ENERGY: Benchmark U.S. crude gained 22 cents to $52.56 a barrel in electronic trading on the New York Mercantile Exchange. It rose 17 cents, or 0.3 percent, to close at $52.34 a barrel in New York. Brent crude, the benchmark for international oil prices, added 26 cents to $55.38 a barrel. It climbed 7 cents, or 0.1 percent, to close at $55.12 a barrel in London.
CURRENCIES: The dollar rose to 112.17 yen from 111.98 yen on Wednesday. The euro weakened to $1.0682 from $1.0688.