Asian markets mixed as fears of US-China trade war set in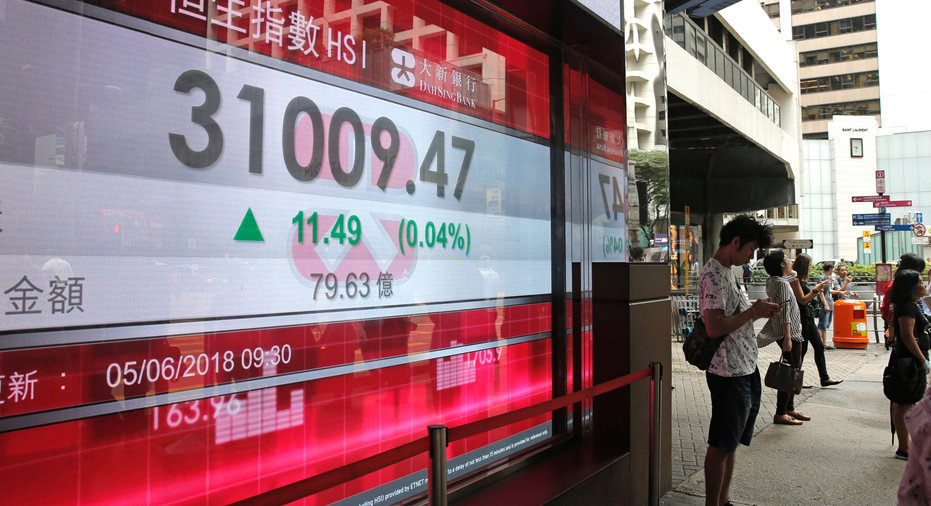 Asian shares were mixed Tuesday in narrow trading as investors watched the tit-for-tat exchanges between the U.S. and China over trade.
KEEPING SCORE: Japan's benchmark Nikkei 225 index rose 0.2 percent to 22,529.44 and South Korea's Kospi gained 0.1 percent to 2,450.81. Hong Kong's Hang Seng rose 0.5 percent to 31,028.83. The Shanghai Composite in mainland China gained 0.5 percent to 3,105.25, but Australia's S&P/ASX 200 dipped 0.4 percent to 6,003.70. Taiwan's benchmark fell but Southeast Asian indexes were mostly higher.
WALL STREET: Technology companies drove the Nasdaq composite index to an all-time high on Monday. Apple shares gained 0.8 percent to $193.83 as it previewed new features and software updates at its Worldwide Developers Conference. Shares of Google's parent company, Alphabet, rose 1.6 percent to $1,153.04. Microsoft rose 0.9 percent to $101.67 after the company said it will pay $7.5 billion in stock for GitHub. Facebook fell, however, on new privacy concerns, losing 0.4 percent to finish at $193.28. In other trading, the S&P 500 index gained 0.5 percent to 2,746.87 and the Dow Jones industrial average jumped 0.7 percent to 24,813.69.
U.S.-CHINA TRADE: Facing pushback on Monday from Republican lawmakers, an influential GOP group and foreign leaders, President Donald Trump said that tough negotiations on tariffs that are hitting China, Canada and Mexico will put the U.S. in a stronger position with its top trading partners. Trump tweeted that China "already charges a tax of 16% on soybeans. Canada has all sorts of trade barriers on our agricultural products. Not acceptable!" Trade talks between the U.S and China ended Sunday in an apparent impasse.
CHINESE DATA: China's Caixin Services PMI, a survey of service industry purchasing managers, which was released early Tuesday, had a reading of 52.9 for May. This was unchanged from the previous month, indicating modest growth in the world's second largest economy. The upturn appeared to be driven by domestic demand, while orders for Chinese exports fell.
QUOTEWORTHY: "Worries about growth momentum have come back again. A looming trade war between the U.S. and China has cast a shadow over indicators of global growth," said Song Seng Wun, an economist at CIMB Private Banking.
ENERGY: Oil futures recovered after speculation subsided about OPEC raising supply at a summit later this month. U.S. crude gained 28 cents to $65.03 a barrel in electronic trading on the New York Mercantile Exchange. The contract lost 1.6 percent to settle at $64.75 per barrel on Monday. Brent crude, used to price international oils, rose 17 cents to $75.46 in London.
CURRENCIES: The dollar rose to 109.86 yen from 109.58 yen in late trading Monday. The euro weakened to $1.1695 from $1.1719.
___
AP Markets Writer Marley Jay contributed to this report.