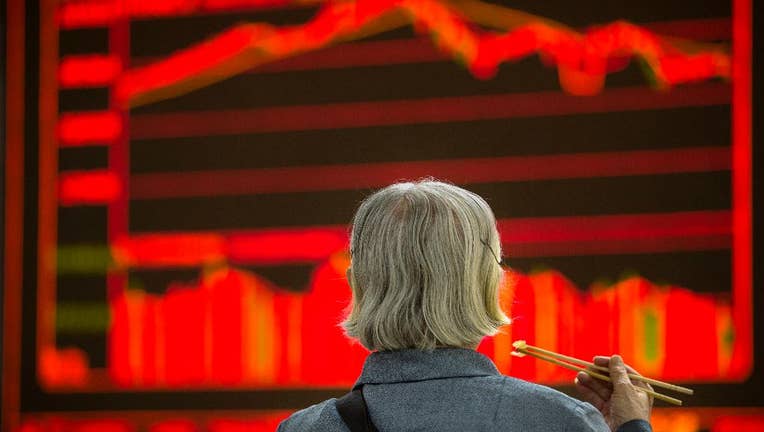 Most Asian stock markets rose Wednesday, tracking gains on Wall Street as investor optimism mounted ahead of a highly anticipated Federal Reserve decision on whether to raise interest rates for the first time in nearly a decade.
KEEPING SCORE: Japan's Nikkei 225 rose 0.5 percent to 18,106.91 and South Korea's Kospi added 1.9 percent to 1,973.69. Hong Kong's Hang Seng gained 0.9 percent to 21,647.18 and Australia's S&P/ASX 200 climbed 1.5 percent to 5,091.40. However, the Shanghai Composite Index in mainland China, where markets have been sliding since peaking in mid-June, turned negative, losing 0.5 percent to 2,991.77.
FED FOCUS: Investors around the world are guessing what the Fed will decide at its two-day policy meeting set to begin later Wednesday. Some economists say it's time to start gradually raising interest rates for the first time in close to a decade given that the U.S. job market has more or less recovered. Others argue rates should remain on hold amid global stock market turmoil and China's slowdown, among other factors. The Fed's decision is expected Thursday though Asian equity markets won't be able to react until a day after.
ANALYST VIEW: "Every other country including China is waiting for the Fed before they roll out new policies," said Jackson Wong of United Simsen Securities. He said Asian markets were taking their lead from the U.S., where investors seemed to be leaning toward the view that rates will remain on hold for at least another month. Fed Funds futures are pricing just a 28 percent change of a rate increase this week. However, in the event that Fed officials decide to start raising interest rates, "that would mean a stronger U.S. dollar and more money might drain from emerging markets," Wong said.
WALL STREET: Major U.S. benchmarks posted solid gains led by industrial stocks, which were among the worst hit in a recent sell-off. The Dow Jones industrial average jumped 1.4 percent to 16,599.85 and the Standard & Poor's 500 climbed 1.3 percent to 1,978.09. The Nasdaq composite advanced 1.1 percent to 4,860.52.
ENERGY: U.S. benchmark crude rose 70 cents to $44.90 in electronic trading on the New York Mercantile Exchange. The contract rose 59 cents to $44.59 a barrel in New York on Thursday. Brent crude, a benchmark for many international types of oil imported into the U.S., added 10 cents to $48.63 a barrel.
CURRENCIES: The dollar slipped to 120.18 yen from 120.43 yen in the previous trading session. The euro dropped to $1.1283 from $1.1309.