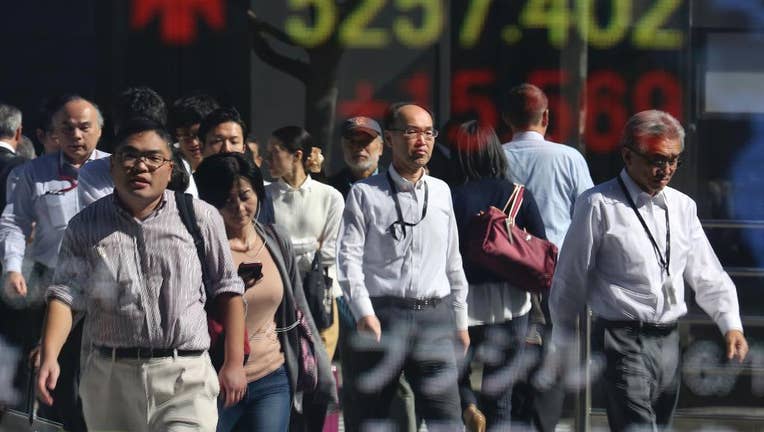 Asian markets mostly rose Monday as Japan reported its trade balance swung to a surplus in September and strong Japanese manufacturing data from a purchasing manager's survey also suggested signs of improved activity in the world's third biggest economy. Attention is likely to focus this week on U.S. growth data.
KEEPING SCORE: Japan's Nikkei 225 index was nearly flat at 17,179.29 while Hong Kong's Hang Seng added 0.3 percent to 23,447.10. The Shanghai Composite index gained 0.5 percent to 3,106.55 and South Korea's Kospi climbed 0.6 percent to 2,043.86. Australia's S&P ASX 200 fell 0.5 percent to 5,401.00. Markets in Southeast Asia and Taiwan were mostly higher.
ANALYST VIEWPOINT: "The highlight of the week will no doubt come from US 3Q GDP," Chris Weston of IG said in a commentary. "Keep in mind that growth has averaged around 1 percent in the past three quarters, so a snap back to the consensus estimate of 2.5 percent would be welcomed," he wrote.
JAPAN TRADE: Japan reports its trade balance swung to a surplus in September, though exports fell 6.9 percent, pulled lower by weak demand for autos and machinery. Customs figures released Monday showed exports in September totaled 5.97 trillion yen ($57.4 billion). Imports fell 16.3 percent from a year earlier to 5.47 trillion yen ($52.6 billion). The surplus of 498.3 billion yen ($4.8 billion) compared with a deficit of 18.7 billion yen in August.
JAPAN MANUFACTURING: A preliminary survey of factory managers showed a fifth straight month of improvement in manufacturing sentiment, despite persisting strength in the yen. The gauge for output rose for the first time since January.
LAST WEEK'S FINISH: U.S. stock indexes wavered between gains and losses and closed mostly lower on Friday. The Dow Jones industrial average edged 0.1 percent lower to 18,145.71, while the Standard & Poor's 500 index was nearly flat at 2,141.16. The Nasdaq composite index gained 0.3 percent to 5,257.40. All indexes were slightly higher for the week. The Dow is now up 4.1 percent for the year, while the S&P 500 is up 4.8 percent. The Nasdaq is up 5 percent.
ENERGY: Benchmark U.S. crude fell 36 cents to $50.49 a barrel in electronic trading on the New York Mercantile Exchange. It rose 22 cents to close at $50.85 a barrel in New York on Friday. Brent crude, used to price international oils, lost 27 cents to $51.51 a barrel. It gained 40 cents Friday to close at $51.78 a barrel in London.
CURRENCIES: The dollar rose to 103.95 yen from 103.80 on Friday. The euro fell to $1.0863 from $1.0886.