Asia Reels From Epic Earthquake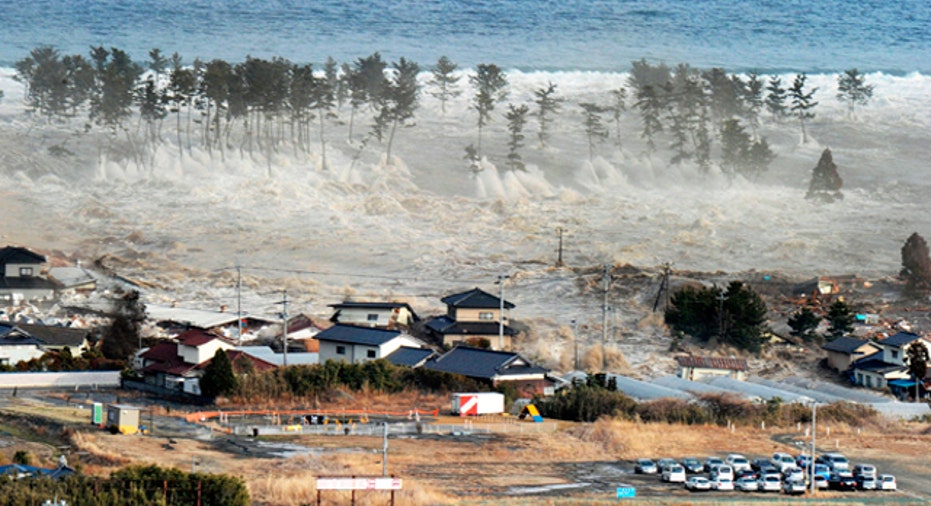 Asian financial markets experienced aftershocks in extended trading Friday in the wake of an epic earthquake that rocked Japan and triggered a massive tsunami.
The damage from the huge disaster was still being assessed, but the pain was already being felt in the markets as Japan's benchmark index tumbled nearly 3% in late trading, the Japanese yen soared almost 1% against the U.S. dollar in a flight to safety and major companies like Toyota (NYSE:TM) closed plants.
The 8.9 magnitude earthquake is the largest to strike Japan in 140 years and is the fifth largest on record. It sparked a huge tsunami that included 33-foot waves that swept miles inland in Japan, leaving chaos in its wake. The tsunami was so strong that it was being felt 12,000 miles to the east in Hawaii and other Pacific locations.
According to Japanese news agencies, police said 200-300 bodies were found on the coast in Japan after the tsunami struck. Japan's coast guard was searching for a ship with 80 on board that was washed away by the waves, the Associated Press reported. Response teams were also said to be searching for a passenger train that went missing with an unknown number of passengers.
The earthquake rocked Asia just 14 minutes before Japanese markets were shutting down for the day, but it sent the Japanese Nikkei 225 tumbling to 10254.43, off from 10371.05 just minutes before. The index closed the day down 1.72%.
In extended trading, the Nikkei 225 plunged an additional 2.67% to 10020 as traders digest the damage reports. Hong Kong's Hang Seng shed 1.55% to close at 23249.80 and China's Shanghai Composite declined 0.79% to 2933.80.
In the aftermath of the earthquake, the Bank of Japan announced it has set up a disaster management team and officials said they were looking at options to pay for the restructuring efforts. Japan has already been hit by soaring deficits.
"The Bank will continue to do its utmost, including the provision of liquidity, to ensure the stability in financial markets and to secure the smooth settlement of funds, in the coming week," the BOJ said in an emergency statement.
Analysts at Fitch Ratings and Moody's Investors Service said it's not clear yet how the disaster may impact Japan's credit ratings, The Wall Street Journal reported.
Japan is the third-largest economy in the world, recently losing its No. 2 spot to neighboring China.
The Japanese yen soared 0.94% against the greenback as investors sell foreign assets such as stocks and bonds, convert the proceeds back to yen, then repatriate the yen to pay for cleanup and rebuilding efforts.
Meanwhile, multinational companies headquartered in Japan were shutting down some operations as a result of the disaster.
Toyota, which saw its U.S. listed shares fall more than 2%, said it has stopped output at a parts factory and two assembly plants in northeast Japan, Reuters reported.
At a Honda (NYSE:HMC) research and development center in Tochigi, a 43-year-old male worker died after a wall collapsed, Reuters reported. Some 30 employees were reportedly hurt at other facilities and the auto maker also halted production at four factories. Honda's U.S. listed stock slid 2.65% to $39.65.
Nissan reportedly stopped production at all four of its car assembly factories in Japan and two of its facilities were battling fires.
According to Reuters, electronics giant Sony (NYSE:SNE) stopped production on six factories, including one in Miyagi that flooded and forced 1,000 employees to take refuge on a second floor.